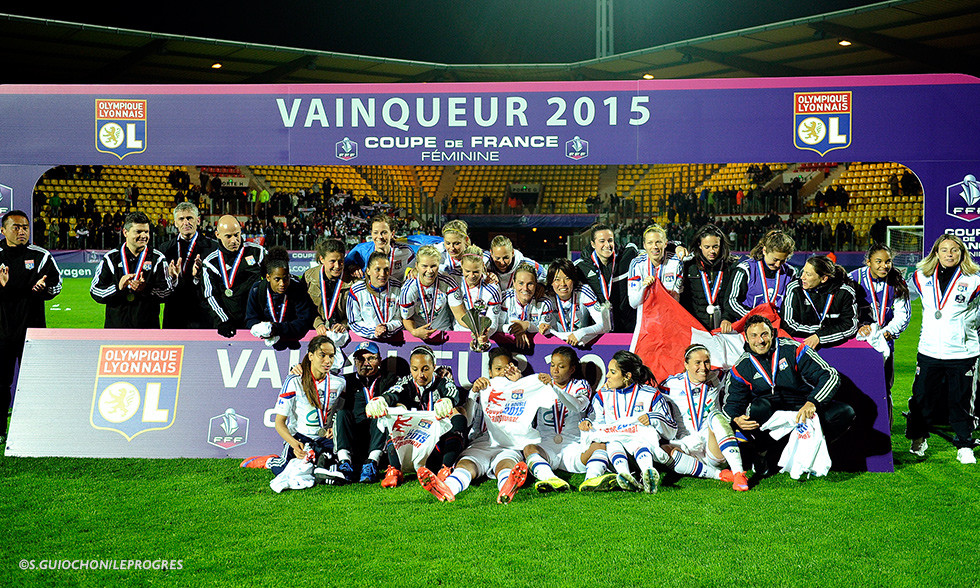 After the first division title, OL have won the Coupe de France! It wasn't easy for Renard and Co. who were trailing at half-time before finishing the match strongly...
OL turned things around after the break, thanks to an excellent performance from Thomis. OL recorded their 4th consecutive league and Cup double!
---
76': Yes! After a Thomis cross and then another from Dickenmann, Schelin finally scores OL's second goal!
46': Hegerberg heads the two sides level from Thomis' cross after a mistake from the MHSC defence.
Elodie Thomis replaced Necib at the half-time break. OL looked more attacking.
---
---
OL dominated the first half without finding a way to score.
26': Jakobsson socred from a tight angle to give MHSC the lead! Jakobsson is a constant threat.
1': MHSC had the first shot of the match through the future Lyon player Lavogez.
OL have the chance to record a fourth consecutive league and Cup double with victory in the Coupe de France final on Saturday night. MHSC can save what has been a disappointing campaign. OL started with their traditional 4-3-3 formation with Petit starting at right back and Necib returning to the first team... Montpellier started in a 4-4-2 formation.
...

Teamsheet

Calais, Stade de l'Epopée; Referee: Mme Guillemin. OL 2-1 MHSC (H-T: OL 0-1 MHSC.

OL: Bouhaddi - Petit, Kumagaï, Renard (c), Dickenmann - Henry, Abily, Necib (Thomis 46') - Le Sommer, Schelin, Hergerberg. Coach: Prêcheur.

MHSC: Durand - Daughetee, Wenger, Gadea (c), Sembrant - Toletti (Asseyi 80'), Utsugi, Karchaoui (Makanza 55'), Lavogez - Tonazzi (Thomas 89'), Jakobsonn. Coach: Saez.

Goals: Jakobsson (MHSC) 26', Hegerberg (OL) 46', Schelin (OL) 76'

Bookings: Toletti (MHSC) 37', Karchaoui (MHSC) 53', Henry (OL) 73'.

Statistics

Shots: OL 21 (9 on target) / MHSC 7 (3 on target).

Corners: OL 10 / MHSC 2


 

...