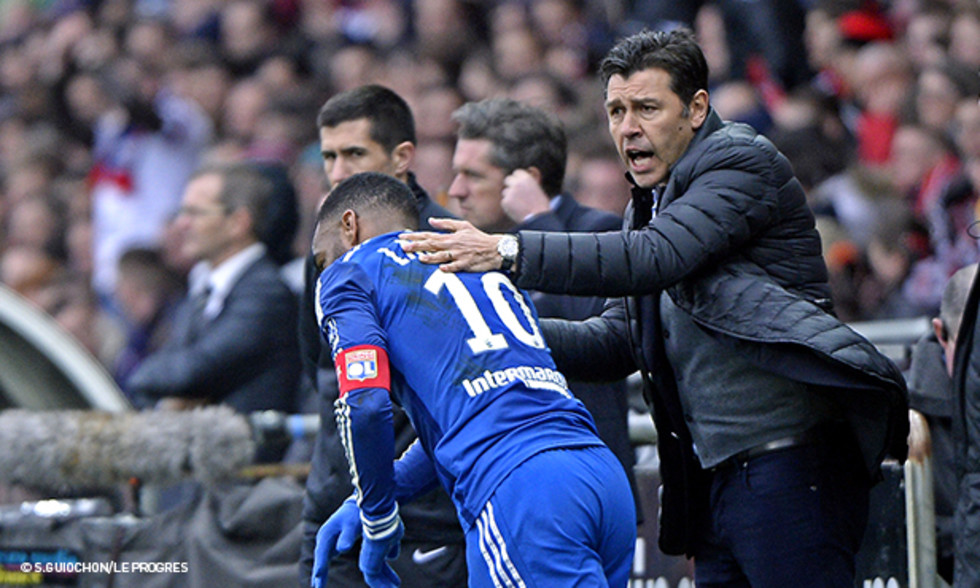 Hubert Fournier hasn't forgotten the first meeting this season... The derby will play a major role in the club's ambitions for this end of season...
INJURY UPDATE

"Yoann Gourcuff will not be available for Sunday. Mou Dabo came through a fairly positive fitness test. Christophe Jallet also resumed training and looked good. A final test will be taken on Saturday. Corentin Tolisso has some pain in his thigh due to fatigue. We'll see how he is on Saturday. There shouldn't be any problem for Nabil Fekir. Clément Grenier to start? He could do, as could Maxime Gonalons."

...
Have you watched the first derby again?
"No. But we analysed it well at the time. Two main factors emerged: Les Verts played very well and we didn't."

Will you have to get in the faces - as Christophe Galtier said - to win?
"It would be rather too basic to just do that. And it's certainly not the main ingredient to our play. It will be physical, but there will also be other virtues. We will have to stand up to the physical challenge, but also play around it. We lacked so many elements in the first derby... But a lot of water has passed under the bridge since then and the players have a lot more experience. But yes, the memory of that night remains fresh in the minds of certain. But if there's revenge to be had, it's a revenge against ourselves first and foremost. Les Verts deserved their victory."

How important is this derby?
"It's about regional supremacy, but it was also have a big impact on our championship ambitions. A title decider? No. But certainly crucial for our Champions League hopes. That's how it looks, even if a win will not assure us of that second spot. Let's not forget Monaco who are a very solid team. A derby in this context is an excellent experience for a coach and for the players. It's a good opportunity to show how far we have come since the first meeting."

Are you ready to adapt if Saint-Etienne play with three defenders like in the first game?
"We are working on that. We have improved when faced with this formation, like we showed against Bastia early in the game."


How is your team physically?
"It's not with the pace of the first half against Bastia and playing just once in ten days that my team will be tired. And the derby is also a mental battle."

Are you surprised by the form shown by Clément Grenier?
"I'm not surprised. Clément hasn't lost his talent. His return has had a positive impact on our players, but also an impact on our rivals who are worried by his quality."

Do you think PSG could struggle after their defeat to Barcelona?
"I can't answer that. We'll see how they go away to Nice. Don't forget that squad has the resources to bounce back."