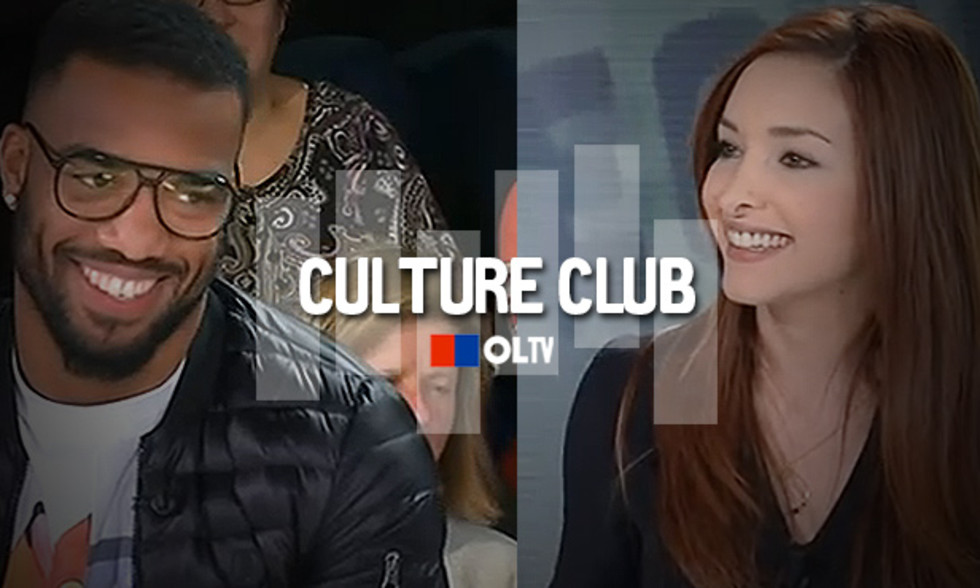 The Olympique Lyonnais attacker Alexandre Lacazette was Coline Benaboura's special guest on Culture Club on OLTV on Wednesday. It was the opportunity for the France international to look at his season so far, his stats, his return from injury and his next objectives...
The league's top scorer
"It's nice. I'm proud of what I've done, but I don't want to stop now. I want to keep scoring and make the difference. I hope it's not over. Other strikers could still catch me and I want to hold onto this position... I still have to improve to reach the same level as some other strikers... It's the fruit of many years hard work. There also a little bit of luck and the confidence that comes from my teammates... I would like to break André Guy's record of 25 goals in a season for OL (25 1969)."
A change in status
"My status has changed. I can't go everywhere I used to now. It's takes a bit of getting used to. You quickly move into a different world. But it's nice to be known like this... The defenders are a little tougher. They try and put me off with words or stronger physical challenges... They are the old fashioned insults about my family. It's all part of the game. You have to know how to find the right response, or just ignore it."
Lyon's season
"I always believed in our qualities. I knew we could play a role at the top of the table... At the start of the season, everyone said we were dead and buries. They spoke a little too soon and we are enjoying our revenge. We want to stay as long as possible at the top and qualify for the Champions League. All the better if we are still in the hunt for the title at the end of the season... OL could win the league, just like Paris or Marseille."
Goal celebrations with Umtiti
"There's a new celebration that's just waiting for the moment. It's all about the feeling, either before the game or in training. If one of us has an idea, we speak to the other... The selfie? The idea came from the song 'Selfie'. We did it once in the changing room. During the match, it just came naturally."
Your relationship with Fekir
"It's a pleasure to play with him. He's a very technical player that likes to take people on. He makes space for me, so it's easier to score. I'm not surprised. I knew he had the potential to do what he's doing. No-one that has played with him is surprised."
Injury against Metz and the return
"It's a blow. I was in good shape, physically and mentally. Everything was going well. Now I have to get the body used to the workload again and try and get back that confidence... At the time, I didn't realize how serious it was. I didn't know if it was really a muscle tear, so I kept playing and when I accelerated, that's when I really felt it... It's hard to accept that you can't help your teammates, that you're on the sidelines. It's all part of a season, a career. It's also a reminder that we have a great job. I admire Clément and Gueïda. I quickly put things in perspective because it was only three weeks... You do fear re-injuring the old injury. Even if you feel 100% at training, with the adrenaline and the intensity of the match is never the same. When I came I off, I felt things had gone well. There were still some movements I didn't dare try. But I feel good mentally. Physically, I'm not yet back to where I was. I'm doing everything I can to get back to my best as soon  as possible."
The loss to Lille
"It was a huge disappointment because we played well in the first half. We didn't play in the second. We weren't our usual selves. It's frustrating to leave without a point. But it's better to lose now, because the other teams didn't win either and we can still fight. It was a little reminder. It brought us back down to earth. This defeat will serve us well."
The match against Montpellier
"We know that they will be looking for revenge. They are a very solid team that will be looking to dominate us physically. But we have to win by playing our game and making the difference in the two penalty boxes. We have the potential to cause them problems."
The future
"It unsettled me last season when everyone was talking about me, about a possible transfer. It wasn't easy. But it was all just speculation. We'll see at the end of the season. I can't say anything now... To play in the Grand Stade is something important for every Lyon. There are also the Euros to think about. I will do everything to finish the season well. There are opportunities that are too good to turn down and there are also the demands of the president."