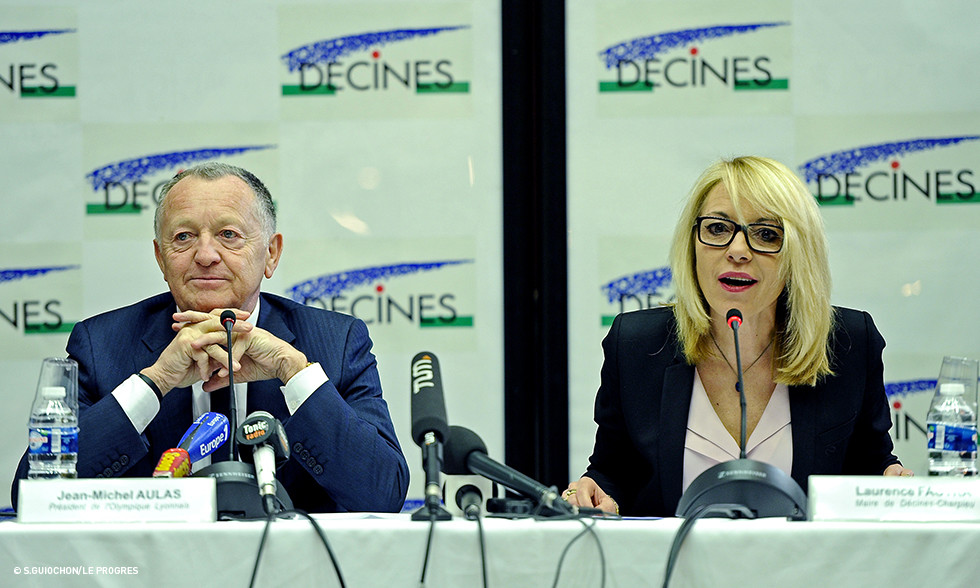 On Wednesday afternoon in Décines, the mayor of the city, just to the east of Lyon, Madame Laurence Fautra, announced the latest progress of the community's collaboration with O.L. concerning the Grand Stade, in the company of Jean-Michel Aulas. Laurence Fautra was delighted with the latest agreements in the partnership between Décines and the club: "The site of the Grand Stade in Décines was a complicated affair given the scale of the project for the city. But Jean-Michel Aulas was always here to help find solutions. I am delighted to announce these agreements today."
Jean-Michel Aulas also expressed his satisfaction that the partnership is heading in the right direction. "We have been working with the Décines Town Hall to find the best solutions. There are obstacles, but we want to work together to overcome them."
OL and the city of Décines reached agreement for a partnership consisting of certain investments into the functioning of the surrounding area of the Grand Stade, and also an employment project, particularly important to Jean-Michel Aulas.
Echoing the words of Madame Laurence Fautra  who insists that 'local employment plays a major role,' the O.L. president confirmed: "There will be 800 long-term employment in the Olympique Lyonnais Parc, and at least 2,000 on matchdays and for events, and we will be doing everything we can so that the local population benefits from these two initiatives. Under the direction of the Prefet Carenco, a charter in favour of employment will soon be finalised with the State, the Rhône-Alpes Region, the City of Lyon, the City of Décines and O.L. Elsewhere, we have also created the Business City for Employment, to create  a bond between the needs of our partners and the local community."