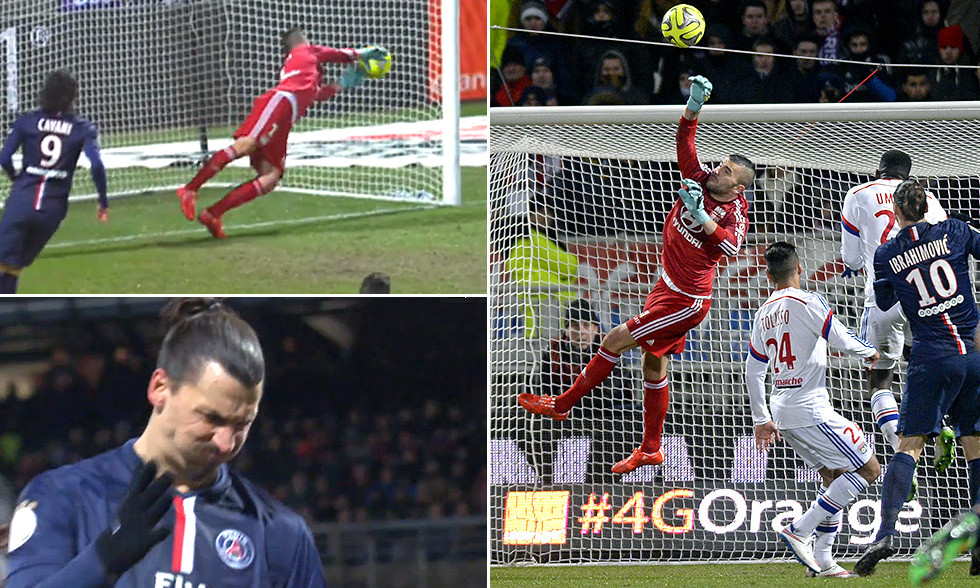 His performance against Les Galactiques of Paris Saint-Germain bordered on the unbelievable. Out of this world, Anthony Lopes defied the laws of gravity to almost single-handedly holding the PSG stars at bay...
There's little doubt that he deserved a seventh consecutive clean sheet. But even that controversial goal can't take away from his impressive display. Before that cruel 69th minute, Anthony Lopes had been a lot more than just a simple goalkeeper. Cavani, Ibrahimovic and Co. had seven clear-cut chances before finding a way through. And to deny him, for just two little minutes, a record of 637 minutes without conceding a goal that dates back to 2004.
67th minute. Ibrahimovic steps up to place the ball for his penalty, and the entire Stade de Gerland is strangely convinced that their goalkeeper will deny once more the giant Swede. Strangely? Perhaps not. The public, quite rightly felt, that Anthony Lopes would stop everything that night. And he saved the penalty! Only for the referee to demand a retake. The second time Ibrahimovic scored.
...




270 minutes

Ibrahimovic still hasn't scored against Lopes from open play in three matches, or 270 minutes between the two men.

 

...
Download the Anthony Lopes screensaver
Three key moments against PSG
12th minute vs Cavani: "With this ball, I saw Ibrahimovic look up and Cavani was all alone in the middle. I made the decision to come out quickly to close down Cavani and not give him any angle. I knew he only had one possibility, to hit the ball with his left foot. I went down to my right because when he saw my coming, he was obliged to try and curl it home."
53rd minute vs Ibrahimovic: "It wasn't the hardest save. But all saves are hard at this level because the slightest error ends in disaster. If I had let the ball loose, I knew there would be someone there to knock it home."
59th minute vs Cavani: "That was a tough save. The attacker was coming front on, one-on-one. Either he scores, or I stop him. Sam Umtiti's late tackle also put him off. I left my left arm high and luck was on my side."