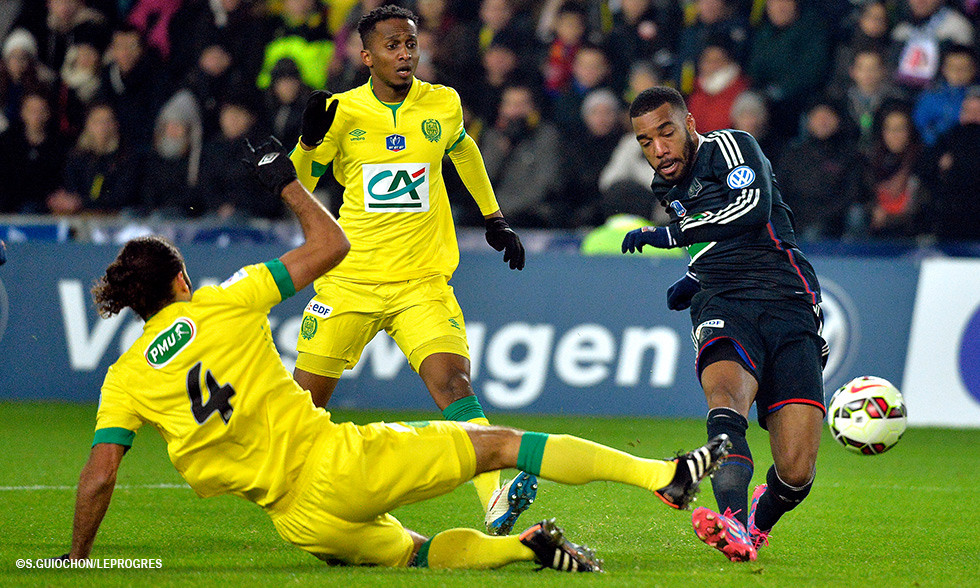 Eliminated by Nantes, OL must now concentrate fully on the championship… In an open and entertaining match, OL didn't show all their recent virtues out on the pitch...
BACKGROUND
Ligue 1 leaders OL headed to Nantes on Tuesday, a side that had every intention of bucking the league trend in this one-off Cup encounter. Les Canaris are slowing in the league. While they can still hope to finish in the top half of the table, they are dropping off their early season pace of hoping for a place in the top five or six. The Coupe de France offers the chance to lift morale for the coming weeks...
STARTING XIs
Hubert Fournier revelaed he would be making changes. He kept his word. Mvuemba and Malbranque started in midfield; Tolisso moved to left back at the expense of Mou Dabo. OL stayed loyal to their 4-4-2 formation. For Nantes, Dupé was in goal; regular starters Riou, Cissokho and Bammou were on the bench. FCN started in a 4-2-3-1 formation.
FIRST HALF
OL made the perfect start as they won back possession early and launched into an early attack: Malbranque, released by Ghezzal, found Lacazette in the area and the league's top scorer opened the scoring with a clinical finish! However Bessat supplied the finishing touch to an excellent counterattack. Two minutes later he fired Nantes in front. OL were not focused enough to deal with the quick counters from the home side. Lopes then had to make an excellent save to deny Vizcarrondo (33').  Les Nantais stayed organised and looked dangerous every time they broke forward. Audel went close to finishing off another ball over the top (41').  FC Nantes were deserved leaders at half-time. OL lacked their usual teamwork and construction in the play.
SECOND HALF
Dabo replaced Rose at half-time; Gonalons moved to central defence as Tolisso stepped back up into midfield. Jallet fired wide from two chances from corners. The Dynamic Duo Lacazette and Fekir took control and Alex picked out Nabil to equalise after a Nantes turnover.  OL looked back in the game and controlled possession through the likes of Fekir, Lacazette, Ghezzal and Mvuemba… Nantes sat deeper and deeper.  But against the run of play, Shechter missed everything from just four metres out! It was then Lacazette's turn against Dupé… without success. Both sides had chances. Ferri replaced Mvuemba.  Lacazette looked close to breaking the game in OL's favour. Unfortunately, a break down the left ended with Bessat volleying home the eventual winner and qualifying Nantes for the next round...
CONCLUSIONS
Does every cloud have a silver lining? Only the future will reveal that! OL now have just 17 league matches left this season to meet the club's objectives... After a very average first half, the second was a vast improvement. But conceding three goals showed where the weakness lies. It was another warning, and the team must now bounce back against Metz in Ligue 1 on Sunday.
...

Teamsheet

Nantes, Stade de La Beaujoire, 20,000 spectators; Referee, Mr Jaffredo. FC Nantes 3-2 OL (H-T: FCN 2-1 OL).

FC Nantes: Dupé – Alhadur, Djidji (Bedoya 83'), Vizcarrondo, Veigneau (c) – R. Gomis, Deaux- Audel (Nkoudou 74'),  Veretout, Bessat  –  Bangoura (Shechter 67'). Coach: Der Zakarian.

OL: Lopes – Jallet – Rose (Dabo 46'), Umtiti, Tolisso – Gonalons (c), Malbranque (Gourcuff 88'), Mvuemba (Ferri 74'), Ghezzal – Fekir, Lacazette. Coach: Fournier.

Goals: Lacazette (OL) 5', Bessat (N) 19', 21', 88', Fekir (OL) 58'

Bookings: Lacazette (OL) 31'

La feuille de match

A Nantes, Stade de la Beaujoire, 20 000 spectateurs environ ; arbitre, M. Jaffredo. FC Nantes 3 OL 2 (mi-temps : FC Nantes 2 OL 1).

FC Nantes : Dupé – Alhadur, Djidji (puis Bedoya 83ème), Vizcarrondo, Veigneau (cap) – R. Gomis, Deaux- Audel (puis Nkoudou 74ème),  Veretout, Bessat  –  Bangoura (puis Shechter 67ème). Entr : Der Zakarian.

OL : Lopes – Jallet – Rose (puis Dabo 46ème), Umtiti, Tolisso – Gonalons (cap), Malbranque (puis Gourcuff 88ème), Mvuemba (puis Ferri 74ème), Ghezzal – Fekir, Lacazette. Entr : Fournier.

Buts : pour l'OL, Lacazette (5ème), Fekir (58ème) ; pour le FC Nantes, Bessat (19ème, 21ème, 88ème)

Avertissements : pour l'OL, Lacazette (31ème) ;

...