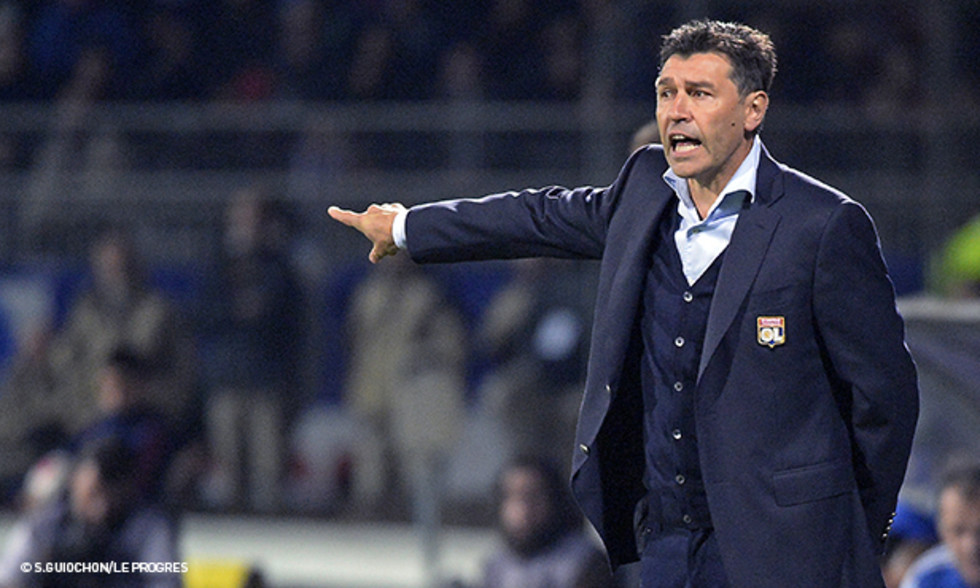 Olympique Lyonnais coach Hubert Fournier held his first press conference of the year, just 48 hours before the first competitive outing of 2015, in Calais against Lens in the Coupe de France round of 64.
New Year wishes
"We have to wish good health to all our players because they are the one's carrying our hopes for 2015. We need to work hard in 2015 because it's an important year for the club to prepare for the arrival of the Grand Stade. The players have all returned from the break in good form. Nobody came back late, nobody came back overweight. It's generally a good sign when things go that well."
Injury Update
"Clément Grenier is still feeling a bit of pain. He will need to keep working his way back with an individual schedule. We would have preferred to have it differently. He's not the first player to have to do this. We always look for an internal opinion and an external one when it looks a little worrying. Gueïda Fofana will meet with his surgeon on Monday. He is on schedule. Even a little in advance. He will see how he's travelling."
The Coupe de France
"It's another competition. We could very easily not lose and still not go through. We have already learnt this, this season. It's the first match after a break and we know that's always tricky. We are heading a little into the unknown, despite finishing the year so well against Bordeaux. Nobody is getting carried away here. Hopefully the week off brought everyone back down to earth... Even if we had qualified in the Coupe de la Ligue, we would still be looking to get past this round of the Coupe de France. We know just how important this match really is... If we are eliminated, it would be a huge disappointment. But it's not by putting extra pressure on ourselves that we'll get there. We have to keep the same desire to win and hope that it ends better than it did against Monaco."
Lens
"I can see Lens avoiding relegation at the end of the season. There's no reason why they won't play to their strengths against us, that is to say courage, solidarity, desire… They are a team from the same championship as us, but we will be playing in a different stadium, not used for Ligue 1. It's a bit of a problem. I hope the pitch will worthy to the occasion."
Sunday's team
"Anthony Lopes will play in goal… With Bedimo away at the AFCON, I thought Dabo played very well against Bordeaux. We don't need to pull Tolisso back. If there's an injury, he will be an option. Fingers crossed. Henri had already left for Cameroon. We decided against him making a return trip. It was all planned. Clinton remained in France. So he will be in the squad and he will give us a hand."
We don't have any desperate need to sign new players, but if the opportunity presents itself... why not. But it will need to be a real positive addition to the squad... Nobody has been told they can leave.
Penalty woes
"We prepare them on a technical level. But there is also a psychological component which is even more important. Fatigue also plays a role during shootouts. It's hard to work on all those things in training. Players don't think about statistics. Bako Koné who missed his against Monaco, scored in the Trophée des Champions."
Mercato
"We don't have any desperate need to sign new players, but if the opportunity presents itself... why not. But it will need to be a real positive addition to the squad... Nobody has been told they can leave. I heard that Mehdi Zeffane is asking himself questions. I can understand that he wants to play more. But there is real competition for right-back with Jallet. We don't have enough matches to offer these players much more playing time. The fact that he is heading to the AFCON doesn't help his situation... We have been in contact with Maxwell Cornet. He is a very promising young French player, recently called up at youth international level. The club has been following him for several years. I can't say anything more at the moment. If we were to sign him, it would be part of our mid- to long-term strategy."
Rachid Ghezzal
"He has shown plenty of good things when he's come on. We don't want him to leave. He can fit straight into our midfield. The quality of his passing can open up options for his teammates. He runs a lot. He has six months of training under his belt. We have rediscovered the Ghezzal from before his injuries. He is really committed to the cause. He has been one of the important players over the last two months."