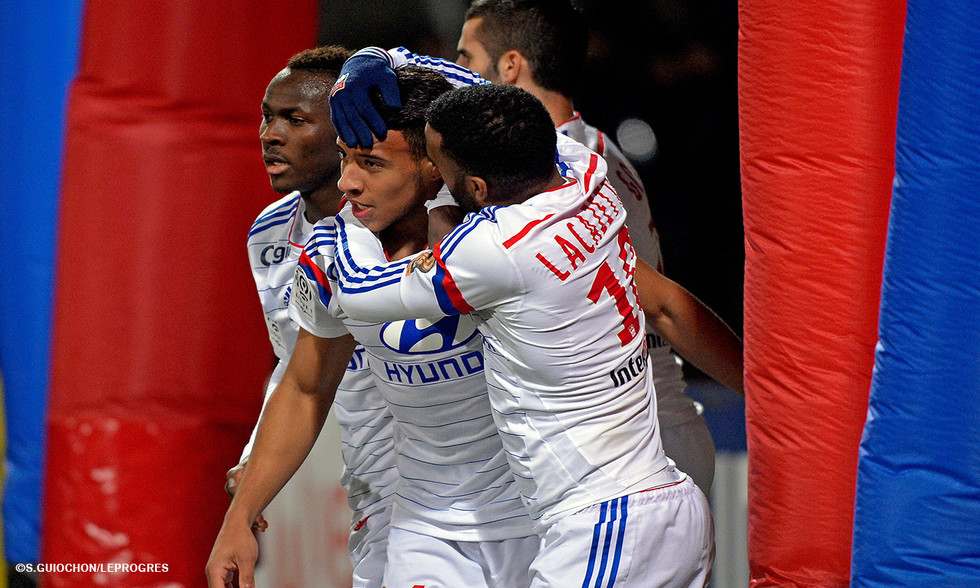 A poor first half… a much better second… and a stoppage time victory over a Reims side that caused OL plenty of problems... OL did it tough, but bounced back in the standings…
Background
Once again, OL were playing the final match of the round. The club already knew the results of its rivals at the top of the table. A win would see them maintain the gap over Rennes and Saint-Etienne and gain points on OM, PSG and FC Nantes. A draw would have a very different effect on the standings... and also psychologically... The match against Stade de Reims comes hot on the heels of the derby defeat. Maxime Gonalons and Co. need to show their ability to bounce back and continue their great run at the Stade de Gerland where they have won their last six in a row. It's a very important match...
Starting XIs
Hubert Fournier was without Fofana, Grenier and Gourcuff. Bisevac was suspended, and replaced by B. Koné. Loyal to his 4-4-2 with the diamond-shaped midfield, Fekir was the No.10 behind Yattara and Lacazette in attack. For Reims, Jean-Luc Vasseur made a few changes to his starting XI. Roberge came into defence, while Diego started on the bench. SDR played in a 3-4-3 formation!
First half
No time to doubt! A free-kick earned and taken by Fekir set-up perfectly Tolisso to open the scoring with a header. OL opened the scoring early, but then struggled. Reims controlled the ball. But Yattara beat Placide, before Signorino saved the day for the visitors. Lopes was called upon to save Mandi's header. OL, lacking movement and organisation, failed to hold onto possession... and Reims dominated. The Stade de Reims deservedly equalised via Moukandjo after Tolisso lost possession and Oniangué's initial shot was palmed out by Lopes. OL lacked a bit of everything during a very disappointing opening 45 minutes!
Second half
More was expected of Les Olympiens after the break… Fekir had a chance right from the outset, saved by Placide. OL, with a slight tactical change, looked far more focused. The lively Moukandjo got injured and had to come off, replaced by Diego. It was Reims' turn to struggle. Yattara missed another presentable chance to give OL the lead. Njie came on for Yattara. Ferri was introduced. OL were right on top. But they needed a winner. 7 shots for Lyon in just 24 second half minutes, compared to none for their rivals! But Reims had a chance through Roberge with their first opportunity of the second period. Ferri, on the counterattack, failed to take full advantage and had failed to see the option Lacazette... Benzia replaced Tolisso. OL were in attack mode for the final minutes… and that meant Reims had chances on the counter... But Lacazette drove the ball in hard from the right, and Placide failed to handle it and turned it into his own goal. OL got the win they scarcely believed was still possible!
Conclusions
OL struggled and despite plenty of chances in the second half, the team emerged victorious in stoppage time. OL maintain the gaps over its rivals and close a little closer on the leading duo... A great result, if not a great performance...
...

Teamsheet

Lyon, Stade de Gerland, 32,000 spectators; Referee; Mr Ennjimi. OL 2-1 Stade de Reims (H-T: OL 1-1 Stade de Reims)

OL: Lopes – Jallet, B. Koné, Umtiti, Bedimo – Gonalons (c), Mvuemba (Ferri 66'), Tolisso (Benzia 79'), Fekir – Yattara (Njie 59'), Lacazette. Coach: Fournier.

Stade de Reims: Placide – Mandi, Tacalfred (c), Conte, Roberge Signorino – Devaux, Oniangue – Fortes (Bourillon 84'), Charbonnier (Ngog 79'), Moukandjo (Diego 52'). Coach: Vasseur.

Goals: Tolisso (OL) 5', Moukandjo (SDR) 36', own goal (OL) 91'.
Bookings: Placide (SDR) 80', B. Koné (OL) 82'.


...