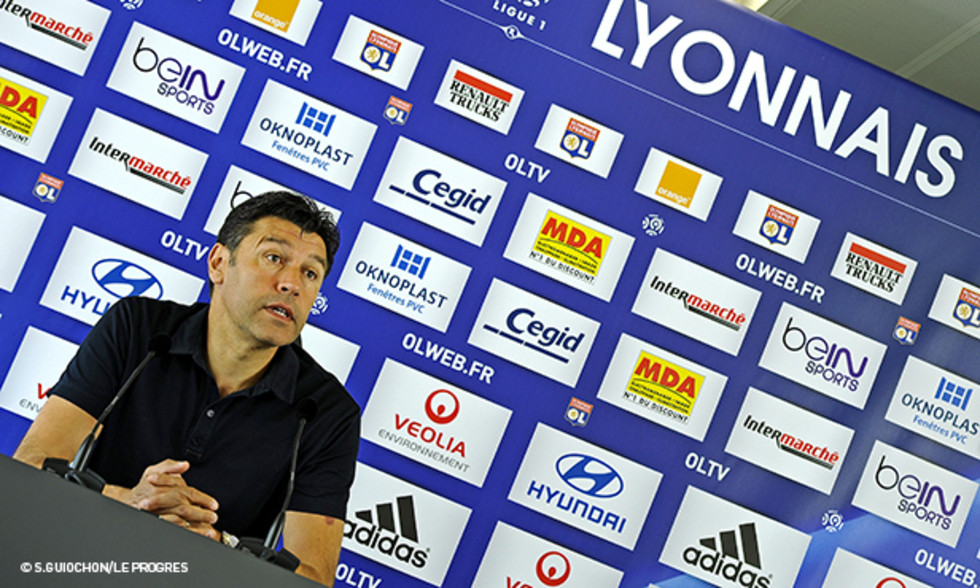 48 hours before the 109th Rhone derby between Saint-Etienne and Lyon, OL coach Hubert Fournier held his traditional pre-match press conference…
INJURY UPDATE
"There are a few doubts. Milan Bisevac suffered a corked thigh in training. He's recovering well. Concerning Yoann Gourcuff, it's day to day... Clément Grenier is out. It's very doubtful that we'll see him back this year. He suffered a little problem in shooting practice. Lindsay Rose is suspended."

Is there a favourite for Sunday's match?
"It's hard to name a favourite in this type of match. The favourite will be the team that starts the best, with the most intensity. There won't be much in it. We can't play the match before it kick off. We will play our own game, no matter what Saint-Etienne do. They have struggled to score goals, but they defend well. Having played in the Europa League on Thursday, we know that sometimes it's hard to get going. We have to do what we have to do."

Is the pressure more on ASSE?
"I think so. Les Verts are playing at home. They have struggled recently to record a really good win. They are obliged to get a result. If we win, they will be seven points behind us. That's a good sized gap."
Do you feel how important this match is?
"Yes. You can feel it within the club, the city. Everyone is focused on the derby. The president? Of course. The day he doesn't feel this is an important match, when he doesn't get that adrenaline rush, is perhaps the day he thinks about doing something else. But at the end the end of the day, it's still just a match of football, not a personal challenge. It's a team effort. I'm happy to be a part of it. It's perhaps the only real derby in France. It gets everyone pumped. I enjoy all the folklore around the match, but you also have to be able to concentrate on the pitch."

What is your relationship with Christophe Galtier?
"I have a very good relationship with him and his staff. I worked with Alain Blachon at Guingamp. We have a lot of respect for this staff, for the work they have done."

Is it good to have Nabil Fekir back?
"Yes, because he has been an important player so far this season and he offers options to the coach."

Id Lyon dependent on Lacazette and Fekir?
"Like every coach when he has good players. They are playing well and are important to us. They combine well together, they have a similar approach in their movement and vision, that understand each other. They create danger themselves and for others."