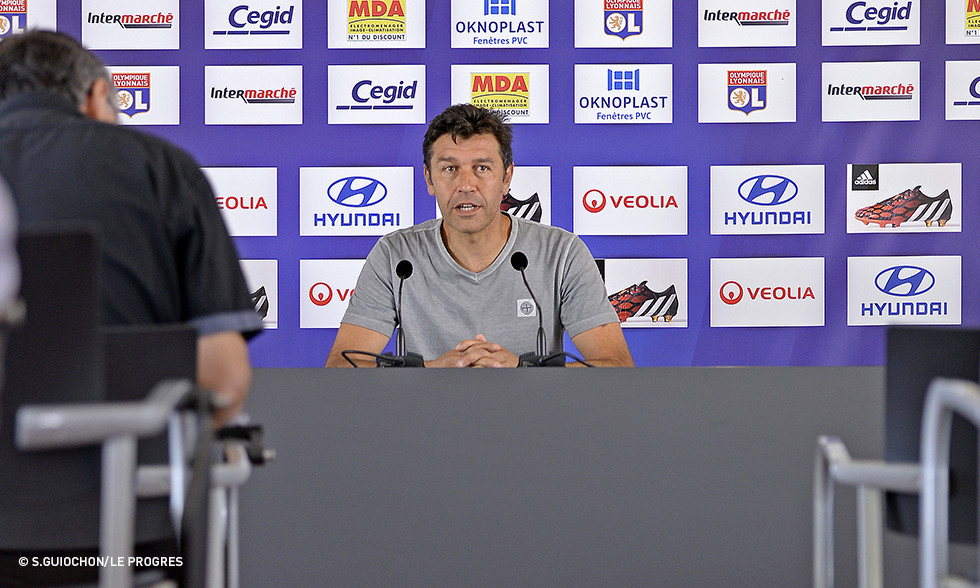 Huber Fournier outlined his main priority for the next two matches: consistency! Starting with this Friday's match against AS Monaco... Yoann Gourcuff has been named in the OL squad…
Has the international break been good?
"During this international break, there were a few discussions, but most of all, there was blood, sweat and tears out on the pitch as the side worked hard to get back into top shape, despite the absence of the club's internationals. It's also given us the chance to welcome back from injury a few players, such as Samuel (Umtiti), Momo (Yattara), Nabil (Fékir) and Yoann (Gourcuff). Yoann? He's good. He has worked really hard. He will be in the squad on Friday but probably won't start; it's still a little too soon. I want him to show what he can do, over a limited period of time in a match, his ability to hold up the ball, taking set pieces... Concerning B. Koné and Clinton N'Jie who played with their national teams on Tuesday, we'll wait and see…  but it may be a problem for Friday's match. Gonalons? He will return to the midfield. He helped out, very well it must be said, in central defence, but he is more useful to the team in that role just in front of the defence."

What are you expecting from the next two matches?
"Results, above all, without putting a points target on it, but we do need to get some confidence back, through our football, and really find more consistency over 90 minutes. We need to play better. We still have that bitter taste of defeat to Metz in our last game...  With the injured players coming back, not everyone yet, but a few, it's good for the morale of the squad and there's a bit more competition for places that wasn't there before..."


Does you season start on Friday?
"Unfortunately, no. But we will see an OL side more in keeping with what we expect to see from this club. In August we were just stretching everything to make the ends meet."

What do you think of AS Monaco?
"The team has had to adapt to changes, like us. It takes time, same as everywhere. Is Monaco different without Flacao? Don't forget the team played without him for five months last season... Obviously he will be missed, but they still have Berbatov, Martial and Germain… They have a great attack. On paper, they are outsiders for the title, even if PSG remain favourites."

Could next Tuesday's Champions League match be a handicap for ASM?
"Before, no. If the game was after a UCL clash, then yes, because the Champions League demands huge efforts. I think, on the contrary, it could be a positive because they will be looking to impress before the game against Bayer."