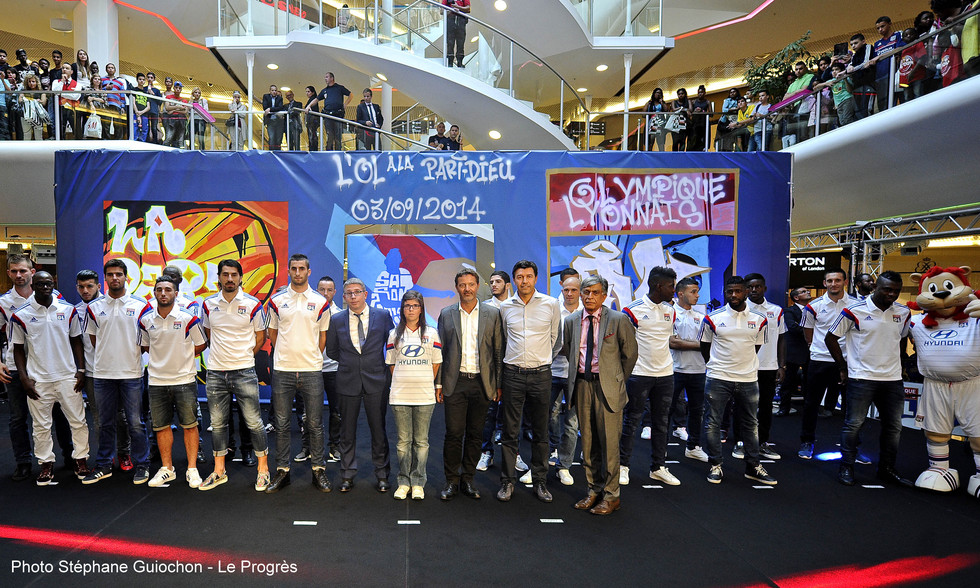 In front of a huge crowd of supporters, the Part Dieu shopping centre spent a day celebrating OL before the official first-team presentation...
The Part Dieu shopping centre was sporting the colours of OL on Wednesday 3 September. From 9:30 in the morning, the official stands opened with plenty for the fans, young and old, culminating with the official presentation of the first-team at 18:00.
"There are a lot of people and a lot of kids, we have to be careful," said Damien Veron, the club's head of events, already hard at work as he went from one stand to another.
On the menu: fun and games including juggling, shooting and dribbling exercises. Activities that offered the participants to be photographed with the official club mascot. "The aim is that no-one goes home empty handed," added Damien.
A temporary shop was also created for the event. Bernadette, mother of two and a half year old Fiona was delighted: "We saw the club bus as we came in and now we're checking out all the activities. It's great!" A die hard OL supporter, she is optimistic for the current campaign: "We will soon have our injured players back and things will go better. I see us finishing in the top three at season's end."
Meanwhile, the graffiti artist 'Theyellow' is hard at work created a huge fresco on the stage that will be the backdrop for the official presentation. The artist decided to inspire the work on the logos of OL and Part-Dieu: "I wanted to make them more dynamic, with an abstract background representing the Stade de Gerland and the shopping centre."
A successful day
At 18:15 when the OL players arrived in the team bus, they came at saluted the huge crowd. On the microphone, Dominique Grégoire, the Gerland ground announcer turned on the style. The players and coaching staff were presented one by one.
On the applaud-o-metre, Joël Bats, Henri Bedimo and Yoann Gourcuff tipped into the red. Hubert Fournier thanked the supporters: "We wanted to be here with you. The next Gonalons and Lacazettes are perhaps here this afternoon." After a word from captain Maxime Gonalons, it was time for a nervous Océane Guille to be invited on stage. The young girl was the lucky winner of the Hyundai competition.
She was lucky enough to travel with the players on the team bus and be presented by their side. The day ended with the players handing out signed photos.