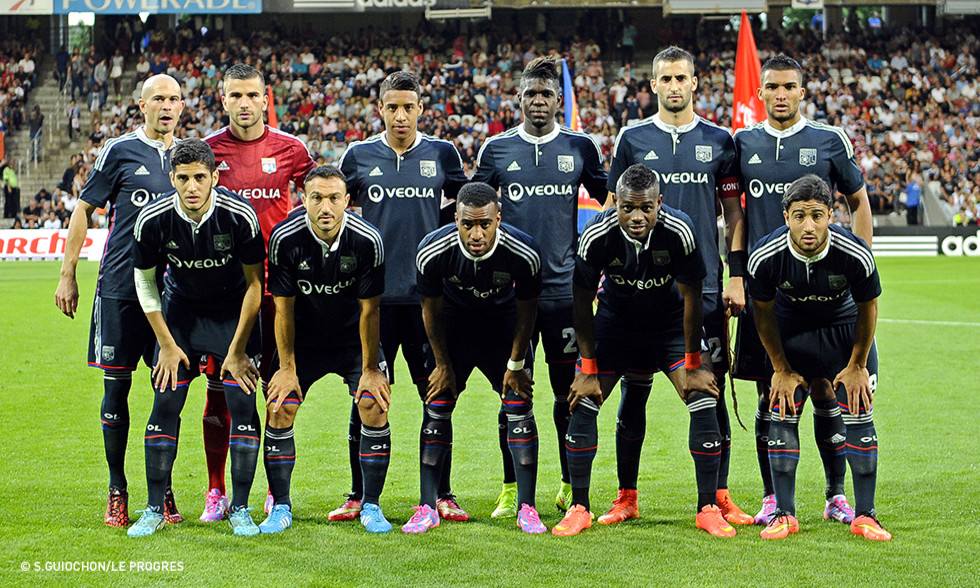 OL recorded a 2-1 win over Mlada Boleslav. After a dour first half, Olympique Lyonnais upped the ante in the second, scoring twice. However, Bedimo and Rose were injured in the battle...
Hubert Fournier had said there would be changes and he made five from the team that had started the first leg. Rose made his debut in defence alongside Umtiti and Bedimo. Benzia partnered Lacazette. Tolisso stepped into midfield alongside Malbranque and behind Fekir. Bisevac, Dabo, Grenier and Gourcuff were all missing. The Mlada coach made one change from the first leg with Sisler replacing Magera.
First Half. Boleslav got stuck in from the get-go. The tackles were flying in and there were lots of free-kicks. Fekir managed to find just enough space for a header, turned behind by the Mlada 'keeper. Les Lyonnais struggled to impose their football against a very aggressive opponent. Set pieces might have been the best route to goal... like Lacazette's free-kick that flirted with the top corner. Boleslav replied with a corner of their own. Stohanzl hit the crossbar. 30 minutes in and the chances were few and far between at either end. Lacazette and Benzia, clean through on Hruska's goal, made a mess of the opportunity. Bedimo saw his hamstring go during a sprint... he was replaced by Koné. Benzia was just a centimetre short of meeting Fekir's cross … Fekir was untenable... and when they did catch him, they fouled him. Gonalons was everywhere and operating within the limits of the law. OL struggled to create the danger during the first 45 minutes.
Second Half. OL suffered another setback when Rose left the field with injury. Gonalons took his place in central defence as Ferri came on in midfield. Lacazette supplied the finishing touch to great lead up play from Fekir down the left. The France international went close to netting a double, but his shot flashed just wide. Les Lyonnais had found their cutting edge and started finding more and more space in attack. Fekir showed off his left-foot again with a free-kick. Koné tried to make for his mistake, but only conceded a penalty... that Milla scored with a little chip. Fekir missed the target from a Benzia cross. The chances were flowing, but with ten minutes left, it was still 1-1. Malbranque forced Hruska into action again. But there was nothing the 'keeper could do when N'Jie finished off a lightning counterattack. The match ended with a Benzia free-kick that crashed off the crossbar.
Conclusion. As expected, OL confirmed their place in the play-offs. After a difficult first half, they overcame a valiant and aggressive Czech side to win 2-1. Les Lyonnais showed more attacking intent, led by the mercurial Fekir in fine fettle. The only negative of the evening: the injuries to Bedimo and Rose.
...


Teamsheet

Olympique Lyonnais 2 – 1 FK Mlada Boleslav (Half-time: 0 – 0)

Stade de Gerland, Lyon.

Referee: Stephan Klossner.

OL: Lopes, Jallet, Rose (Ferri 52'), Umtiti, Rose, Bedimo (Koné 36'), Gonalons, Tolisso, Malbranque, Fekir, Lacazette (N'Jie 73'), Benzia. Coach: Hubert Fournier.

FK Mlada Boleslav: Hruska, Boril, Navratil, Rosa, Smejkal, Scuk, Milla, Skalak (Bartl 79'), Stohanzl, Sisler (Magera 71'), Duris (Sultes 68'). Coach: Karel Jarolim.

Goals: Lacazette (OL) 57', Milla (MB) pen. 72', N'Jie (OL) 90'

Bookings: Boril (MB) 14', Rosa (MB) 23', Duris (MB) 43', Fekir (OL) 63', Navratil (MB) 66', Koné (OL) 71', Sultes (MB) 77'.

...