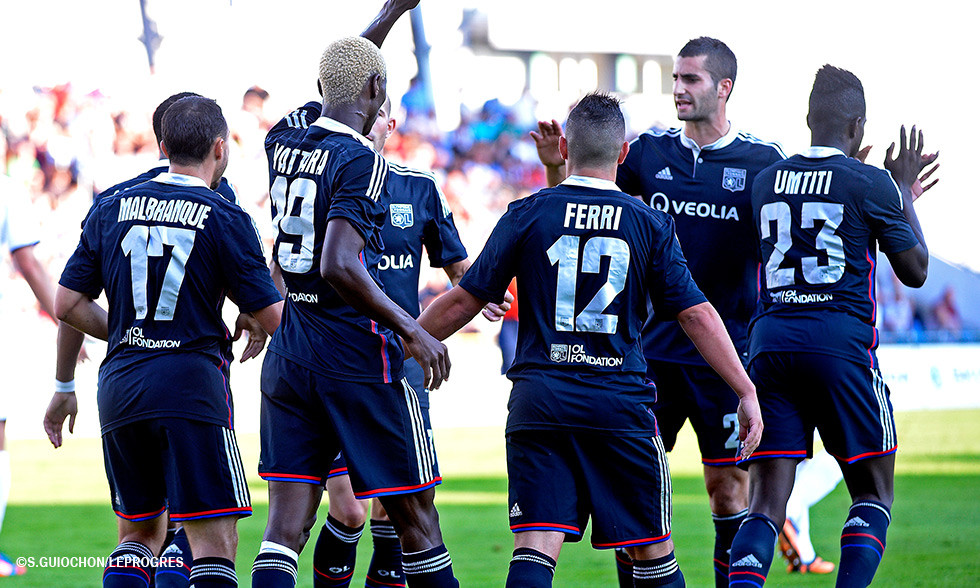 Courtesy of their big win over Mlada Boleslav, OL have all but booked their place in the play-offs… before the second leg… Despite a couple of scares, OL were largely the better side…
With Dabo, Fofana, Gourcuff and Grenier missing for various reasons, there were no major surprises in the Lyon starting XI, apart from, perhaps, Fekir starting on the bench. Bedimo, who resumed training on 16 July was on the bench. He was replaced at left-back by Umtiti. Bisevac and Koné were in the centre of defence. Rose was a substitute. Malbranque sat just behind the two strikers Lacazette and Yattara. Jallet made his debut. Hubert Fournier opted for a 4-4-2 formation… and experience.

The Czech side started with former Saint-Etienne player Milla. It was the same starting XI  (apart from Milla in for Sisler) that started the 4-0 win in Bosnia in the second round. They started with a 4-2-3-1 formation.
First half
After one or two early scares, including a first from a throw in after just 36 seconds, OL opened the scoring. Samuel Umtiti broke forward and was released by Lacazette before finding the head of Yattara to fire home. Les Lyonnais controlled the game and the ball with long periods of possession and a clear technical superiority. But the Czech side was still dangerous on occasion through Milla, Boril, Duris… They got their reward with a penalty - saved by Lopes (27'). Minutes later, the locals had another great chance (33').  But OL took their chances and Gonalons headed home a Mvuemba corner.  OL remained largely in control but there were still a couple of close calls. But OL already had one foot in the next round…
Second half
FK MB changed to two up front at the start of the second half. However a defensive error was exploited by Ferri who played in Yattara. The Guinean got his second of the night. Lacazette almost netted the fourth of the evening, but the home 'keeper produced a great save (55').  Rosa reduced the home side's arrears with another header from a corner. But seconds later, Umtiti reproduced his amazing goal against Tottenham as he blasted the ball into the far top corner!  Hubert Fournier made his three changes (Fékir, Bedimo and Benzia) and stuck with the 4-4-2. Benzia missed 'the unmissable'. OL were in total control but still needed another brilliant save from Lopes (82').

The final whistle confirmed a (more or less) comfortable victory. OL stayed focused, took their chances and developed an attractive brand of football against a courageous but limited opponent. OL, led by the excellent captain Maxime Gonalons are almost into the play-offs...
...


Teamsheet

Mlada Boleslav, Mestsky Stadium, Ref: Tobias Welz (GER) ; 5,000 spectators. FC Mlada Boleslav 1-4 OL 4 (H-T: 0-2)

FK Mlada Boleslav: Hruska – Boril, Navratil, Rosa, Smejkal – Scuk, Milla – Skalak , Stohanzl (Vukadinovic 60'), Magera (cap) (Sultes 46'), Duris. Coach: K. Jarolim

OL: A. Lopes – Jallet, Bisevac, B.Koné (Bedimo 70'), Umtiti – Gonalons (cap), Ferri, Malbranque (Fékir 63'), Mvuemba – Lacazette, Yattara (Benzia 70'). Coach: H. Fournier.

Goals: Yattara (OL) 8', 46', Gonalons (OL) 35', Rosa (MB) 66', Umtiti (OL) 66'

Bookings: Magera (MB) 12', Rosa (MB) 25', Gonalons (OL) 26', Duris (MB) 45', Milla (MB) 72'

...