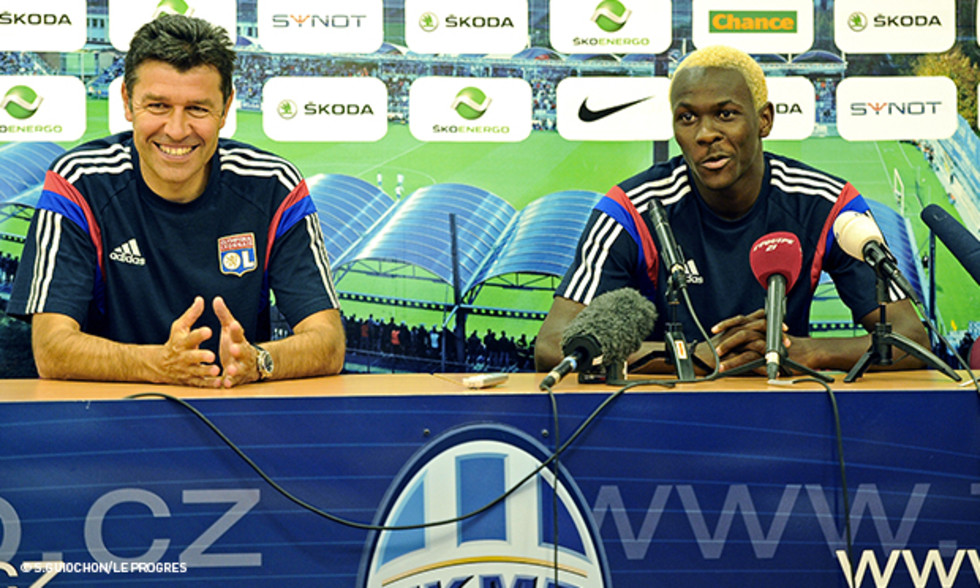 Olympique Lyonnais coach Hubert Fournier and striker Mohamed Yattara fronted up to the press at the club's media room before training...
Mohamed Yattara
How are you approaching your first European match?
"Very humbly and very focused. We are playing against a very good side that people don't know too much about. We have to be careful…  We are here to get a result, hoping to take a big step towards qualifying."

Is it a dream for you to play in this match?
"It's dream that's coming true. I'm lucky to be here. We have to give it everything. We have played well in the practice matches. But this is an official match. My progress? I think I've progressed across the board, in keeping the ball, taking chances... I'm still working hard. I'm young. The forwards are here to help the team. We will try to score to make the tie safe."

Are the young players on a mission in this Europa League?
"We want to go as far as possible. We don't want to let down this club and its history..."
---
Hubert Fournier
Are the team and the coach ready?
"We think so. We have prepared well, even if we're not yet at 100 per cent. But from what we're doing in training and what we've shown in the warm-up matches, we can be confident."

Does your opponent have an advantage?
"Of course. They have a clear advantage. But we will give it everything and fight as hard as we can to be in a good position before the return leg."

Do you have experience of playing against Czech opposition?
"Yes, OL played Plzen last season and we know it won't be easy. It will be a very tough tie."

How are you approaching this game?
"We are looking to score, but current form will also play an important role. We want to prepare well for the return leg. The perfect result would be a 1-0 or 2-0 for us. It will take a very good OL performance, like the one against Shaktar Donetsk…"

How are you feeling ahead of this match?
"We are not in amazing form, but we want to perform well. The preseason matches have helped us find rhythm and find our balance. We are happy to have found it on the eve of the new season."
We have to do the job as a team
Are the absences of Gourcuff, Grenier and Dabo a handicap?
"Yes, their absence is a handicap for the team. We are here with players to cover, we hope, these absentees. We have to do the job as a team, before getting them back."

The absence of Danic?
"It was a choice. But for the moment he is still an OL player and could well begin the season with us..."