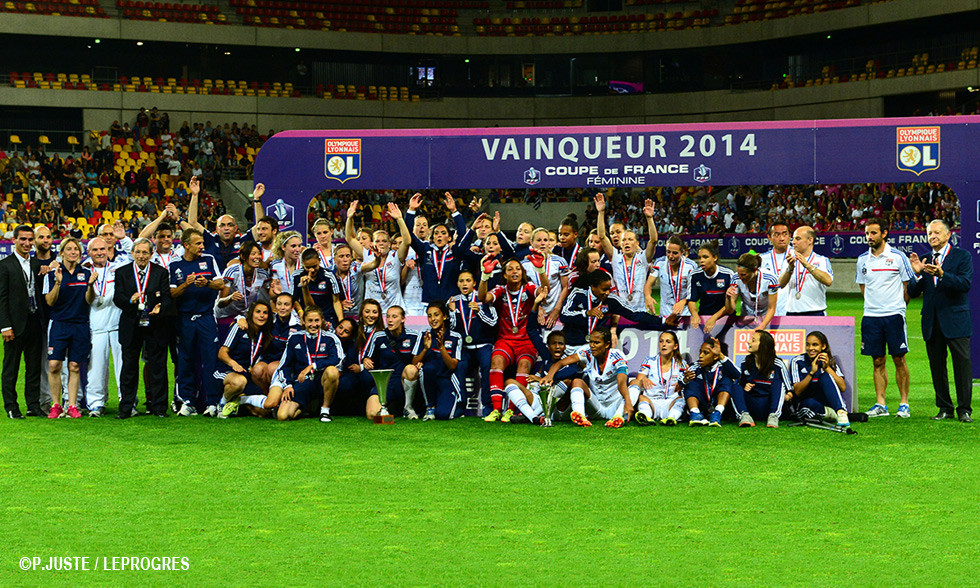 Les Lyonnaises won the Coupe de France 2-0 over Paris, thanks to two second-half goals and confirm their status as the best team in the land. Bravo to the players and their coach Patrice Lair, who finished his career on the Lyon bench on a winning note.
The Coupe de France is theirs! Les Lyonnaises defeated Paris Saint-Germain 2-0 in the final at the MMArena in Le Mans. Lara Dickenmann and Corine Franco, the two full-backs scored the goals in a match that the Lyon players controlled for the most part. After clinching the league title two weeks ago, Patrice Lair's squad completed a second successive double! A fantastic parting gift for the coach after four seasons spent in charge of the OL Women's team.
94': The four minutes of stoppage time see no change to the scoring...OL win the Coupe de France! Les Lyonnaises celebrate with their supporters that made the trip.
94': Superb save by Kiedrzynek from a Henry header.
75': Kiedrzynek, in the Paris goal denies Schelin's backheel with a great reflex save.
61': Franco doubles the lead! Necib provides a superb pass for the full-back who makes no mistake with her header. 2-0 for OL!
58': Dickenmann opens the scoring! On the edge of the area, Necib finds Abily, who picks out the Swiss international who in turn fires the ball into the far top corner. 1-0 for OL!
39': Necib puts Schelin clean through on goal, but the Swedish star loses her one-on-one...
...


Teamsheet

Olympique Lyonnais 2 - 0 Paris Saint-Germain (Half-time: 0 - 0)

Olympique Lyonnais: Bouhaddi - Franco, Renard, Kumagai, Dickenmann - Henry, Abily, Necib (Majri 80') - Thomis (Bussaglia 55'), Le Sommer, Schelin (Tonazzi 83').

PSG: Kiedrzynek - Houara, Delannoy, Georges, Boulleau - Hamraoui, Pizzala (Cruz 69'), Heath, Dali (Asllani 70') - Delie, Horan (Bresonik 76').

Goals: Dickenmann (OL) 58', Franco (OL) 62'.

Bookings: Hamraoui (PSG) 60', Heath (PSG) 66'.

...