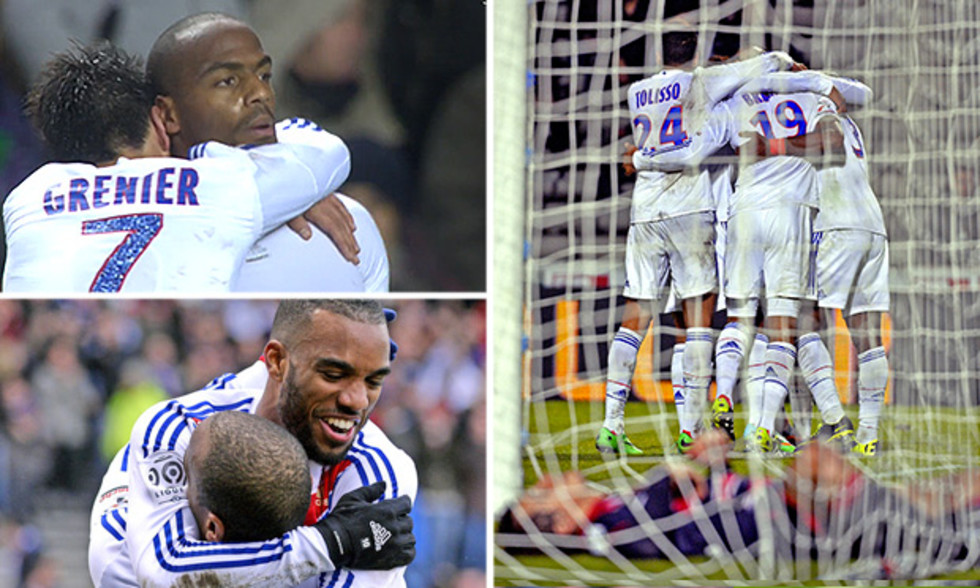 They left their mark on the Olympique Lyonnais season, thanks to their importance, or their sheer beauty. Some of the goals from the 2013-14 season will remain in the memory...
Providential. It burst out of the box and the timing was perfect. In the final seconds of the derby, Briand surged forward to header the winner into the back of the Saint-Etienne goal to offer OL victory! Le Chaudron was anything but a Cauldron. Les Lyonnais had scored and extended their derby dominance away to Les Verts.
A stunning goal. The two OL attackers totally undid to the Stéphanoise defence. After a Gourcuff backheel, Gomis broke down the right touch line and got around Sall before chipping the ball towards Lacazette on the left side of the area, who struck a magnificent left-foot volley into the back of the net. It was a wonderful move that saw no less than six defenders eliminated.
Focus on Europe. From a Grenier set piece, Koné's header gave the Nice 'keeper no chance. The early goal was enough for Les Lyonnais to finish in 5th place, and qualify for Europe next season, the 18th year in a row.
Obstinant. The regulation 90 minutes were up and Lyon were still trailing 1-0 to Bordeaux. But Garde's men were only interested in victory. Bedimo leads the charge with the equaliser in the in the 92nd minute, and just seconds later, Tolisso netted the winner. It sparked crazy scenes in amongst the Lyon players.
Long-range bomber. He enjoys taking an overall view. His long-range bombs have become the speciality of Jordan Ferri. The midfielder hit the target against Evian, Valenciennes and Paris - the winner they defeated the Parisian giant.
Mutuel attraction. The goal against Lorient was a moment of magical osmosis between two fine technicians. Grenier beat his man, found Fofana, who served Gourcuff on the edge of the area. The France international produced a no-look back his for Grenier slammed home a first-time left-foot finish.
The entertainer. In the opening match of Ligue 1, against Nice, Gourcuff scored the fourth goal with a fantastic 30m free-kick. His clinical strike, pure and powerful, flew into the top corner and left Ospina rooted to the spot.
The three bands. It all happened fast. Very fast! The 3 Lyon players combined at lightning pace for the second goal against OM in the Coupe de la Ligue. Lacazette, after a series of dribbles, picked out Gourcuff who gave it straight back. The Lyon striker then squared the ball for Gomis, to finish!