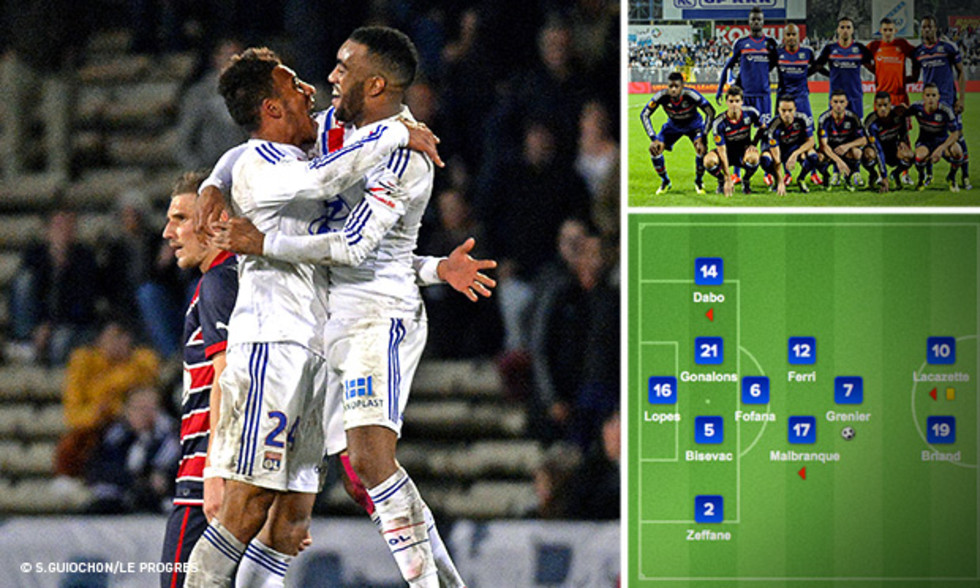 Whether they ended in victory, defeat or draws, some of the 61 OL matches of this season 2013-14 left their mark. Now join us to take a look back at these moments of intense joy and heartbreak...
The slap. On October 6 2013, Les Olympiens were literally knocked out when they travelled to Montpellier, going down 5-1. It has been almost ten years since OL had conceded so many goals in a L1 defeat. This match remains one of the hardest results to accept this season... But one difficult to forget...
Tactical turning point. The formation changed for good. For the match against Rijeka (1-0)  in October, Rémi Garde decided to switch from his 4-3-3 and 4-4-2 with the famous midfield diamond. Gonalons, Fofana, Grenier, Gourcuff, Ferri and Malbranque all found their feet in this new shape. It was probably one of the main reasons for OL's amazing comeback...
Mythical. OL felt right at home at their near neighbours Saint-Etienne. Les Lyonnais confirmed their sovereign status at the Stade Geoffroy-Guichard where they have ruled since 1994. It was a special victory, given that travelling fans were not allowed to travel. A strange atmosphere and a winning goal in the final second!
The comeback. Powerless for 92 minutes against a packed Bordeaux defence, 180 seconds was all it took for Les Lyonnais to turn things around in stoppage time with goals to Bedimo, before Tolisso headed the winner. A precious victory in the race for Europe and won with heart…
Spectacular. It was doubtless one of the performances of the season. Against Plzen in the last-16 of the Europa League, Les Lyonnais turned on the style. Fofana, twice, Lacazette and Mvuemba all scored fantastic team goals. The Stade de Gerland appreciated the spectacle.
The referees offside. Les Lyonnais had to deal with a collossal number of unfavourable refereeing decisions. The home match against Monaco was almost too much to take. OL lost 3-2. All three Monaco goals were offside... cruel.
Heads high. Les Lyonnais were eliminated from the Europa League at the quarter-final stage by Juventus over two legs. It took an own goal in the return match in Turin to put paid to OL campaign... A courageous performance...
David downs Goliath. On April 13, OL produced a massive upset. With great heart,  an inspired Lopes and a Ferri wonder-strike, Les Lyonnais defeated the league leaders Paris Saint-Germain at the Stade de Gerland.
Robbed. OL lef the Stade de France empty handed. Just a week after defeating PSG in L1, Les Olympiens were unable to reproduce the same result in the capital in the final of the Coupe de la Ligue. OL was beaten 2-1, conceding a penalty for a foul... outside the area!
Mission accomplished. The Lyon coach had a major objective in the 2013-14 season: qualify the club for Europe for an 18th season in a row. They did it, in a thrilling finale. Rémi Garde's players offered him a great gift for his final match on the bench, with a 1-0 win over Nice. They had to fight right to the very end of a long and difficult season, where their strength of character proved the difference on more than one occasion...