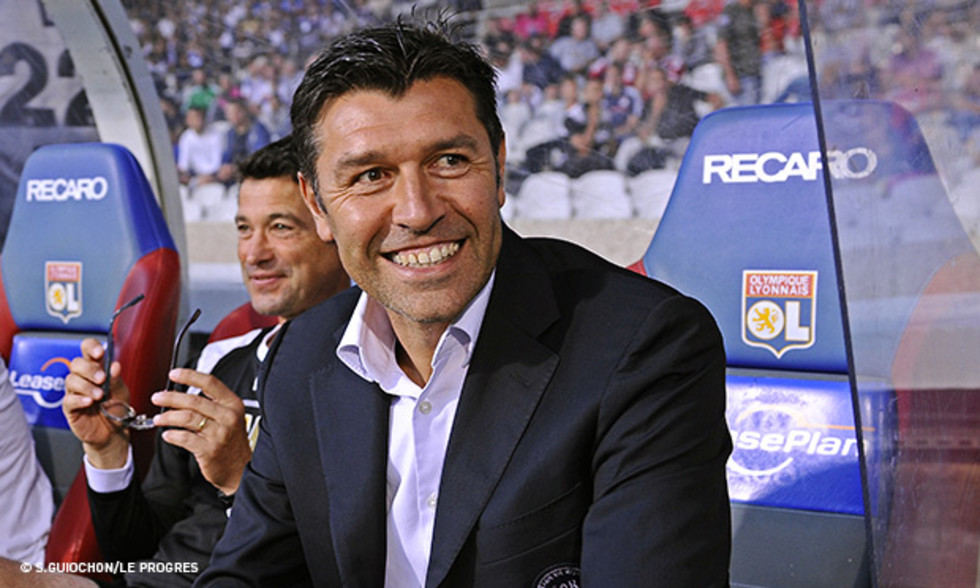 OL officially announced the arrival of Hubert Fournier, former Stade de Reims coach, as replacement for the outgoing Rémi Garde on the OL bench. He knows the club well having played for OL in the late 1990's...
He becomes the 26th coach of Olympique Lyonnais. Hubert Fournier succeeds Rémi Garde, who arrived in 2011 and who announced his departure just over a week ago. Born on September 3 1967 in Riom in the Puy-de-Dôme region, Hubert Fournier coached Stade de Reims in the 2013-14 season. He coached the side from Champagne from the National third division to Ligue 1 in just four seasons, winning promotion to the top flight 33 years after their last appearance. The 46-year-old has signed a two-year contract with OL…a club he knows well.
A return to OL
Hubert Fournier got to know the Tola Vologe training centre and the Stade Gerland during his playing career. The central defender signed for OL in December 1997 at 30 years of age, from German club Borussia Mönchengladbach. He immediately imposed himself in the side coached by Bernard Lacombe and played a major role in the club's amazing end to the campaign. Les Lyonnais qualified for the UEFA Cup after finishing in an unhoped for sixth place. Over the next two seasons, Hubert Fournier and his teammates finished third, qualifying for the Champions League for the first time in the club's history and reaching the quarter-finals for the first time in 31 years.
He spent two and a half seasons at Lyon, playing 58 Ligue 1 matches, 4 Coupe de la Ligue matches and ten European games. He then returned to Guingamp, before ending his career with Rouen in National ten years ago. He naturally took the step to becoming a coach. Just months after retiring at 37, he became assistant to Philippe Montanier at Boulogne-sur-Mer, before coaching Gueugnon, and then, in 2010, beginning his incredible adventure with the Stade de Reims. Hubert Fournier returns to a club in which he enjoyed some amazing European successes...
---
HUBERT FOURNIER
46 yrs. Born in Riom (Puy-de-Dôme), September 3 1967.
Former central defender.
234 matches and 4 goals in L1. 16 European matches, including 10 with Lyon (8 UEFA Cup and 2 Champions League).
PLAYING CAREER: Maubeuge (1988-1989), Caen (1989-1993), Guingamp (1993-1996), Mönchengladbach (1996-1997), Lyon (Dec. 1997-2000), Guingamp (2000-2002), Rouen (2002-2004).
COACHING CAREER: Boulogne-sur-Mer (asst., 2004-2008), Gueugnon (2008-2009), Reims (2010-2014), Lyon (2014).
HONOURS: Runners-up L2 with Reims in 2012.