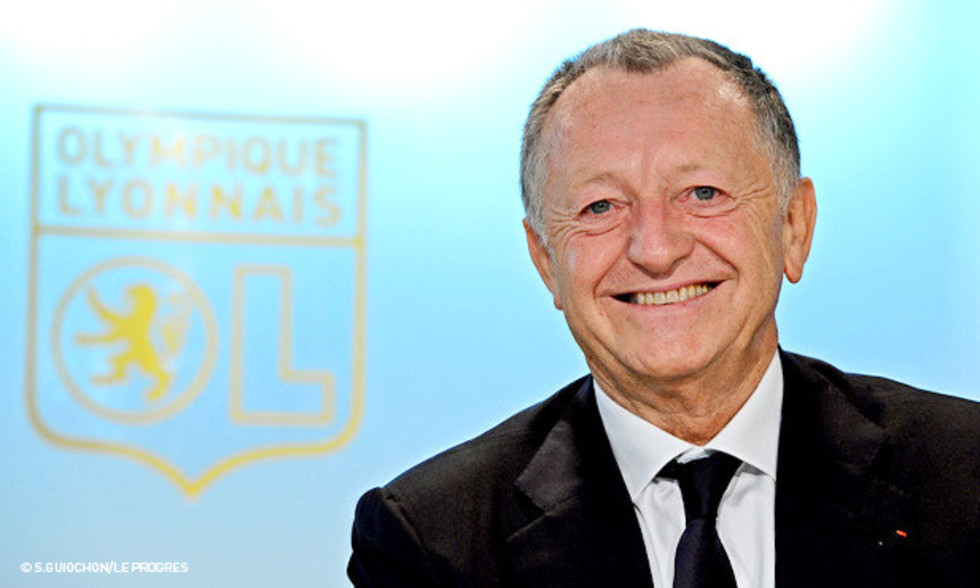 On Monday evening, the OL president Jean-Michel Aulas was the special guest on OLTV where he discussed the 2013-14 season...
THE MATCH VS NICE
"It was a very demanding game on an emotional level. There were unforeseen problems with the stadium, the stakes made it very tense, there was the history between the two clubs... It was a very tough afternoon for me after watching the Women play Montpellier. It was also a very tough week with Rémi's announcement that he was leaving the club. The opponents were very tough and we had to reduce the squad from 18 to 16 for the game for the said reasons. We started the game with real mental strength. We didn't put away all our chances. It was still very tense... even if OM hadn't scored at that stage. Bako Koné's goal? It was an important one. He is a great young kid who is starting to get the recognition he deserves. Anthony Lopes? The lad has had an exceptional season. I had a couple of reservations about his size, but he compensates for that with his dynamic style of play. He has really impressed."
LYON'S SEASON
"In the end, there was incredible joy after what had been a very complicated season. It showed just how solid and well-managed the club is... Consistent results are the foundation. This OL side has the ability to turn situations around. You just have to look at the results this season... OL will be in Europe next season and I'm delighted. I would like to thank all our supporters who came in such numbers to Nice... By the way, OL had the fourth-best crowds in the league, behind PSG, LOSC and OM who all have bigger stadiums. It's great for us with these 34,000 spectators and to be heading to 50,000 with the Grand Stade is a great challenge. OL European? We are level with Chelsea and Real Madrid with 18 qualifications in a row… We are very pleased and will keep trying to do better. OL are still the number one ranked French club in the UEFA rankings. That shows how strong the club is. But we do miss that Champions League music a little bit..."
YOUTH ACADEMY

"We are very happy with all these young kids that have played with the first team this season. Maxime Gonalons? His heart beats for OL. He has attracted a lot of interest… We will need to let one or two players go to balance the books to stay the right side of the Financial Fair Play. I have always told Max he can leave at the end of this season, but also that he can stay... I will meet with Max soon to tell him that his place is here at Lyon, if that's what he wants."
REFEREES
"We were victims of repeated refereeing mistakes. I don't want to say anything more. Against Nice, apart from that last foul on Fékir, Monsieur Ennjimi refereed pretty well. Without all the mistakes this season, we would have finished in the top three. We had the impression that the mistakes kept coming and nothing ever went our way... it cost us 9 or 10 points this term and that's a lot."
REMI GARDE
"Rémi has a lot of good qualities. He was an OL player and has had many positions at the club since his playing days ended. He has done brilliantly in difficult conditions. He's a very smart man. It's a big loss for OL. I regret his decision, but I also respect it. He won't be far away. I am sure he can help us out if we need it. We will stay very close to him."
PLAYER DEPARTURES
"I'm not going to make any comments about that now..."
NEW COACH
"Of all the names that have appeared in the press, there are some that don't correspond to the profile we're looking for, a profile along the same lines as Rémi. We want the coach to be the relay of the strategy defined by the board. He has to be young... intelligent… I spoke to Juninho on the phone to see his position. We are not allowed to have a player without his coaching qualifications which is, unfortunately, the case with Juni. It won't be him, nor will it be Kombouaré who works with a friend [in Lens president Gervais Martel]… I won't cite the three names we have out of respect for the others. I have already interviewed a lot of coaches. Jérôme Seydoux will meet with the selected coaches. We are working hard with Bernard Lacombe and Vincent Ponsot. I will meet them again on Tuesday. We will announce our decision when the squad returns from Korea. We have almost decided. The coaching staff? We will keep as many as possible, but the new coach can bring in his own assistants. We will need to find the right organisation."
FEMININES
"I will travel to St-Brieuc for the match against Guingamp. OL is the only club in Europe to have won so many titles. The team is still number one in the UEFA rankings. A draw against Guingamp will be enough for an eighth consecutive title. There will also be the final of the Coupe de France against PSG. Patrice (Lair) desperately wants to win the final. Who will replace Patrice? We don't know yet. We are looking at several solutions. You will have to wait until the end of the season to find out the name his, or her name."
GRAND STADE
"It's a dream. We are making it with our own money. When it is completed, it will be Europe's most modern stadium. It will be functional, open 365 days a year. There will be an OL Parc that will encourage families to come, elite athletes, visitors and business partners... It will be a veritable village, a hive of activity, really dynamic. The construction? I get updates every day. I visit the site every weekend... The objective is to have it nearly 100% full every game, like Bayern Munich."