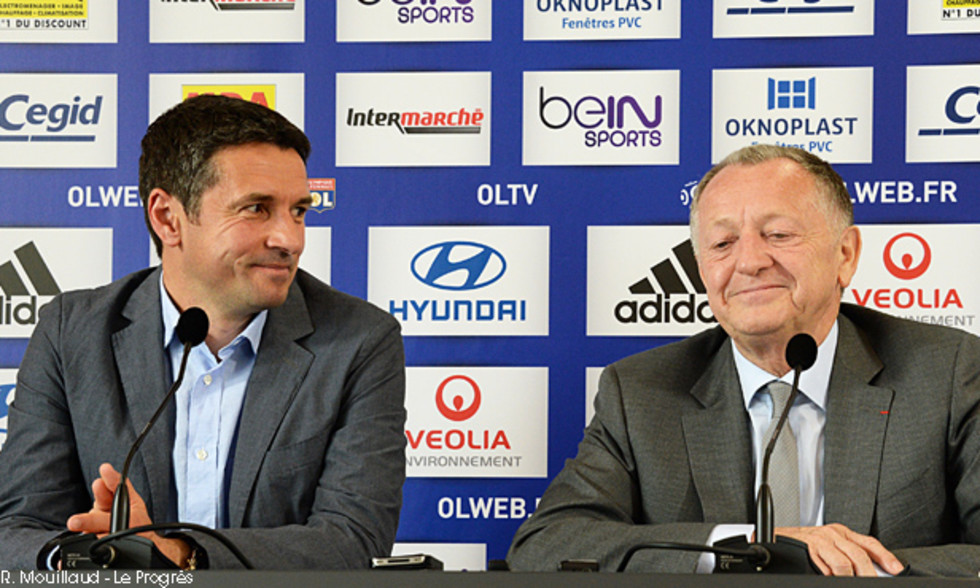 An emotional Jean-Michel Aulas and Rémi Garde, Olmpique Lyonnais coach, announced on Tuesday that the coach would be leaving the club at the end of the season after three years on the OL bench.
When was the decision made?
Rémi Garde
"I am going to put an end to the speculation that has been long and difficult to manage. I haven't accepted the president's offer to continue to coach OL next season. I feel I need to take a break. I have found it very difficult to accommodate the role of coach in my life. It's very demanding, but also very passionate. I would like to thank the coach for having showed the confidence in me three years ago when I had never coached before.
"I thank him for our relationship. There were tough times, but we have a really solid relationship. But none of that influenced my decision. I would also like to thank Bernard Lacombe because he pushed really hard for my appointment, just like he had done when I signed here as a player. I knew I had his support. I would also like to thank my players over the last three years, those that believed in my work, that knew we could achieve something despite the tough times. Thanks to everyone at the club. And also my coaching staff. I was lucky enough to choose my staff and they were incredible. They have done an exceptional job. And one last thanks to the supporters, without whom this club would be nothing. I wasn't expecting such an amazing tribute last Saturday."
Jean-Michel Aulas
"The decisions were made last night. Rémi Garde decided against continuing with the club, to see out his contract, which ends in June, despite all our positive encouragement. He has made this decision for family and personal reasons. This decision in no way effects the development of the club's project. His decision was not made due to the way the club operates or any lack of ambition. He is an excellent coach. He received his diploma yesterday, by the way. He has had very good results with his teams over the last three years. That was also the case when he was in charge of the youth academy… Above and beyond the man, who is well liked and respected here, he deserved the award for coach of the season this year, given the club's results compared to the means at his disposal. Now we have to respect his choice, especially when we respect the man... Life continues. This is a strong club. I am very disappointed, but we did everything we could. His heart remains here at OL. I know we can count on him... I am saddened by his departure."
When will a new coach be named?
Jean-Michel Aulas
"We will announce it when it is done. We have to take the time to plan things. We have defined the profile we are looking for. It is linked with the club's business project, in keeping with the principles of Financial Fair Play. We will not be taking a coach that doesn't speak French, or one with a huge staff, but has the mentality of everything that OL has achieved. We will be looking for a solution that allows us to keep the excellent coaching staff that we currently have. We have a few ideas, but it's too early to name names. We have solutions, because OL attracts a lot of interest. We will make our decision as soon as possible. We have already investigated a few options, especially in terms of existing contracts. We will start interviewing very soon. It would be good to have decided by the time we return from our tour of Korea. This is not a problem for us. Everything is possible, but I don't think looking for an internal solution is the way forward in the short term. I have total confidence in Gérald Baticle, Bruno Génésio and Joël Bats. We will be proposing that they continue with us."
What does the future hold?
Rémi Garde
"I won't be coaching another team come July. I really need to take a break. I'm not worried about my future at the moment. I need a break to breathe a little. It was a very difficult decision to take. I discovered a job that I really love. Giving so many young players their chance was incredible. I saw it as a very important role, compared to what I experienced as a player. I always respected OL, I was always very loyal. For these three years, my family has been by my side. I need to recharge to come back strongly. I had a number of long discussions with Jean-Michel Aulas, who tried to get me to change my mind. It was a very personal decision that had nothing to do with the club's project. I was worried I wouldn't have as much energy. I don't have a career plan. I really loved this job. We will see what the future holds. You need to keep a clear head in this job. Obviously I would have been very proud to be the first coach at the new Grand Stade. It would have been great for my ego, but I'm not like that. I announced it to the players this morning."
How are you approaching this crucial match against Nice on Saturday?
Rémi Garde
"I would like to separate this decision from the issue of Saturday's game against Nice. I needed to do it. It's much easier now. It was becoming too difficult to work. I have total confidence in my players to get the job done. Our season won't be the same depending on Saturday's result. We charged me with bringing in a new approach, a new policy. I tried to do that. Our sporting and financial results are good and we won two trophies..."
Jean-Michel Aulas
"We need to produce a big game against Nice. It will be tough but we have the quality on the pitch. I am sure, if we play with our hearts, a strong mentality and guts, we will qualify for Europe for the 18th year in a row."