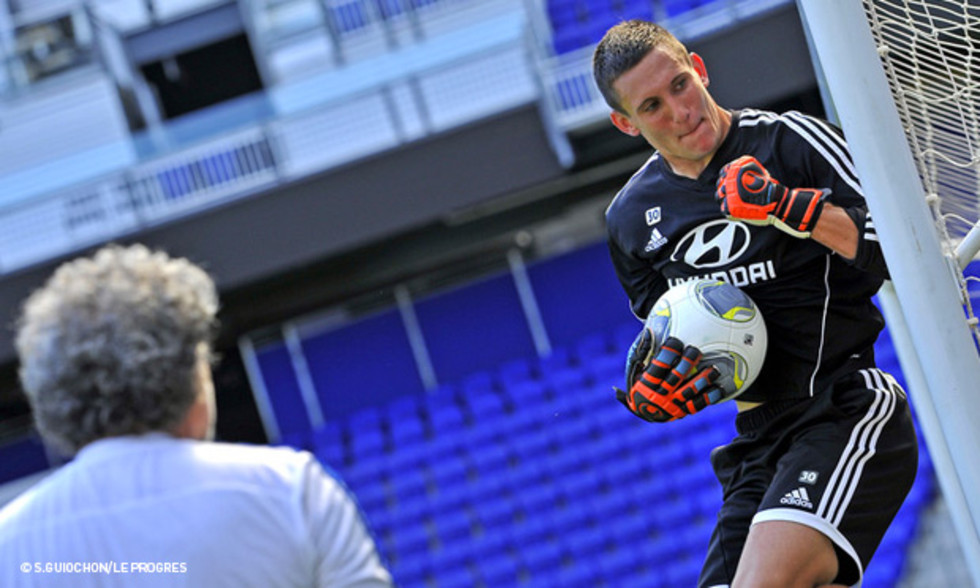 Olympique Lyonnais are happy to announce that young goalkeeper Mathieu Gorgelin has signed a new three-year extension to his professional contract with the club...
Last summer Mathieu Gorgelin signed a one year contract with OL... After a 2013-14 season that saw him make his professional debut, he has extended his contract for the next three years. "I'm delighted. It shows that the club is counting on me. I've done what I needed to do to keep on improving and answer the challenge when I've been called upon. Today I get the reward. I worked so hard at training to always be ready." Ready, like he was on November 2 2013 when Anthony Lopes got injured in the Rd-of-64 Coupe de France clash against Guingamp. He played well, just like he did against Rijeka and that famous victory in the derby at Geoffroy-Guichard.
"It was almost beyond hope to think I was going to play three games in a week and finish with the derby against Saint-Etienne. It was a really good year. That's what we work so hard for."  The season started for Mathieu as an understudy to the Anthony Lopes with Rémy Vercoutre recovering from injury, before becoming first-choice for that famous week, and then third choice. "It's true that it was tough for a week or two to be back as third choice, but I never threw in the towel." A three year contract and no thoughts of going out on loan, as was the case in 2011-2012 (Red Star in National D3; 18 matches).
And when we ask him how his game has improved, the Bressan doesn't hesitate: "I've improved in every department, but especially physically... but it's been a general progression..." He's going to enjoy his holidays with his family and the nit will be time for preseason training. "I really like preseason... I'm looking forward to defending my title in the bike climb up Iseran…" For the records, he stopped the clock at 50'30"!