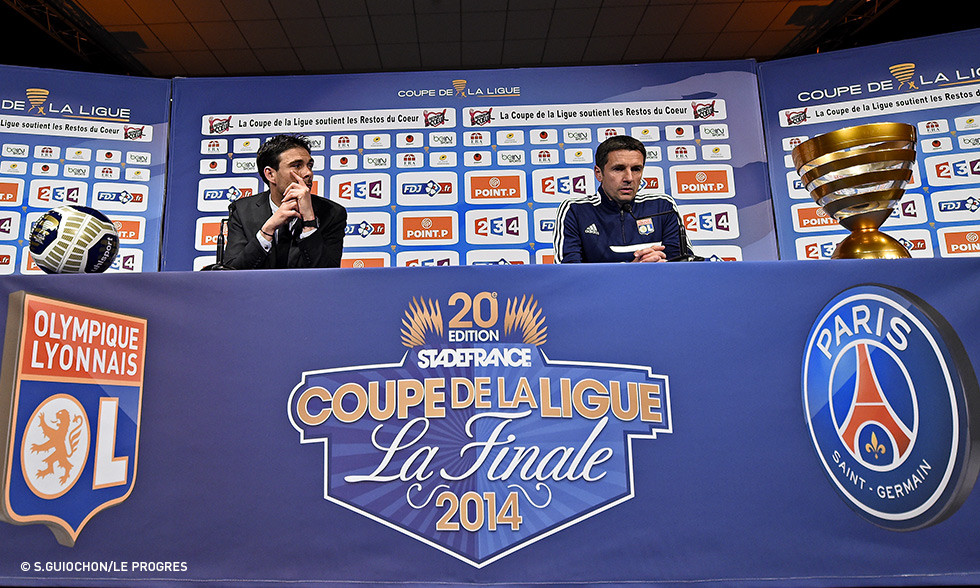 Olympique Lyonnais coach Rémi Garde and captain Maxime Gonalons answered questions at the Stade de France press conference ahead of training for tomorrow night's final of the Coupe de la Ligue…
How much of an impact will last Sunday's match have?
"The two games are completely different. We played at home last Sunday and on Saturday we're playing away. We are much closer to Paris than Lyon here. The two competitions require different ingredients. They have nothing in common. I am not worrying about my players getting carried away with last week's win. We are not crazy enough to be taking them lightly... We start over from scratch."

Has OL changed since playing Juventus?
"It obviously helped the players and the team progress. And we have gone on from that. But yes, those games were very positive for us, despite the defeats."
I'm not sure many of my team would make PSG's first XI... But football is a team sport and my team is playing very well.
Is it not a good thing that Paris remain strong favourites?
"We want to win. There is less pressure on us than PSG, but I want us to be present. On paper, there's no contest. I'm not sure many of my team would make PSG's first XI... But football is a team sport and my team is playing very well."

Pastore or Lucas? Does that change much for OL?
"Yes. They are very different players. Each has very specific qualities."

The absence of Zlatan?
"In terms of players missing from their team, I have a lot of them… Obviously these teams are different with or without these players. PSG still have a lot of excellent individuals. But I'm not worried."


My future?
"This is not the moment to speak about that."

Is the 2012 final still somewhere in the back of your mind?
"I want to see a different Lyon tomorrow night. We are approaching things differently. That loss to OM really hurt. I have changed things in our preparation to not have any regrets. I love the Cup competitions. When we take part in a competition, it's to win it. I prefer playing in a final than watching it on television."

Can the scenes of joy after the win over PSG last weekend, motivate PSG more?
"I don't want to have to apologise for my players being happy."   

Does the fact that you've reached three finals in three years represent something?
"The league brings out qualities over the long term. But three finals is not to be sneezed at. Does it represent the identity of a team? The team's goal is always to get forward and score goals..."

Has the busy fixture list been a positive thing for you?
"We haven't had any choice... And it cost us some players through injury... We are in the middle of a series of very important matches. But these games help the squad and the players grow."
---