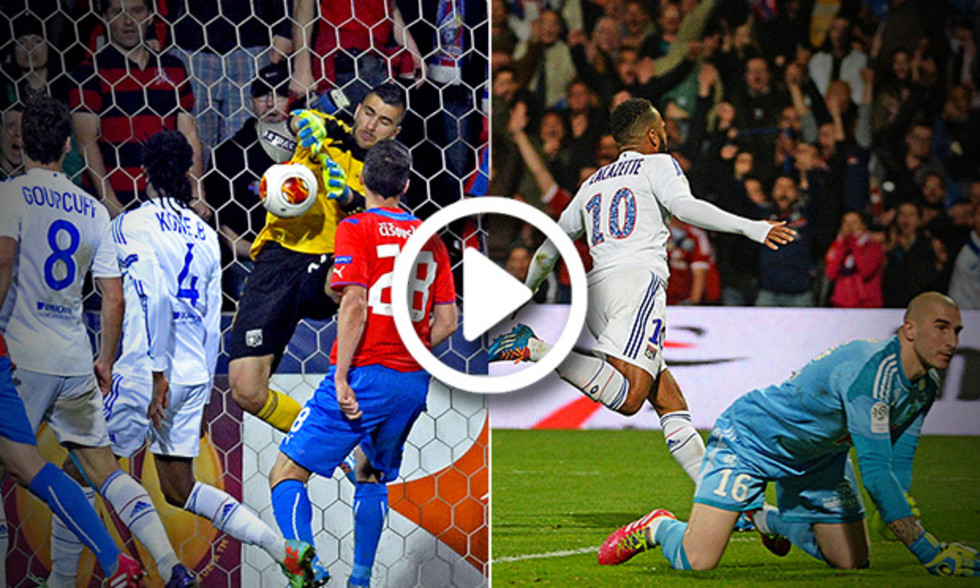 OL's record in March could've been a lot better were it not for injuries and refereeing mistakes. But it would also have been a little worse were it not for the incredible performance of Anthony Lopes against Plzen. Either way, the players gave it everything in an intense month of March...
The Save: Luckily he was invincible…
20/03/2014: We can appreciate the metaphor comparing a goalkeeper to the last line of defence when you see Anthony Lopes' display against Plzen. Despite wave after wave of attack from the home side, it didn't take long to understand that nothing could hurt Lyon that night in the Czech Republic. In the 35th minute Lopes made a great save that set the tone. What followed was nothing short of miraculous. Flying saves into the top corner, reflex saves on his line, double saves from point-blank range. And he also did the simple things well to hold onto the result in the final minutes and not give the home side a sniff of a chance. It was a veritable recital in goal.
The goal: The dynamic duo strike again
Alex Lacazette's superb goal vs ASSE on wat.tv
30/03/2014: In the 38th minute of the derby, that ultimately saw Saint-Etienne emerge victorious, OL had a throw in 70 metres from goal... Tolisso took the throw up the line towards Gourcuff. With a little back-heel flick, Gourcuff found Gomis, who turned out of trouble. The two men had combined to squeeze their way out of the clutches of the ASSE defenders. The Lyon forward that put the ball one side and went the other side of his opposite number Sall. He then chipped the ball over the top towards his strike partner Alex Lacazette who added a breathtaking finish to the move. At full speed, Lacazette hit a first-time left foot volley that nothing could stop... not Ruffier in goal, or the post, that it kissed on the way through... The crowd were in heaven...
The moment: When it rains it pours…
The least one can say is that OL didn't have it all their own way in March. The incredible injury list and an equally long list of refereeing mistakes marked this month of March 2014. Samuel Umtiti, Milan Bisevac, Gueïda Fofana, Clément Grenier, Yoann Gourcuff, Mouhamadou Dabo, Henri Bédimo…they all spent time on the treatment table. Certain will be back soon, others will take a little longer. One he probably won't be back is Miguel Lopes who, against Guingamp, fractured his left tibia and will most likely be out for the season. His chances of going to the World Cup are under a cloud. Other outside factors also made life difficult for OL in March. Three offside goals conceded against Monaco and a clear penalty for hand ball not given in the derby clearly affected the results of those two crucial matches... Such a shame...