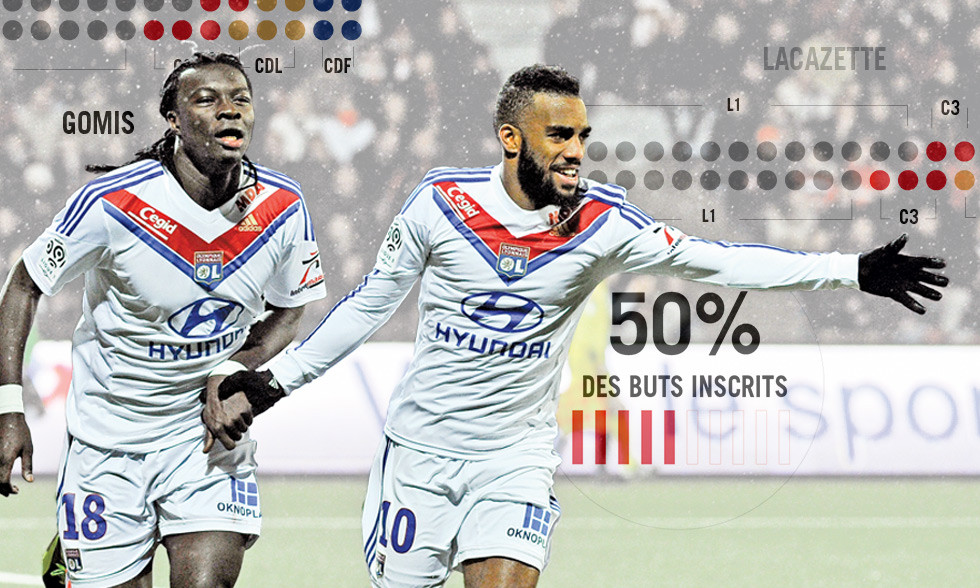 Bafétimbi Gomis and Alex Lacazette have scored 38 of Olympique Lyonnais' goals this season… They score whether their cohort in attack is on the pitch or not... and they are scoring goals that change matches...
19 goals for Alex in 3,697 minutes and 152 shots (13 in Ligue 1, 2 in the Coupe de France, 2 in the Coupe de la Ligue, 2  in the Europa League).  19 goals for Bafé in 2,883 minutes and 102 shots (11 in Ligue 1, 3 in the Europa League, 3 in the Coupe de la Ligue and 2 in the Coupe de France). Don't forget Bafétimbi didn't start his season until September.

The two forwards have played 2,073 minutes together. They have scored 28 of their 38 goals when both were on the pitch. Alex has scored six times when Bafé was not there, including three in August. Bafé has netted four in the absence of his colleague.

Alex has provided three assists for Gomis (away to Guingamp, at home to OM and in the Coupe de la Ligue at home to Stade de Reims). They have also combined for goals against Nantes (goal to Lacazette after a blocked shot from Gomis and a penalty for Gomis aftera foul on Alex), Saint-Etienne (header from Gomis palmed out to Lacazette who scored) and Lorient (shot saved from Lacazette and finished by Gomis).
Alex has scored 15 'decisive' goals: he has opened the scoring on 9 occasions, put his side up 2-1 twice, equalised once, 2 made the game safe twice at 2-0… and once he reduced the arrears for 2-1 which saw OL fightback against Montpellier. The other four goals? Twice he made the score 3-0, and he netted 2 goals in the Coupe de France against Suze when it was already 3-1 for OL.

Bafé has scored 18 'decisive' goals: 2 equalisers, 6 six goals for 2-0, he has opened the scoring 7 times, twice re-established a two-goal buffer at 3-1, 1 goal to make it 2-1. He has only scored one consolation goal, and that came against Monaco when OL came back to 2-1.

Alex hasn't scored in the league since the match against Nantes (February 9), 590 minutes and a little more than six matches. His last goal? Against Viktoria Plzen in the 4-1 Europa League victory. He also scored the winner against Chornomorets Odessa (1-0).

Bafé scored the winner against Guingamp. He also scored the goal away to Plzen.

Against ASSE, Alex opened the scoring in the first meeting this season. Bafé could score his 100th Ligue 1 goal against Les Verts, but he has never scored in a derby at the Stade de Gerland.
50% of goals scored in official matches
The last four seasons: 2009-10, Lisandro 24 and Gomis 15: 40.6% of the team's 96 goals; 2010-11, Lisandro 19 and Gomis 12: 41% of 75 goals; 2011-12, Lisandro 25 and Gomis 25: 49% of 102 goals; 2012-13, Lisandro 14 and Gomis 21: 42.1% of 83 goals.

Compared to other dynamic duos?
PSG: Ibrahimovic (40 goals) and Cavani (21) have scored 61 of their club's 109 goals this season (55.8%).
Real Madrid: Ronaldo (42) and Benzema (23) have scored 65 of 123 goals (52.8%).
Liverpool: Suarez (28) and Sturridge (22) have scored 50 of 91 goals (54.9%).