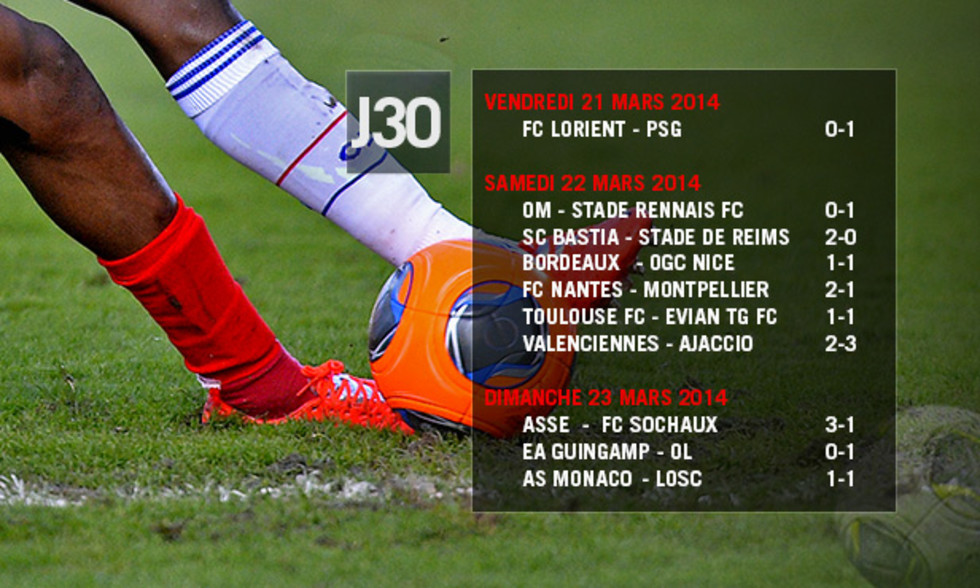 Monaco let Paris slip away towards the title. The race for the top three is back on with ASSE and OL on the charge... Valenciennes choked...
When they aren't impressing with their spectacular play, they impress with their ruthless efficiency. Thanks to their 1-0 victory over Lorient, PSG made it a season-high six consecutive wins in Ligue 1. They took another big step towards the title as second-placed Monaco were held 1-1 by Lille and are now ten points adrift of the leaders. Monaco and Lille's draw was good for Saint-Etienne…
After two away defeats, Les Stéphanois got back to winning ways at home to Sochaux and closed to within three points of third place. The derby next weekend could prove decisive! Les Lyonnais haven't had their final say. Their win over Guingamp means another win in the derby next weekend and the two sides will be all level in fourth.
At the other end of the table, Valenciennes choked at the worst possible moment. Leading 2-1 over bottom club Ajaccio, who hadn't won away from home since November 2012, and with one minute left, the northern side somehow snatched defeat from the jaws of victory and remain 18th. Nantes finally got back to winning ways... After two and half months without a win, they defeated Montpellier 2-1 thanks in part to the 12th and 13th red cards of MHSC's season. Bastia are back on top in Corsica after they recorded a third consecutive home win, 2-0 over Reims.
---
Also...
- All you need to know about EAG - OL
- The standings after Week 30.
-OL fixtures for the 2013-14 campaign