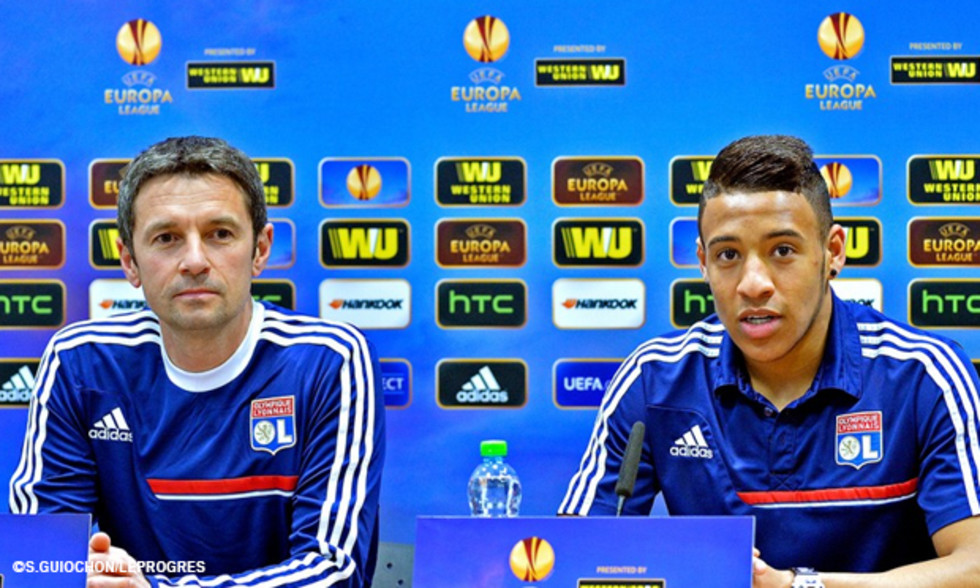 Rémi Garde was accompanied by young midfielder Corentin Tolisso for the away side's press conference ahead of the Europa League clash with Viktoria Plzen…
Corentin Tolisso
Back in July, could you have imagined you would be here today?
"I didn't even think about it. I knew I might be able to become part of the professional set up if I worked hard enough... I'm very happy with what I had achieved, but I thought I would be playing more with the reserves... I'm very happy to be here today. The professional world? Physically, it's very different. Technically, it's a lot better than with the reserves. But you can't be scared. At OL, the squad has great quality. We are trained well and prepared for a career as as a pro. I was trained as a midfielder. But you also have to adapt to all positions. But I love playing in midfield, getting forward and scoring goals, setting up goals with assists. I have to keep working hard..."
What do you have to be wary of on Thursday?
"They are a team that start very well. We have to be focused and not concede a goal from kick off. We have to answer the challenge physically, tactically and technically... We haven't qualified yet. We will still have to fight to reach the quarter-finals."
Is it not tempting to look a little further than the quarters?
"No, you mustn't fall for that temptation... Everything can happen in football... We are not going to underestimate this team... We are very wary..."
Is playing in Europe a special feeling?
"It's incredible to play this competition at my age. Making the quarter-finals will be even better."
Rémi Garde
Injury update
"Steed Malbranque is in the squad. He is doing better. Samuel Umtiti is out for approximately four weeks. Gueïda Fofana is sidelined for 4 to 6 weeks (adductor) and Clément Grenier is still out. He is resting and we don't know yet, when he'll be back."
Have you ambitions grown and are you worried ahead of this return leg?
"We are at the halfway point of this tie and we are leading comfortably. But we are taking this second match very seriously and we are ready for every scenario. We are focused on Thursday's match... Being eliminated would be a disaster. We are in the box seat and we are ambitious. I have every confidence in my team that they will understand my message and finish the job. I am most worried about a Plzen side with wounded pride and nothing to lose, more than my players losing their concentration. I am expecting them to continue as they have been recently and qualify for the next round in style. I know this second match will be played against a side with real character. We have to match our performance from the first leg."
Have you digested the loss to AS Monaco?
"It wasn't easy. I learned under Gérard Houiller that once the final whistle goes, there's nothing more you can do. We were denied one, perhaps even three points. We have changed competitions now... There's not point wasting energy thinking about it now..."
How will you cover the loss of Fofana?
"It's a blow for the team and for Gueïda. But we have several players who have shown they are ready to step up, such as Arnold Mvuemba, Corentin Tolisso, Steed Malbranque, Jordan Ferri… We have to deal with his absence."
Will you be resting certain players?
"I will see how training goes today. It's possible, but it will depend on certain factors..."
Is you' main aim to keep a clean sheet?
"We have to put the first leg out of our minds. We are looking to cause this side problems, score as many goals as possible and concede as few as possible."