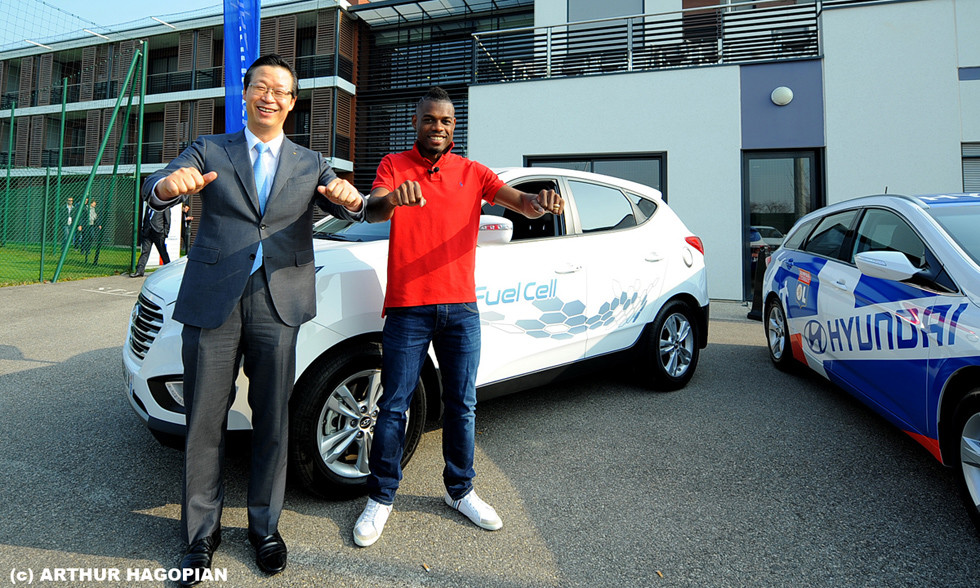 The new hydrogen model from Hyundai was unveiled exclusively at the OL training centre on Wednesday. Deok Jeong Im, the president of Hyundai France and OL forward Jimmy Briand were present to mark the occasion.
Hyundai Motors chose Olympique Lyonnais and its training centre to unveil their brand new car. A car like no other. Deok Jeong Im, president of Hyundai Motor France, came especially for the occasion. And with him, the ix35 Fuel Cell, the first of a new line of hydrogen vehicles. This latest generation, non-polluting, high performance, silent and with extended autonomy is the latest innovation on the market.

In front of around 40 journalists, specialising in football and the automobile industry, Mr Im explained the reasons why this special event was taking place at Tola Vologe . "I decided to organise this exceptional event here because I'm very proud of our partnership with OL for the last two seasons and to be associated with such an ambitious club and with whom we share common values."
He also paid tribute to the presence of Jimmy Briand, one of the ambassadors for the Korean manufacturer. The Lyon attacker lauded the qualities of the manufacturer, founded in 1967, and especially the i30 that he drives. "It's a very spacious car and you need space when you have a family. It's a nice car to look at and very comfortable. I have only good things to say about it."
The key word in our partnership is engagement
Vincent Bernard, the marketing director of Hyundai Motors France, also discussed the reasons behind this partnership with Olympique Lyonnais. "The key word in our partnership is engagement. Engagement in certain values. That allows us to reach out to people. Football is the favourite sport, the most played sport and the most broadcast sport in France. It's a global strategy to be partners with global events such as the World Cup 2014." Before adding: "It's a pleasure to work with OL, and excellent club, an ambitious club, that has a great academy. We will do what we can to ensure our partnership continues long into the future."