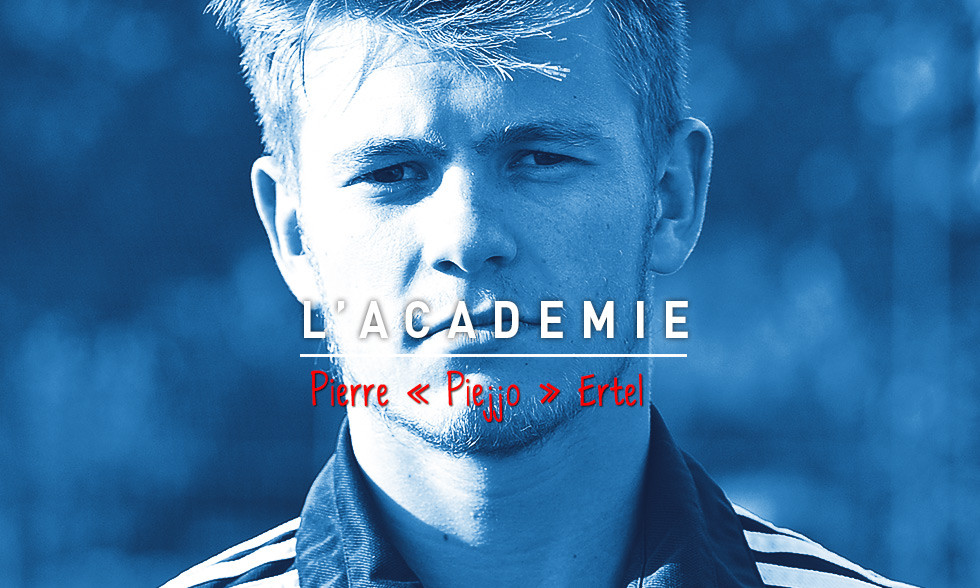 He is proud the wear the shirt. Pierre Ertel knows how it feels to wear the French national team strip. The versatile 18-year-old owes it to his excellent performances in an OL shirt, in just his first season with the pro reserves...
OL isn't the only football team with a special place in his heart. There's another shirt he loves wearing. He has a burning desire to defend the colours of another side. Pierre Ertel lives a dream every time he gets the call up to the France national team. To get the chance to experience these moments, he has cut his teeth for the last four seasons at his favourite club, the club from where he's from. Eight years after beginning his football voyage, the boy from Arnas left Misérieux-Trévoux, his one and only club, to join OL. He still remembers how it all came about: "When I was 12, Lyon spotted me. I went to the selections and it all went well. I joined the U14s." A lot has changed since then. First of all, his position on the pitch. "I'm a right back, but I can also play on the left. I started out as No.10, but when I joined OL, a dropped back into defence." The move didn't unsettle him... quite the contrary!"

'Piejjo' never felt lost. He sees his family "every weekend." He likes "going out with his teammates." Some of them are also his classmates at school... Sam Moutoussamy, Jérémy De Sousa… This friendship with "his mates" is reflected on the pitch. With his head firmly on his shoulders, this 18-year-old full-back has made a place for himself in the pro-reserves. He is surprised by his start to the season. "I'm very happy, I thought I may be training with the pro reserves, but playing with the U19. But in the end, I'm playing more with the reserves." But he has no intentions of stopping here.
His road has led him to the France national team and he is climbing each step as it comes... training camps, the U17 and recently, the U19, just after coming back from a serious injury... a broken leg. Pierre recounts his history in Bleu: "In the U17, I played two out of three matches in the Euro Elite round. Here, I've just played a full match against Germany with the U19. It went really well." It has been a voyage of discovery. A chance to see something different: "It's a different philosophy, with different demands in training. It's more fitness work." And there is the opportunity to work against an amazing backdrop…Clairefontaine. He can't hide his enthusiasm to go there. He can't hide his excitement when he discusses it: It's incredible, the dream of every French footballer. The quality of the facilities, the environment... it's paradise for the players. It makes me think about Les Bleus, I remember all the times I saw them on television. It's bizarre to be there, living it for real." But for now, Pierre Ertel pulls back on his other colours, the blue of OL, this weekend... You don't need to sleep, not when you're living your dream.