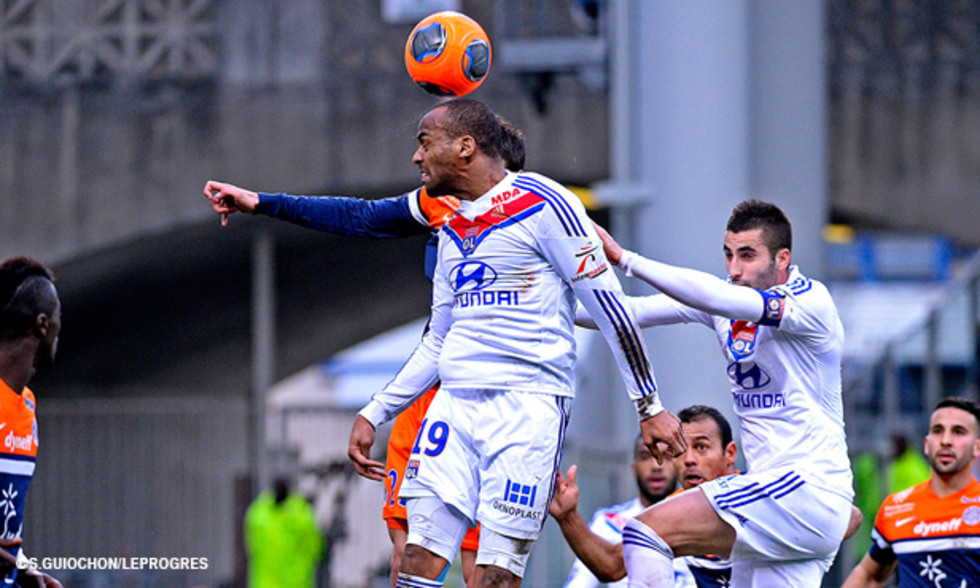 The big match of Week 26 between OL and LOSC ended in a scoreless draw… Both goalkeepers did what they had to do… It stays or square in the standings…
Les Verts won in Bastia and moved third on goal difference ahead of Lille. Needless to spend an age talking about how important this match is for both sides in the race for third spot. For the LOSC, it was the chance to reclaim third and put another three points between themselves and OL. OL, however, could close to within just two points. Martin, Béria… and Basa were all missing for Lille; Gourcuff, Dabo and Bisevac were missing for OL. Rémi Garde preferred Ferri,  the only player along with B.Koné to have played in Odessa, in midfield alongside Gonalons, Fofana  and Grenier. 4-3-3 for LOSC, 4-4-2 for OL.
Lyon made a good start and left very little ball or space to their hosts. But both sides were turning over a lot of ball as the battle raged in midfield. Balmont got the first shot of the match on target (23') before Roux fired just wide (25'). Les Dogues got stronger and pressed higher up the pitch. OL looked more dangerous when attacking down the right, but OL weren't using the flanks enough. Three fouls (?) went unnoticed in the LOSC box, including two handballs by Rozehnal…  Both sides made too many mistakes for the opening 45 minutes, punctuated by Kjaer's header from a free-kick. OL's first and only shot of the first half came with a blocked shot from Gomis in the 44th minute! It was a dour half of football to end Week 26...
Would the second half serve up more of the same? It didn't start well with a series of throw ins and deep passes around the defence... Rozehnal's header was cleared off the line by Ferri after a corner (50'). LOSC had more of a cutting edge to their play.  They pushed forward down the wings. Origi looked dangerous and A. Lopes produced a magnificent save to deny him before somehow deflecting out a dangerous cross!
OL fought back and started putting their foot on the ball while staying disciplined and solid at the back. Grenier lobbed Enyeama but Souaré cleared from under his own crossbar (63'), with the first real chance for OL.  Mendes replaced Roux…  The match remained tense. B. Koné and Lacazette both forced Enyeama into action… OL looked dangerous. But Lopes produced another fingertip save to turn Origi's shot onto his crossbar (73'). Lacazette was denied by Enyeama (75'). Was either side to get the breakthrough? Both goalkeepers were excellent. Both sides had chances to match.
Go for the win or avoid defeat? That was the question for both sides in the final moments. Gonalons had to go off after a collision with Souaré, replaced by Tolisso for the final 10 minutes. There was to be no change to the scoring though, despite one last OL raid... Tolisso's shot was blocked by another hand in the area before Lille were denied a winner by a line-ball offside call. LOSC retook third place; OL remain five points from the top three... Both sides still have it all to do…
...


Teamsheet

In Lille, Stade Pierre Mauroy, 45,000 spectators (approx.); Referee: Mr Millot. LOSC 0-0 OL (H-T: LOSC 0-0 OL).

LOSC: Enyeama – Sidibé, Kjaer, Rozehnal, Souaré – Mavuba (cap), Balmont, Gueye – Kalou, Roux (Mendes 68'), Origi (Rodelin 91'). Coach: Girard

OL: A. Lopes – M. Lopes, B. Koné, Umtiti, Bedimo – Gonalons (cap) (Tolisso 84'), Fofana, Ferri, Grenier – Gomis, Lacazette. Coach: Garde.

Bookings: Roux (L) 29', Sidibé (L) 37', Gomis (OL) 38', Balmont (L) 88'

...