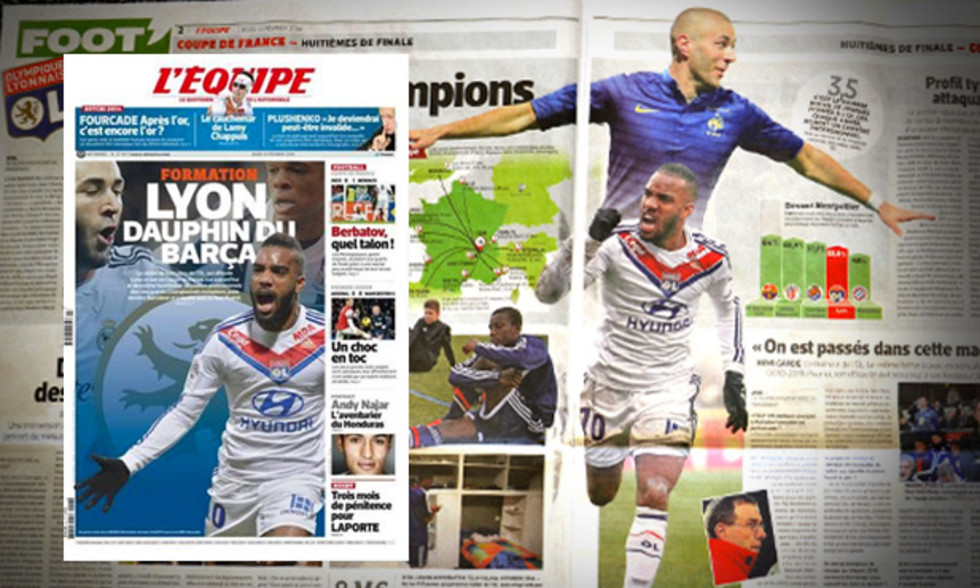 The OL youth academy was honoured in last Thursday's edition of French sports daily L'Equipe …
Alex Lacazette is celebrating on the front page of the sports paper on Thursday February 13. Just above him, is Karim Benzema, on one side, and Loïc Rémy, on the other… Three of the 31 professionals players produced by the OL youth academy and now plying their trade in one of Europe's top five leagues. OL, are second only to FC Barcelona. OL are level with Real Madrid and ahead of the Stade Rennais, Arsenal…

Jean-Baptiste Renet follows OL for L'Equipe. He looked into the 'fabric of champions' to write this comprehensive report. There's an interview with Rémi Garde who makes reference to José Broissart - we were his students, his children. He was the driving force and we are his disciples - there a report on the youngsters and their coaches (Armand Garrido), their directors (Stéphane Roche, Jean-Yves Ogier, Gérard Bonneau) and even the academy principal Didier Rajat.
There is also the typical OL youth academy product - an attacker - and 90% of the youngsters recruited by OL are from Lyon and the surrounding region.

Jean-Baptiste Renet's report concludes with a OL youth academy XI dating back to the the 1970's and today, excluding those that currently wear the OL colours, such as Grenier, Lacazette and Gonalons. The XI, without a goalkeeper was chosen by Vincent Duluc, the other great OL specialist at L'Equipe. Leading the way? Karim Benzema in attack, with a teammate by the name of Rémi Garde.