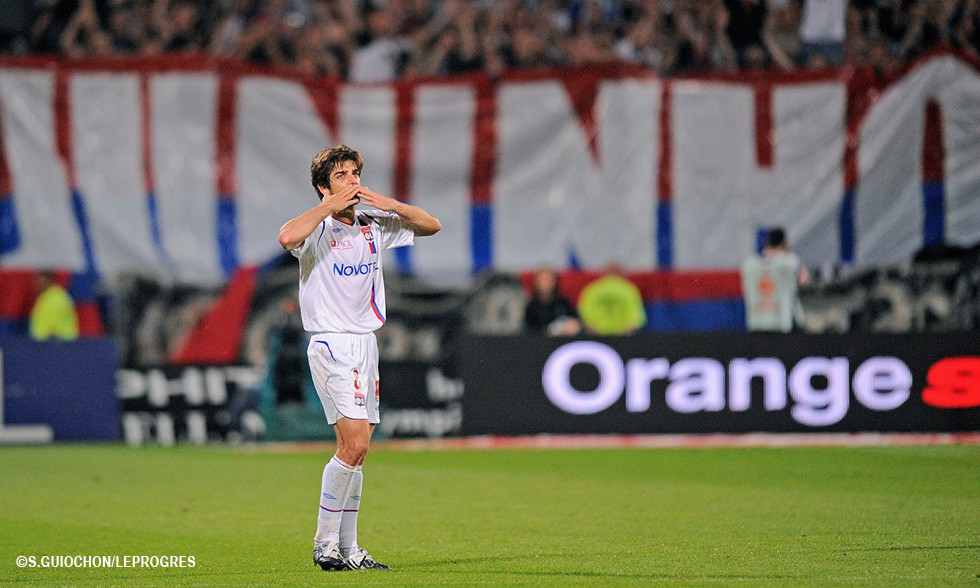 The Brazilian celebrated his 29th birthday on January 30 and announced the end of his playing career…
On such an important day for Il Maestro, the memories come flooding back. We want to send him all our best wishes, our respect and our friendship. The images flow, right up until that 100th and final goal, and those final seconds at the Stade de  Gerland, overcome by emotion. Laughter, inspiration and tears of joy... so much joy that he delivered! Merci Juni. He was the centre piece amongst all the stars of various OL teams. Unique and he remains the greatest player in the history of the club.

Juninho wrote history with OL during his eight seasons at the club, punctuated by 7 championship titles, 1 Coupe de France, 6 Trophées des Champions. His 100 goals (64 at Gerland and 36 away). He sits fourth in the history of goal scorers at the club, behind Di Nallo, Lacombe, Chiesa. 75 goals in Ligue 1, 18 in the Champions League, 7 in the Coupe de France. First and foremost his amazing free-kicks; those he scored himself and those that enabled others to score: 44 direct free-kicks (29 at Gerland and 15 away) including 10 in the Champions League, 3 in the Coupe de France and 28 in Ligue 1.


44 Free-kicks
-  2001-2002: 1 v Sochaux (Fernandez)
- 2002-2003: 5 v Sedan (Regnault), Lens (Warmuz), Auxerre x 2 (Cool), Rennes (Durand).
- 2003-2004: 5 v Lens (Itandje), Nice (Grégorini), Bastia (Penneteau), Metz (Butelle), Bayern (Kahn).
- 2004-2005: 8 v ASSE (Janot), Ajaccio (Porato), Metz (Wimbée), Toulouse x 2 (Revault), Istres (Weber), Viry (Mérigot), Werder (Reinke). 75 free-kicks taken.
- 2005-2006: 8 v Ajaccio x 2 (Porato), Nantes (Heurtebis), Real (Casillas), Olympiakos x 2 (Nikopolidis and Giannou), Eindhoven (Gomes), Le Mans (Roche). 78 free-kicks taken.
- 2006-2007: 5 v Troyes (Le Crom), Bayonne (Bouet), Kiev (Lutsenko), Marseille (Carasso), Lens (Itandje). 112 free-kicks taken.
- 2007-2008: 5 v Toulouse (Douchez), Sedan (Regnault), Strasbourg (Cassard), Barcelone (Valdez), Metz (Marichez). free-kicks taken.
- 2008-2009: 7 v Nice (Letizi x 2), Steaua (Zapatta), ASSE (Janot), Le Havre (Revault),  Barcelone (Valdez), Marseille (Mandanda). 79 free-kicks taken.
The Penalties
14 penalties: 11 at Gerland and 3 away. 3 in the Champions League (Barcelona, Celtic, Anderlecht).
The rest
5 left-foot: 2003-2004 Real Sociedad, Bourg Peronas; 2004-2005 St-Etienne; 2005-2006 Metz; 2007-2008 Créteil.
4 headers: 2002-2003 Sochaux ; 2006-2007 PSG ; 2007-2008 Valenciennes and OM.
By 15 minutes: 13, 14, 20, 17, 14, 22
Goals scored and his influence: 725 scored – 191 = 534 while he was on the pitch; 100 scored and 117 assists. 217 out of 534 = 40.6%!
He played 344 matches and 27,000 minutes. 100 goals divided into seasons: 5, 13, 17, 16, 14, 12, 13, 10.
53 yellow cards; 4 red cards (2 in the Champions League).
111 matches, out of 344 joués (32.2%), in which he directly influenced a positive outcome (not counting assists and goals scored once victory was assured).
His debut? Away to Lens in Ligue 1, July 28 2001 (2-0 loss).
His first goal? Away to Bastia, August 12 2001.
His first goal at the Gerland? September 29 2001 against Rennes (a double including a penalty in a 4-2 win).
His first goal in the Champions League? September 17 2003, OL 1-0 Anderlecht (penalty).
Juni also played for Sport Recif, Vasco Gama, Al Gharafa, Red Bulls and the Brazil national team (43 matches and 7 goals). In total, more than 900 matches and 220 goals. As well as his trophies with OL, he won two Brazilian championships, 1 Copa Libertadores, 1 Copa Mercosur, 1 Confederations Cup as well as titles in Qatar.

At 39 years of age and after 20 seasons as a professional, he has brought the curtain down on an immense career. Happy Birthday Juni!