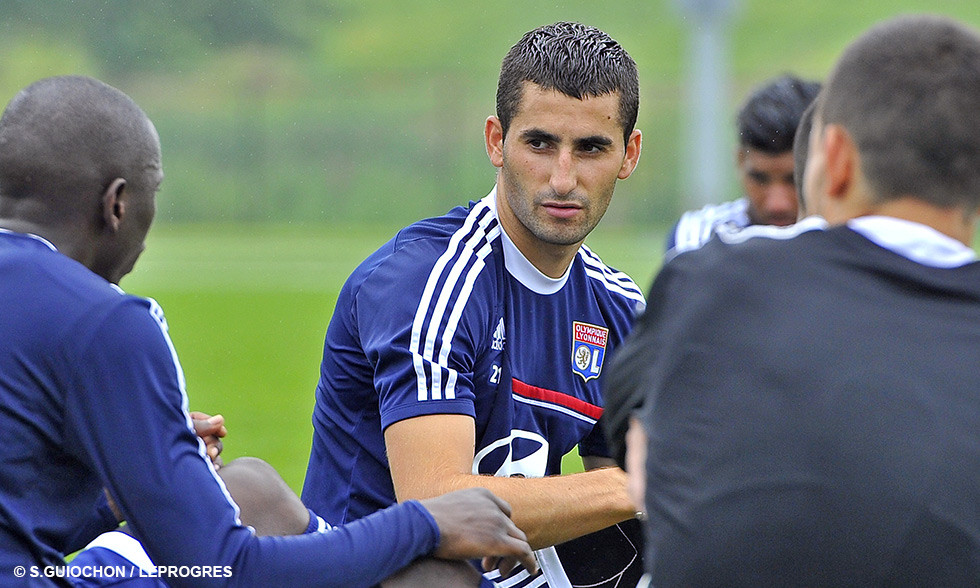 Maxime Gonalons isn't really the same person on and off the football pitch... This Lyon midfielder is happy his dream has come true and he lives it every day in his one and only club... He also remembers last season's visit of Lille...
He doesn't change... and that's a compliment. From complete unknown to stardom, from aspiring young footballer to France international, from squad member to captain, Max is still the same nice guy, humble, he loves a laugh, and the hang out with others. "It's the way I was brought up. Staying simple is part of that. I love meeting people and making friends. Football is still a game for me, it's been my passion since I was a kid. My dream came true when I signed a professional contract with Lyon, after I came through the academy. It wasn't easy, even if I always thought I could do it. I couldn't be happier. OL is my family. I will never forget all the people I met here, all my coaches and the other people that helped me grow up."

And he has stayed happy, despite the tough moments for the club… "I try and step back and look at it with a cool head. It's not always so easy for the youngsters. Sometimes I need help so I go through players such as Clément (Grenier), Alex (Lacazette), Sam (Umtiti) or other more experienced players. The team's spirit must be beyond reproach. How the club is evolving? I knew the club before... today it's different. Today I have more responsibilities. I have grown up. I can draw on my experiences to help the team, to help the young players that are coming through. With Clément, Alex, Sam… we are more exposed. Our generation have to take the club back to the top. My first role is to play well on the pitch, each and every match."

He wasn't playing to his best in the second half of last season. "When I'm not playing well, I get very upset. I accept the criticism. I have been playing better the last two or three games. Physically, I feel great on the pitch. We have been through a tough period and I wasn't happy because I want things to go well. I wanted to find answers..." Did he discuss things with Rémi Garde ? "Yes, I talk with him a lot, and the rest of the staff... we've known each other for a long time..." Maxime doesn't only wear the captain's armband, he lives it!

The poor form has cost him his place with Les Bleus. "First and foremost, I have to play well with OL if I want to have a chance of rejoining Les Bleus. When things aren't going well, you have to just work harder. The competition is fierce for the France squad. I hope France will qualify for the World Cup in Brazil, a country and lives and breathes football. To get there we will have to go through the play-offs and that will be tough."

Max is finding some form. It shows on the pitch and his competitive side comes out. "I carry on a lot on the pitch. I have always been like that. I always want to win. When I play, I give it everything, while always respecting everyone else, even though with the pressure and the adrenaline, sometimes I can't control it. I just want to do well. The desire to win, I have it everytime I play sport. In fact, having fun, for me, is winning. Since I dropped back in front of the defence, I have become more combative! You can't be friends with everyone out on the pitch... and I think others will feel the same about me too. We are football players. It's all part of the job. But I know when to stop... My father played a bit and he was the same. I'm naturally a calm person, but you mustn't annoy me too much... I like it when both sides show respect... in fact I'm a fake calm person..."


Ahead of the game against LOSC, and after ten matches already this season, Maxime is confident for the remainder of the season: "Yes, I'm confident, despite the tough times we've been going through. We know what our qualities are. But to play to our potential, we have to play together, as a team. We don't have the individual talents of certain clubs." LOSC have made a good start to the season and played well when they visited Lyon last term: "It was a terrible match. We made life very tough for ourselves. Payet really hurt us. Despite a number of departures over the summer, LOSC are still there with players we know very well such as Rio (Mavuba) and Flo (Balmont). They have excellent players. It will be a really top battle, like it is every time we play them."