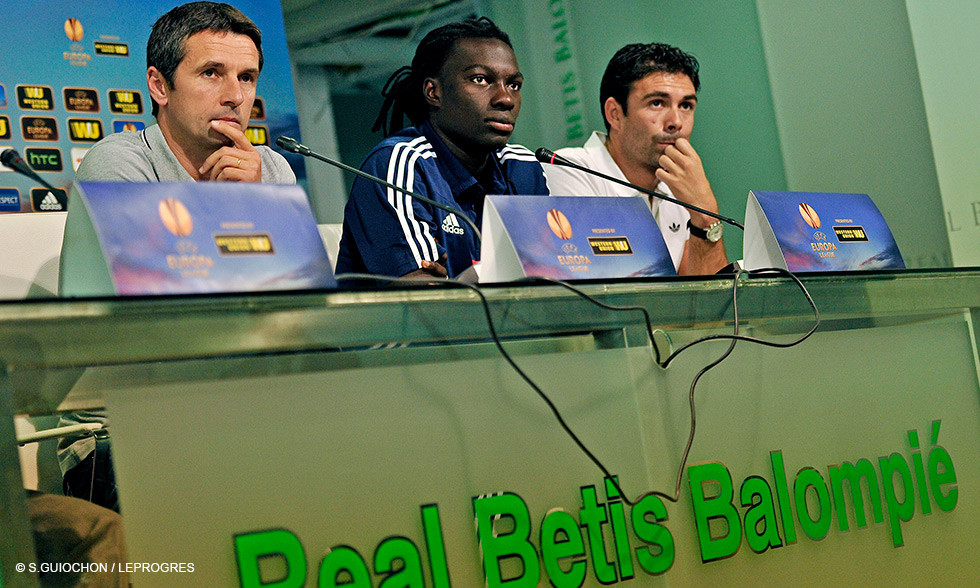 Rémi Garde and Bafé Gomis fielded questions from the media ahead of Thursday's Europa League clash against Real Betis... later in the evening, the Spanish coach had preceded them late morning...
José Mel, the Betis coach, revelaed his delight that his side are back in Europe. He is also delighted to be taking on a big European side in OL 'even if the current side isn't at the same level the club was even recently.' According the Mel, OL are clear favourites in the group... But f his side play to their full potential and stay focused, perhaps they can cause an upset in the opening 90 minutes of the group stage...
In the media room of the Estadio Benito Villamarin, just before training at 19:00, Rémi Garde and Bafé Gomis fielded questions from the assembled journalists.
Bafé Gomis
Did you miss playing in Europe?
"I was with the team. I followed the matches very closely. We want to play well, like always."
What do you think of Real Betis?
"Real Betis are a big club in Spain. La Liga is a tough league. Damien Perquis had only good things to say about this club."
Are you ready?
"I am getting better and better in training. I will try and give my maximum. We will see what shape I'm in after my 90 minutes against Rennes. The main thing is to return to Lyon with three points."
Do you have more responsibilities now that Lisandro has left?
"Yes and no. But given my experience, yes definitely. But there are also young players here have just arrived and other that will come. We play a team sport. The answers and the solutions are team answers and team solutions. We showed that against Rennes. We will keep progressing all season."
What are OL's ambitions this season?
"To play well with a young team with a lot of quality. OL is a club with history. And there are always surprises. We have to try and pick up points even when it's not possible to win.
---
Rémi Garde
Is it a different feeling starting this competition this year compared to last year?
"The starts to the two seasons are different. We are not playing at the same standard. We had more certainties and self-belief last season… But the match against Rennes showed how far my team has evolved. We still have room for improvement. This match against Betis is another step along the way."
What do you think of this Betis side?
"I think they are a very good team, as they showed against Valencia. We will be up against a very good side. These side has strong principles. It's up to us to stop them from playing their game."
Are you too nice, as you president said?
"I don't think of myself as a nice person. I have beliefs, I was well brought up, I'm polite. I am proud of my values and I won't go changing."
We have to be prudent, but not without ambition
Is the result the most important thing?
"A good start in this competition is important, even if losing your first game is not a drama. This is the first game in a group stage."
What are your ambitions in this competition?
"We have to be prudent, but not without ambition. We are emerging from a difficult situation. My squad has a certain value and I hope we will get out of the group."
Will you rest certain players?
"I may make changes, but not necessarily resting players. I'll make changes for other reasons. I think Bafé Gomis can back up, but I haven't decided yet. The squad needs to recover, it needs foundations. This is a completely different scenario to last season."