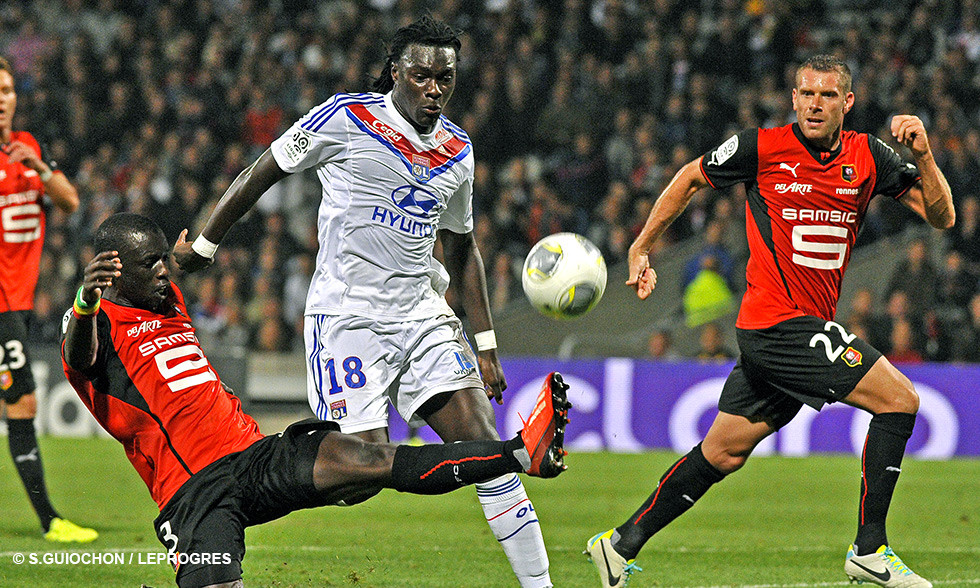 After an inconsistent opening 45 minutes, OL's excellent second half deserved more reward than the scoreless draw at the final whistle against a Rennes side that held on for dear life...
After four consecutive defeats, it was time for OL to steady the ship. The match marked the return of Gomis to the starting line-up, and Briand to the bench. The match also saw the returns of Grenier and Umtiti. Gourcuff, Danic and M. Lopes were all unavailable. The Stade Rennais began with two of their four new signings (Kadir and M'Bengue) and the two others on the bench (Romero and Emerson).

Inside the opening two minutes, Rennes gave the home side an early scare with two scoring chances, one of which Lopes turned behind for a corner. OL sat back and siffered in the opening exchanges. Slowly but surely they began to play their way into the game with a Gomis header and, above all, a great chance to Gonalons from a Grenier corner; headed wide (20').  The match was a defensive affair, without any real attacking rhythm.

Grenier went on a run, only to be stopped by Kana-Biyik (31'). Then came a Pitroipa slalom for the visitors. Two highlights in an otherwise dour opening 45 minutes. Gomis fired on target just before Grenier followed suit. The first half ended with a chance for Rennes and a good effort from Fékir, but it was scoreless at the break.
Gomis hits the crossbar
Would OL come out from the interval and go looking for all three points? Gonalons declared the team would do everything to make it happen... After a slow start, the team did just that. Lacazette let fly and forced Costil into a save. Space began to open up and the flow of the game accelerated. OL tried to overrun their Brittany rivals. Fékir was lively. Gomis battled hard (60'). Lacazette saw his shot cleared off the line by Danzé (61'). Gomis then sent a missile smashing into the crossbar (66'). OL were right on top and deserved to be ahead on the scoreboard.

OL attacked down the flanks at every opportunity, sending in an impressive number of crosses and the pressure was mounting in the guests' defence. Only the goal was missing for Gonalons and Co. A Fékir free-kick flew high. Stade Rennais held on. Malbranque replaced Grenier. Koné had a chance to score from a corner 82')… Ferri came on for Gonalons with six minutes left. Rennes did not get a single shot off in the second half, and that perfectly sums up the second 45 minutes. Unfortunately, OL dropped another two points at home...
...


Team Sheet

Stade de Gerland, 32 000 approx. spectators; Referee: M. Duhamel. OL 0-0 Stade  Rennais (H-T: 0-0).

OL: A. Lopes – Dabo, Bisevac (B. Koné 65'), Umtiti, Bedimo – Gonalons (cap) (Ferri 84'), Fofana, Grenier (Malbranque 79')- Lacazette, Gomis, Fekir. Coach: Garde.

Stade Rennais: Costil – Danzé (cap), Kana-Biyik, Armand, M'Bengue – Pajot, Konradsen, Féret – Pitroipa (Hunou 79'), Oliveira (Romero 75'), Kadir (Emerson 68'). Coach: Montanier.

Bookings: Danzé (Rennes, 61')

...