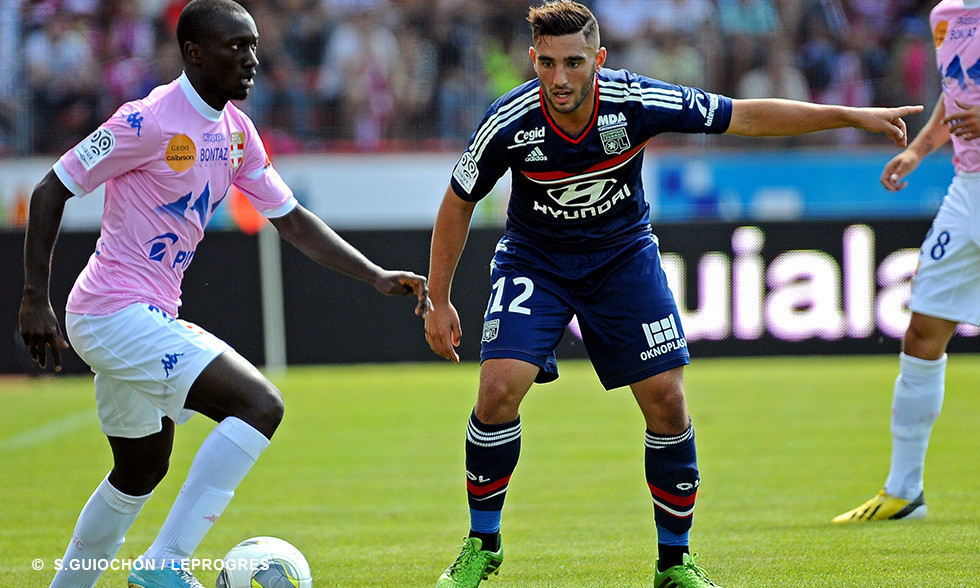 Despite an improved second half performance, OL were beaten 2-1 by Evian on Saturday afternoon... After a poor opening period which saw Lyon down two goals at half-time, the comeback failed to earn a share of the spoils and the team suffered a fourth consecutive loss...
Just two and a half days after their European outing, OL were back in action. OL were looking to bounce back after three straight losses, including two in the Champions League, and elimination at the hands of Real Sociedad, and one in Ligue 1 to Reims. To do that, Lyon travelled to neighbours Evian in the Haut-Savoyard region, looking to lift themselves off the bottom of the table with a first win of the campaign. Koné was prefered to Umtiti in central defence, while Gourcuff moved into the centre of midfield with Grenier out injured. Mvuemba was alongside Gonalons, and Ferri and Fekir occupied the flanks. Evian matched OL's 4-2-3-1, with Bérigaud up front.
The match was OL's 2000th in Ligue 1, but it was the locals who started the brighter as Djadjedje fired over. Their second opportunity, however, was taken…in the 8th minute, Berigaud was released in behind the defence by Sorlin and he beat Lopes from close range. 2 minutes later and Evian could have doubled their advantage when Wass broke down the right and cut the ball back for Barbosa who somehow contrived to miss the unmissable. OL were looking all out of sorts and a Djadjedje cross caused more panic in the Lyon ranks. Lyon's first chance came on 20 minutes courtesy of Gourcuff's free-kick.
Evian were dominated proceedings and Bérigaud netted a deserved second in the 33rd minute after being played straight through the middle by Wass. The home side were going for the jugular and Bérigaud had the chance to get a first-half hat-trick only to be denied by Koné's tackle in extremis. Gourcuff was forced out of the game with a hamstring strain. Lacazette served up Fekir for a shot, palmed out by Laquait. The opening 45 minutes produced just one real chance for Lyon and two goals conceded... OL had struggled and needed to return from the interval a changed side...
They did, and three minutes after the restart, Ferri sent a missile flying into the top left corner of the goal from 25 metres out. OL took control of the possession and began to look more and more dangerous. But after a good 15 minutes, they fell back into the trap of failing to carve out celar-cut chances and the intesity dropped out of the game. Sabaly scythed through the Lyon defence but his shot was wayward. With a quarter of an hour to play, it was an even contest again...
OL remained in the game, but only just... Ferri lost possession and Sougou raced clear, only to be denied by an excellent Lopes save at his feet. Bertoglio then burst through the middle, but his shot flew wide. OL gave it one last push but without success. Fekir knocked the ball back to Benzia who couldn't find the target. Bertoglio had one last chance to make the game safe for Evian, before the referee blew for full-time. Olympique Lyonnais were unable to turn things around in the second half, but the game was lost in the opening 45 minutes.
...

Teamsheet

Saturday 31 August, 14:00 CET. Annecy, Parc des Sports. Crowd: 12,669 spectators.

Evian Thonon Gaillard 2 – 1 Olympique Lyonnais (H-T: 2 - 0)

Referee: Clément Turpin.

Evian: Laquait, Sabaly, Mongongu, Mensah, Djadjedje, Kone, Barbosa (Bertoglio 72'), Wass, Sorlin (c), Ehret (Escobar 87'), Berigaud (Sougou 66'). Coach: Pascal Dupraz.

Olympique Lyonnais: A.Lopes, Bedimo, Kone, Bisevac, M.Lopes, Gourcuff (Benzia 45'), Ferri (Bahlouli 82'), Gonalons (c), Mvuemba (Malbranque 66'), Lacazette, Fekir. Coach: Rémi Garde.

Goals: Berigaud (Evian, 8', 33'), Ferri (OL, 49').

Bookings: Mongongu (Evian, 19'), Bedimo (OL, 25').

...