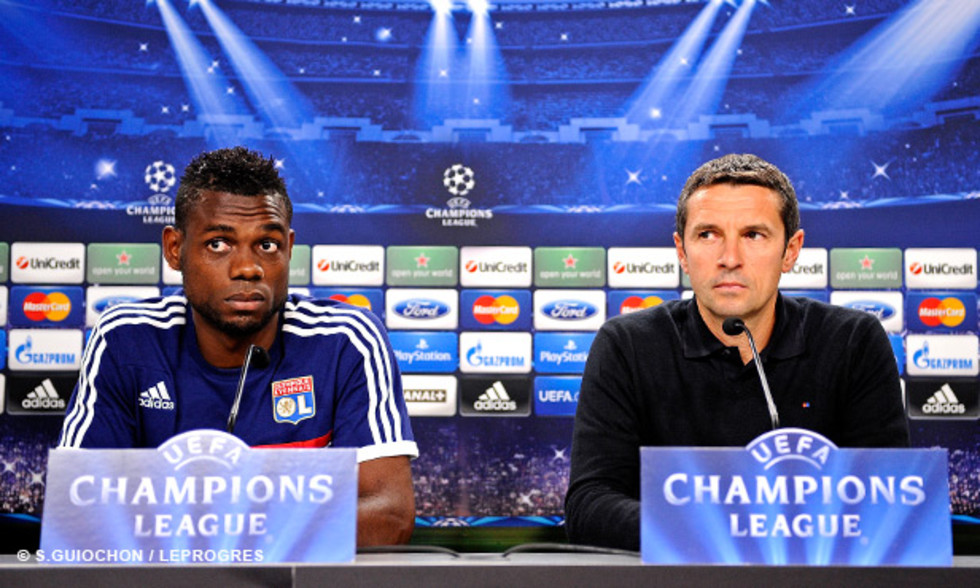 Deep inside the Estadio Anoeta where OL will take on Real Sociedad on Wednesday night, Rémi Garde and Henri Bedimo answered questions from the media in the traditional pre-match press conference...
Henri Bedimo
How are you feeling ahead of this clash?
"The stats aren't stacked in our favour. Everyone gives us a 3% chance of qualifying, so we will give those three per cent everything we have. Real Sociedad are the favourites."
Will OL's defence be different?
"We'll see..."
Do you need to score an early goal?
"Yes. If we score early, Real Sociedad will be obliged to change their strategy for fear of conceding another goal... We will have to be very strong on Wednesday."
Why should we believe OL can qualify?
"Because OL didn't play to its normal standard in the first leg. This is our most important match of this early season period. We will work ourselves into the ground to try and get the result we need."
Is it an advantage to not start favourite?
"We know the situation we find ourselves in. We are focused on our match, the 90 minutes, or even more."
---
Rémi Garde
Do you have a plan to stop Vela and Griezmann?
"There's no individual plan in place to stop Vela and Griezmann. I don't work like that."
Were you surprised by how good Real Sociedad were in the first leg?
"We saw an excellent side in excellent shape, physically. How will we play tomorrow? I don't know. We need to show what I know we are capable of."
Perhaps the match last season against Zagreb can be a reference point?
"We need to remember what happened, even if it wasn't a two legged tie like this one. That should remind us that we can do it."
We are competitors. We were all devastated to lose like that at home. We have pride. We are better than that.
Do you need to convince the players that can cause an upset?
"We are competitors. We were all devastated to lose like that at home. We have pride. We are better than that. I haven't spent a long time trying to convince them. They have understood what they can do, despite the loss to Reims. We have shown a lot of qualities since the start of the season. To produce a good performance, we have to show enormous desire and play a smart game. Our mentality and the quality of our performance are linked."
Will 'give it everything' be enough?
"You don't play a football match on motivation and energy alone. I repeat, the play, the strategy will be important."
Do you have any injury concerns?
"Miguel Lopes will train and I hope he will be okay.
Do you regret that OL didn't hold on to Griezmann?
He is a very good player who showed all his qualities against us. We knew him earlier. He came to OL when he had 12 or 13 years of age. Not everyone thought he had what it took to make it. He was very small. He has worked hard and I'm happy for him.
Is OL's Ligue 1 future on the line here, too?
"You have to remain reasonable. This is a Champions League play-off. We are playing the return leg and we will try to what Real did in the first leg."