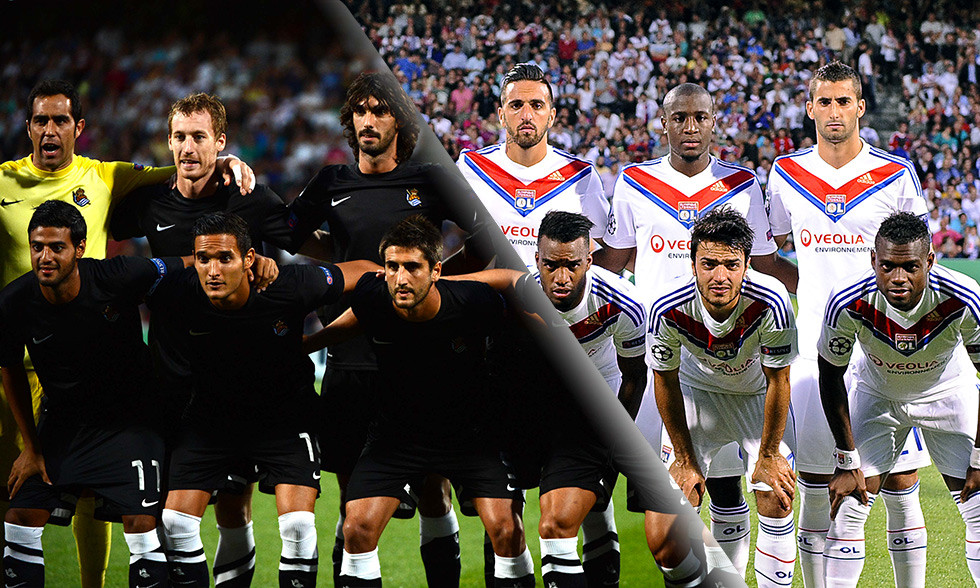 Olympique Lyonnais take on Real Sociedad on Wednesday evening in the return leg of their Champions League tie at the Estadio Anoeta with the Basque side leading 2-0 on aggregate...
OL in Europe
OL has lost the first leg of a European tie 12 times (or 14 if you count the Fairs Cup). Les Lyonnais only qualified once, against Brugge in the 2001-2002 UEFA Cup. The Belgians had won the first leg 4-1, before Les Gones turned the tie around at the Stade Gerland with a 3-0.
Of the 14 first-leg defeats, three came at home and OL lost all three ties... against Maribor in 1999-2000 in a Champions League preliminary tie (3-0 on agg); against Trabzonspor in the 1991-92 UEFA Cup rd-of-32 (8-4 agg); and against Koln in the 1960-61 season, in the Fairs Cup rd-of-64 (4-3 agg).
Of these 14 first-leg defeats, eight were by at least two goals and Lyon only qualified once, against Brugge.
---
Real Sociedad in Europe
Real Sociedad have never been eliminated from Europe after winning the first leg away. It has happened three times... against AC Sparta Prague in the first round of the UEFA Cup in 1998-99 (5-2 on agg); against Sporting Clube of Portugal in the UEFA Cup second round in 1988-89 (2-1 agg); and against Víkingur Reykjavík in the first round of the European Cup in 1982-83 (4-2 on agg).
---
The Estadio Anoeta in San Sebastian
The return leg on Wednesday will be played in the Estadio Anoeta. The stadium in San Sebastian was built in 1993 and has a capacity of 32,000. The Estadio Anoeta, is a multi-sport venue and has an athletics track around the ground and is the home of Real Sociedad. The Basque side hasn't los tat home since 4 November 2012 (1-0 against Espanyol in La Liga).
---
In numbers
In European competition, OL has played 11 matches in Spain for two wins (against Sociedad and Athletic Bilbao), 3 draws (3 x Real Madrid) and 6 losses (3 x Barcelona, 2 x Real Madrid, Valencia).
In European competition (Champions League, Cup Winners Cup and UEFA Cup), Real Sociedad have only lost three times at home… including once against OL in the last-16 of the Champions League in 2003-04. The other home losses came in 1974 and 1975.