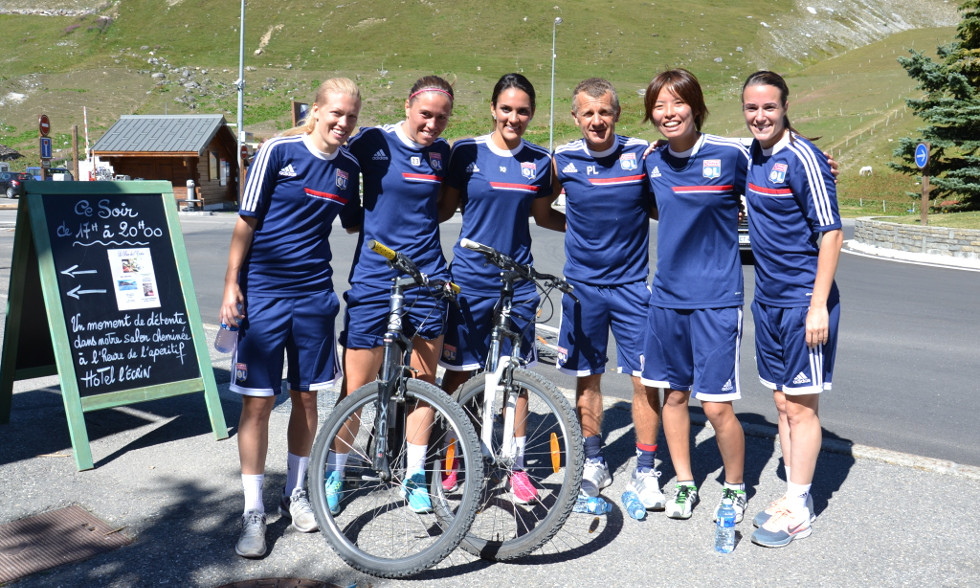 There were another three training sessions for the Olympique Lyonnais women's team on day two of their preseason altitude camp at Tignes, starting with the famous Run & Bike - won by Patrice Lair and Louisa Necib.
It's a tradition in Tignes: the Run & Bike is a must for the physical training in preseason. The OL players attacked it this morning after a morning ride at 7am. The 8km course starts with a climb and then a descent to the Tignes Lake, then it's once around the lake and back to the team hotel.

It was with little surprise that the pair Lair-Necib ran out comfortable winners in just over 22 minutes at an average of 15.8 km/h. New signings Melissa Plaza and Saki Kumagai confirmed their good form at the start of this camp by coming home second, followed by Camille Abily and Lara Dickenmann. Laëtitia Tonazzi and Elodie Thomis didn't take part in the race as a precautionary measure, and cycled a few laps of the lake.

At 16:30, Patrice Lair's squad headed to the Stade Eric Cantona for some small-sided training matches. They played 7 vs 7 during which Camille Abily shined with ten strikes. Amel Majri, back with the squad, and Elodie Thomis also netted some nice goals. Young 17-year-old Amercan Andi Sullivan, on trial during the camp, also played well. Wendie Renard and Laëtitia Tonazzi sat out the session.