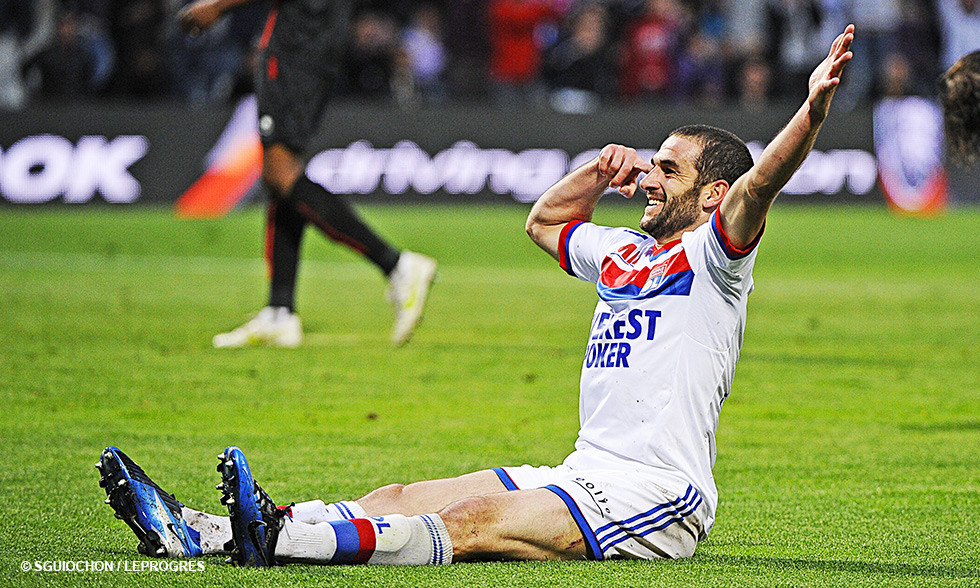 Above and beyond his goals for the club, Lisandro Lopez has left an undelible mark on Olympique Lyonnais' history... A true legend!
His Lyon career began on 8 August 2009, when he scored a free-kick on the 90th minute to salvage a two-all draw away to Le Mans... And it ended in Zurich on 6 August 2013 when he provided an assist for Clément Grenier to score the only goal of the game against Grasshoppers. Generous, solitary, open, altruistic, short-tempered, smiling, charming, tenacious, caring, short, explosive, intimate, distant, intelligent, courageous, a warrior, a competitor... He wore his heart on his sleeve, and you could always tell what he was thinking. Licha could express himself perfectly in French and to the people of Lyon. Licha was such a rich personality, so different, so important and so endearing...

168 for OL (119 in L1, 31 in Europe, 18 in the two domestic Cup competitions). 82 goals (59 in L1, 12 in Europe, 8 in the Coupe de France and 3 in the Coupe de la Ligue). 82 goals and eighth in the club's all-time scoring charts. 168 matches and 12,607 minutes of playing time. 82 goals scored from 411 shots. 1 goals in every 5 efforts. 0.58 goals per game, or better than one every two (based on minutes played).
82 goals for 48 wins, 13 draws and 4 losses.
82 including 43 decisive strikes.
82 including 47 at the Stade Gerland
4 hat-tricks (Anderlecht, La Duchère, Arles-Avignon, LOSC), 7 braces; 14 penalties, 2 direct free-kicks (Le Mans, Stade Rennais)
His goals per 15 minutes in a match: 10, 12, 14, 9, 13, 23.
His history at FC Porto, his strengths, his burning desire to win, all made him a leader at OL. He was one of Rémi Garde's captains. Whether playing along up front, or alongside Bafé Gomis, or on the left, he never gave less than 100 per cent. He ran, he harassed, he came looking for the ball. He drove the others on with his energy, his need to succeed. He scored with his right foot, his left and his head. He provided assists. He demanded to play up front, at centre forward: "Leave me up front… my job is to score goals…" He declined the captain's armband when he was unhappy in early January 2012 and gave the impression that something had changed forever. Unfortunately, he suffered a serious injury each season at OL, injuries that denied him a return to the Argentine national team.

No-one has forgotten the Champions League campaign of 2009-10 with that return leg against Real Madrid and the qualification for the quarter-finals. He was immense on the pitch that night, having rallied the troops in the changing room before kick-off. Licha would leave a part of himself on the pitch to help the team win. Or when he answered his critics in his own inimitable way after scoring the winner against Evian-TG on 17 December 2011! Or when he stepped aside to let Malbranque take the penalty against Sporting Bastia to reward Steed for an excellent performance.
Lisandro scored the only goal of the Coupe de France final against US Quevilly, and scored his last goal for OL against Stade Rennais on 26 May 2013 in the 23rd minute from the penalty spot. He was replaced in the 79th minute by Bafé Gomis and such was the emotion on his face, it looked as though that was his final bow... In the end, he remained to help his beloved OL qualify for the Champions League play-offs over Grasshoppers, before jetting out to Qatar. Thank you, Licha.