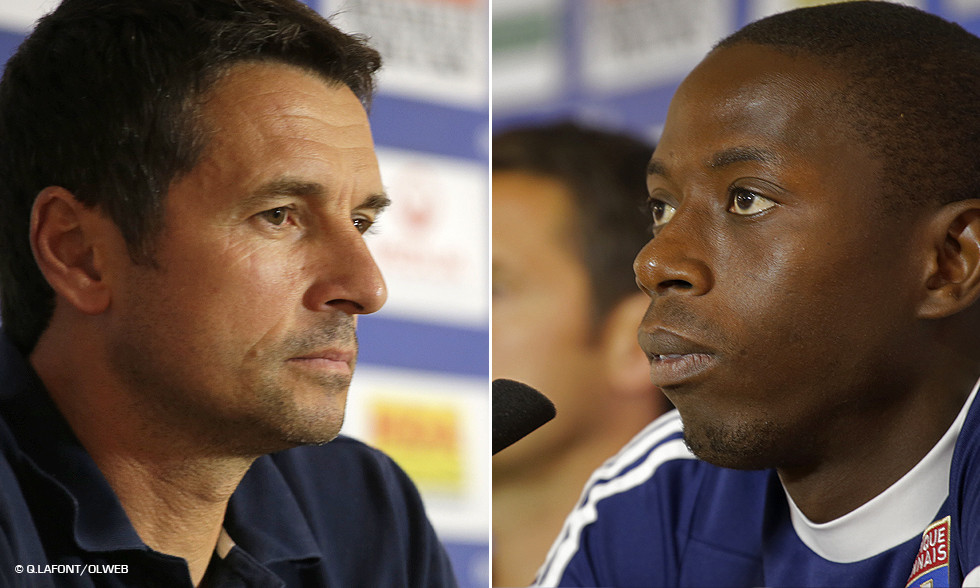 Olympique Lyonnais defender Mouhamadou Dabo and coach Rémi Garde fronted up to the traditional pre-match press conference ahead of OL's UCL qualifier against Swiss side Grasshoppers of Zurich…
Tuesday's match against the Swiss outfit in the third preliminary round of the Champions League was preceded by its traditional pre-match press conference where Rémi Garde talked about starting the season so early, just a month after returning to training. "We haven't had much time as, for the first time in French football, the time scale is very compressed. But we're not here to complain... The heat, the travelling? Every team has their own set of obstacles to overcome." Despite the ultra short preseason, the Lyon coach is happy with his side's preparations: "We have worked very well and the spirit within the camp has been excellent. We moved very quickly towards working on the intensity to get closer to match conditions. I think we're ready. The 2-2 friendly match with Real Madrid was a good chance to get up to speed."
Mouhamadou Dabo echoed his coach's words: "We're not used to playing so early in the summer, but we have prepared for this moment. This is a very important moment and we have worked towards it accordingly." The Lyon defender made a point of highlighting the attitude the team must have when they walk out onto the pitch: "We must be determined. We will be heading out there to win... It will be a tough match, but we will make it easier for ourselves by putting everything we have into it." This desire to succeed is something Rémi Garde has already spotted in his squad, who "want to push themselves to the very limit and beyond to achieve something. I can feel how determined they all are. Their commitment in each training session is there because they all want to play in the match. A place in the Champions League awaits the winner."
Both members of the OL delegations also spoke about Grasshoppers of Zurich. For Mouhamadou Dabo, the Swiss side won't just be making up the numbers at the Stade Gerland: "They will also be here to give it everything. They are a very good side. We are taking them very seriously." Coach Rémi Garde added a tactical analysis: "This team are not here by chance. They pushed Basel all the way to the title last season, they are well organised and well disciplined. I don't know how they will play against us, but they are capable of sitting deep and hitting very quickly on the counterattack."
The match against Real Madrid was an excellent warm-up match, according to defender Mouhamadou Dabo: "It was a friendly match, but it was intense and that was just what we needed. We played well and that was encouraging. We have to take the positives from the match and build on them... The match saw us grow in confidence. We started well, with plenty of movement and desire. That's what we have to reproduce on Tuesday." Coach Rémi Garde agreed…