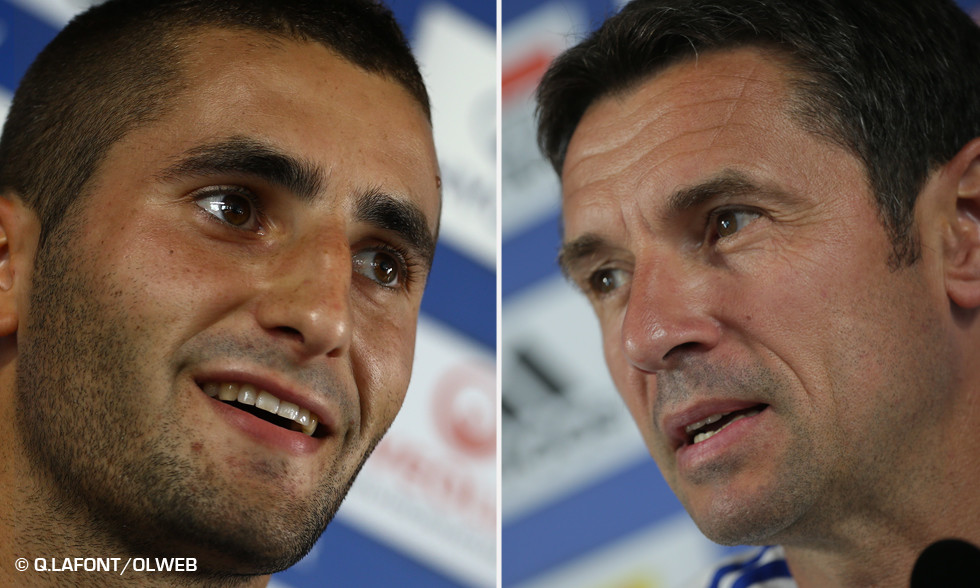 Olympique Lyonnais coach, Rémi Garde, and captain, Maxime Gonalons, fronted up to the press on Tuesday to answer questions on all things OL from the Champions League draw to the team's current form and this week's friendly against Real Madrid…
Just 48 hours before OL's final preseason friendly, club coach and captain fielded questions from the media. The Champions League draw was held on Friday and today's press conference was the first chance to discuss the future opponents, Grasshopper Zurich. While Maxime Gonalons admitted he didn't know too much about the Swiss side, he remains prudent in his approach to the game: "We don't see much of the Swiss league on television. We don't know too much about this side, but we will study how to play them while also respecting out own playing style… We have to careful, they're not here by chance." Rémi Garde echoed his player's sentiments: "This team matched Basel last season and that is proof of their quality. They have some good young players that I was following a few years ago."
The two were also in agreement that "it's not a good thing to be playing the second leg away," but Max is already focused on the first leg: "We need to do the job at the Stade Gerland to put ourselves in the best possible position." There were a lot of questions about the Champions League during the press conference. Everyone is aware just how important qualifying for the group phase is. Gonalons sees this tie as an opportunity "that's not given to everybody." For Garde, qualifying for the group stage will "crown last season's achievements."
But before this crucial two-legged tie, there is one more friendly match on the horizon, and not just any old friendly either... it's against Real Madrid. Gonalons is looking forward to this gala warm-up match. "It's very prestigious... it's always great to play this type of side, a great European club." Garde is also "happy because everything points to this match being an excellent full dress rehearsal." This game will bring the curtain down on a month's preseason training. The OL coach is taking the match very seriously: "It's crucial to have a solid opposition for the final match, to get closer to the rhythm of European football. We mustn't be surprised by the pace when the competitive stuff starts."
The new season begins in just over a week's time, and while the coach admits he doesn't yet have "a defined starting XI" he claimed there is "stability within the squad. The aim is to have as many players as possible ready to play 90 minutes."