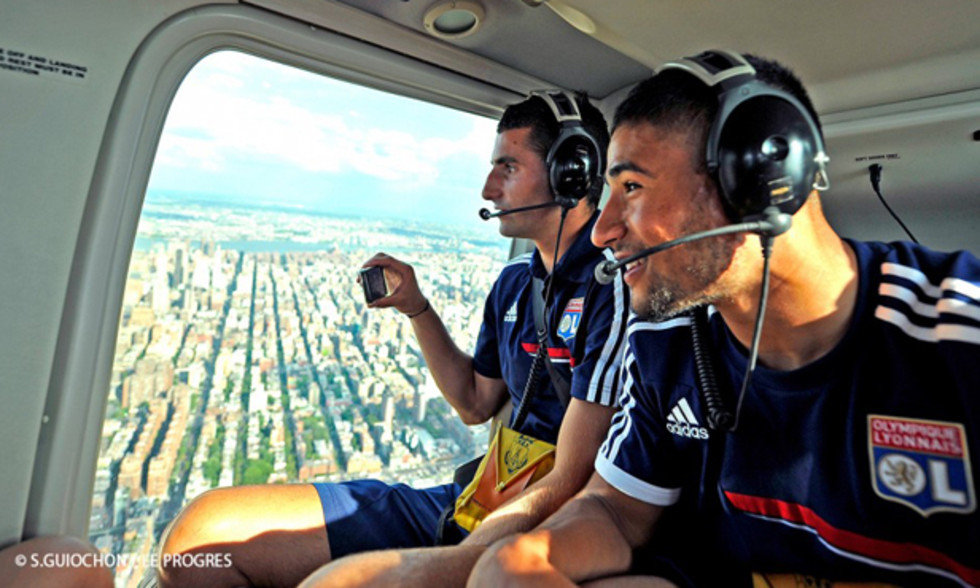 A boat cruise followed by a helicopter tour, the Olympique Lyonnais players got the opportunity to take in the sights and put football to one side for an afternoon...
Just 24 hours before their match against the Red Bulls and after a morning training session, Maxime Gonalons and Co. deserved a reward. Club president Jean-Michel Aulas offered the squad the chance to see New York from the above with a special helicopter ride. A ferry from Hoboken, down the sun-drenched Hudson River gave the players the chance to see south Manhatten from another angle with its imposing buildings built like Lego towers, a mix of bricks and glass, so high and colourful. Obviously the One World Trade Center dominates the skyline. In the distance, the Statue of Liberty. Closer to the arrival point, the inimitable sound of the traffic heading across the Brooklyn Bridge.
And then it was time for the helicopter ride. For some it was a first. There were even a few nerves... But everyone jumped in to head high above the Hudson towards Central park, flying via the Statue of Liberty. "I didn't want to go but the others made me..." A short but magical moment. "Too good!" It was the same reaction from the youngsters to the more experienced players. An incredible moment!
Before and after the ride one overwhelming feeling: the team spirit, the camaraderie and the joy. This squad is united, it enjoys being together, despite the competition for places and the uncertain futures of some within the squad. They are all happy to be here, to share these moments together. It's an important element that could prove to be the difference out on the pitch. What a fantastic afternoon!