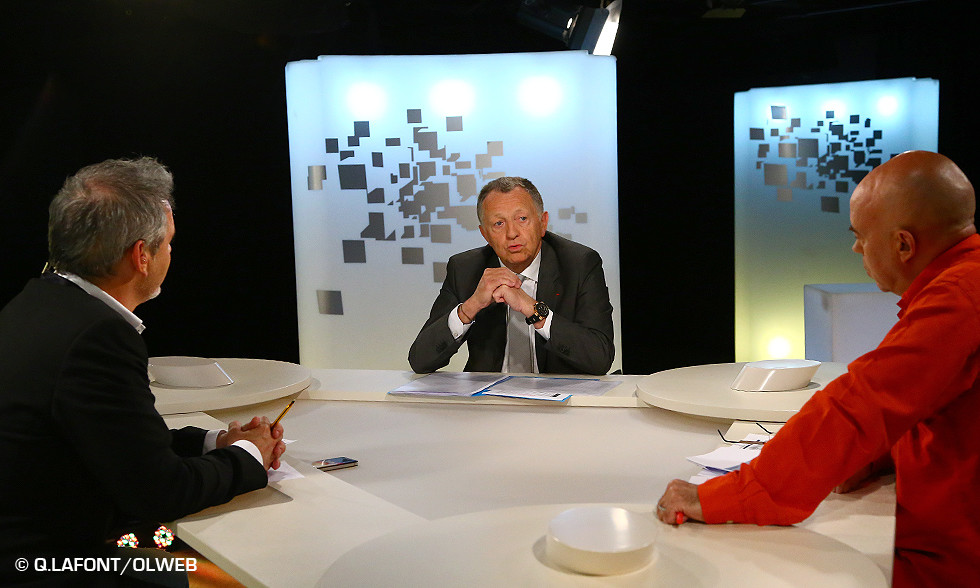 Olympique Lyonnais president Jean-Michel Aulas was the special guest on OLTV's OLSystem show on Tuesday to discuss all the big issues from the season that was…
THE SEASON
"Yes, I thought Sunday could have ended in tears. The Stade Rennais were very motivated, but at the end of day, it was a great victory for OL. It has been an excellent season. The objective was reached. We won a trophy and finished in the top three. The summer mercato ensured we made a very good start to the season. I take my hat off to Rémi Garde, his coaching staff and his players. The squad was united throughout and got third place in the face of great adversity. The end of season has been a pleasure, an amazing result. The Europa League? Conceding those two goals in stoppage time was fate, just like Clément Grenier's goals. We would have liked to go a bit further in that competition, but would we have paid for it in the league? OL is still here. We have solid foundations. The club's past performances add value to the brand, to the institution.
"I saw Rémi Garde on Tuesday to congratulate him on his work and his choices throughout the season. We should all thank Rémi and his staff. I have huge confidence in Rémi and also in presidential advisor Bernard Lacombe."
CHAMPIONS LEAGUE 2013-2014
"OL results over the past 5 years place OL as the number one French club in that time. That will protect us a little during the qualifications. The best possible opponent for us would be Zenit Saint-Petersburg. The fact that OL finished third gives French football the best possible chances in the competition."
CLEMENT GRENIER
"We have been talking with Clément for a long time. Clément had his heart set on playing in the Champions League next season. We need to negotiate a new contract. I haven't received any offers for him. We are in control of the situation because he has another year on his contract. OL will construct a team around this golden generation of young players. We will do everything possible to keep these players at Lyon. Our strategy is build around these kids. It is a strategy that is already paying off."
ANTHONY REVEILLERE
"We put a proposal to Anthony. He didn't accept it. His contract is up. I think Anthony will turn towards the next phase of his career..."
LISANDRO
"We have invested a lot in Lisandro, both figuratively and literally. At one moment, Licha said he didn't want to be captain anymore and wanted to play in his preferred position. Rémi made all the right choices. I saw Lisandro four times to get him to stay longer. There is a new offer on the table. I am hopeful he will stay. But if there are other offers for him and he wants to leave, then we will discuss it. I cried when I saw him crying on Sunday."
THE YOUNGSTERS
"The youth academy has had the same strategy for 25 years and it's still working. We count on that academy. We had 19 players from the academy out of 35 used in the first team this season… Reducing the wage bill doesn't mean weakening the club."
OL WOMEN
"We have to keep working hard for success. We want to keep leading Women's football towards new markets and offer people what they want, as the television audiences bare witness. The final of the Champions League was proof that it's not always easy. We want to grow our vision, our savoir-faire. Why did I propose to replay to Coupe de France semi-final? I think it was a gesture of fair play that could have been made more of. Everyone is delighted... The match will be played on grass, not an artificial surface."
SUPPORTERS
"The supporters never stopped believing. Their support was permanent. For the last six matches of the season, we had sell-out 38,000 crowds. The weekend when Juvisy visited for the women and then Toulouse the next day for the men, we had a total of 66,000 in the Stade Gerland."
NEW STADIUM
"Every day is a step forward. We have finished negotiating the financing and the future is looking good."