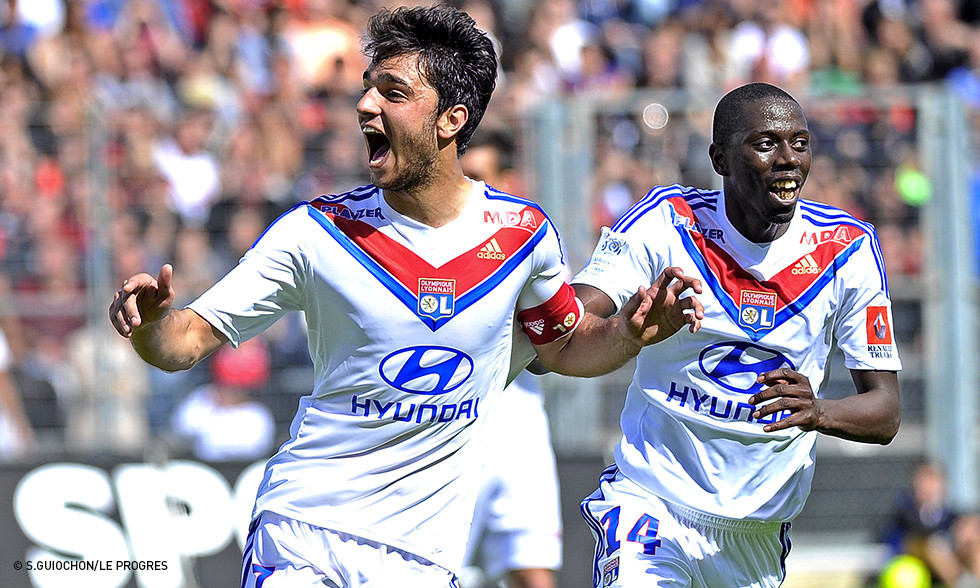 Trailing 1-0 and a man down, OL fought back yet again and equalised via a magnificent Grenier free-kick…Lyon missed out on the chance to cement third place on the standings but are still in the box seat ahead of the final match of the season against Rennes...
With Lyon's match postponed from the night before due to torrential rain and all the other Week 37 matches going ahead, OL knew the results of all their rivals. Saint-Etienne had won while Lille were held by Montpellier... That meant whatever happened at the Stade du Ray, OL would still be third come Sunday evening. But better still, a Lyon victory would have assured them of finishing third and qualifying for the Champions League. However a defeat would see Nice draw level on points. Fofana was still suspended and Umtiti was injured so coach Garde had to make changes to his starting XI. Réveillère returned after being out for a month and Bisevac replaced Umtiti.
The pitch was in good condition despite the heavy rain the evening before. In a nervous opening, Lyon held onto the ball well and was solid in the challenges.
But the first big chance of the evening went the way of the home side. In the 15th minute, Digard crossed for Bosetti who went so close to getting the decisive touch. It seemed to spark OL into life. Gomis released Benzia who hesitated a moment and his shot was blocked by Kolodziejczak. It was a tight contest and the first half featured just one shot on target. Despite Lyon enjoying slightly more of the ball, neither team was able to gain the upper hand.
OL coach Garde replaced Benzia with Lacazette at the start of the second half. But after just 25 seconds Koné brought down Cvitanich in the area. The Argentine picked himself up and fired Nice in front 1-0. Les Aiglons hadn't lost this season after scoring first at home. Moments later, Traoré went close to making it 2-0, but his volley flashed just wide of the top corner. Nice were right on top and OL were intent on trying to stay in the game. The reaction finally arrived in the 58th minute when, set up by Lacazette, Gomis shot from 20m out but Ospina made the save. Gomis then laid the ball off for Malbranque, but he failed to trouble the 'keeper.
Lisandro had scored in his last five matches against Nice, and he came on to replace Malbranque. After brilliant work from Lacazette, Gomis was again denied by Ospina.
The ball rebounded to Lisandro, but he couldn't control. OL then finished the game with ten men after Gonalons received a second yellow card (73'). Two minutes later, Grenier, scored a stunning 30 metre free-kick that flew into the top corner. OL were back on level terms. Nice couldn't make the difference despite the extra man. Cvitanich saw his late shot at glory blocked by Koné.
There were still two more big chances for Nice, but OL held onto the draw. After going a goal down and then a man down, OL bounced back, courtesy of Grenier, and showed great character to get the point from Nice. The point sees them consolidate their third place on the ladder and keep their fate in their own hands... The final game of the season against Rennes will decide the matter once and for all…
...

Teamsheet

Sunday19 May 15:00 CET.
Olympique Gymnaste Club Nice – Olympique Lyonnais
In Nice, Stade du Ray.
Referee: Clément Turpin
Result: OGCN 1 - 1 OL (Half-time: 0-0)

OGC Nice: Ospina, Puel, Civelli, Pejcinovic, Kolodziejczak, Abriel, Digard (cap.), Traoré (Diaz 76'), Bosetti (Pied 69'), Batuthéac (Bahoken 89'), Cvitanich. Entraîneur : Claude Puel.
Olympique Lyonnais: Lopes, Réveillère, Koné, Bisevac, Dabo, Gonalons (cap.), Grenier, Malbranque (Lisandro 69'), Gourcuff, Benzia (Lacazette 46'), Gomis (Ferri 80'). Entraîneur : Rémi Garde.

Goals: pour Nice, Cvitanich (pen. 47'). For OL, Grenier (75').
Yellow Cards: for Nice, Traoré (38'), Kolodziejczak (45+1'), Civelli (65'). For OL, Benzia (1'), Koné (51'), Grenier (59'), Gonalons (65').
Red Card: Gonalons (73').


...