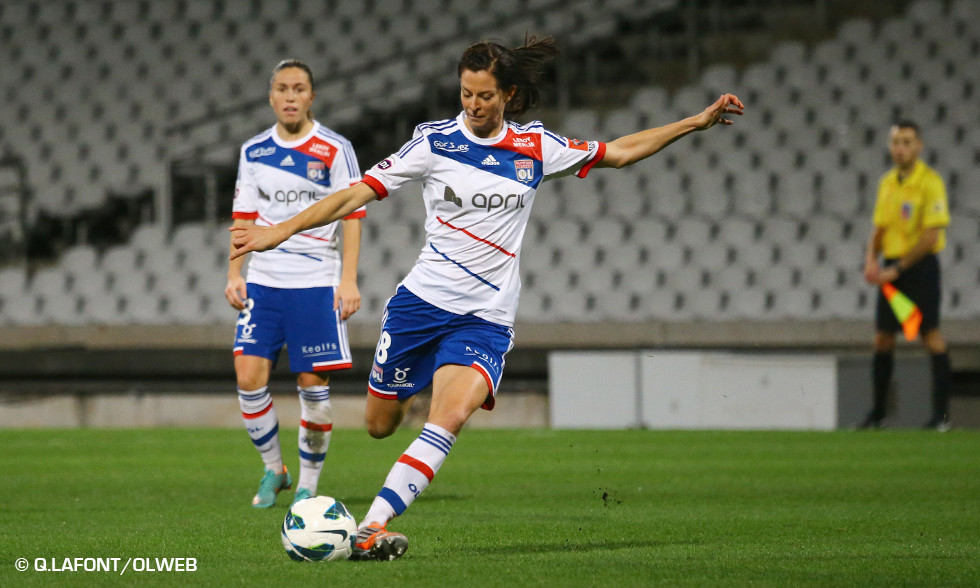 Olympique Lyonnais warmed up for this week's Champions League final in style with an emphatic 9-0 victory over Issy, on Saturday at the Stade Gerland.
Just five days before the continental showdown against German outfit, Wolfsburg, Les Lyonnaises went through their paces in driving rain at the Stade Gerland. It only took 15 minutes for OL to make the breakthrough against this modest Issy outfit, already relegated to the second division next season.

Camille Abily broke down the right and crossed for Ami Otaki who threw herself at the ball and opened the scoring from close range (1-0, 15'). Patrice Lair's players attacked from wide positions with Amel Majri crossing from the left for Amandine Henry's header (2-0, 20'), then Eugénie Le Sommer's volley (3-0, 23'). Louisa Necib netted a fourth before the break with a great strike that suprised the 'keeper from a corner routine (4-0, 40').

Celebrating her 24th birthday, Le Sommer offered herself an unbelievable four presents in just three minutes (!), between the 53rd and 56th. Substitute Lotta Schelin, then completed the scoring with a neat solo effort (9-0, 66'). Ahead of the Champions League final at Stamford Bridge, Patrice Lair and his players head into camps at Dinard and then Saint-Malo in preparation.


Olympique Lyonnais: Bouhaddi - Franco (Schelin 57'), Georges, Viguier, Bompastor (c.) (Agard, 46') - Henry, Abily (Bussaglia 46'), Necib - Le Sommer, Otaki, Majri.

Goals: Otaki (15'), Henry (20'), Le Sommer (23', 53', 54', 55', 56'), Necib (40'), Schelin (66').