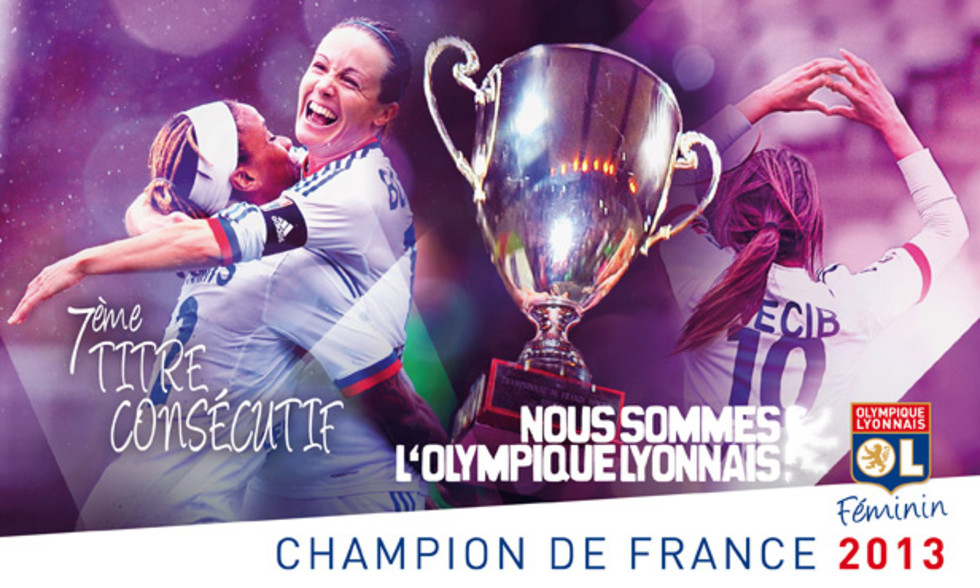 Olympique Lyonnais won the French first division for the seventh consecutive year on Wednesday afternoon with an emphatic 7-0 victory away to Vendenheim.
As expected, OL defeated Vendenheim in the match in hand on Wednesday to confirm a seventh consecutive league crown. With an astonishing 19th win in as many matches, Patrice Lair's players continue their perfect campaign, just three days ahead of the first leg of their Champions League semi-final against Juvisy. OL Women also become the most successful club in French football history, ahead of a certain Juvisy who have six D1 titles to their name.

Away to Vendenheim, Patrice Lair chose to rest certain players ahead of the huge European clash, offering starts to Laura Agard and Elise Bussaglia, who both returned from injury, and the two Japanese players Shinobu Ohno and Ami Otaki. Elodie Thomis gave Les Lyonnaises a 1-0 at half time before OL ran out 7-0 winners courtesy of a Laëtitia Tonazzi hat-trick, a Eugénie Le Sommer brace, and a penalty put away by Elise Bussaglia.

OL Goals:
Thomis, Tonazzi x 3, Bussaglia, Le Sommer x 2.

OL:
Deville - Agard (Renard 46'), Georges, Viguier, Bompastor - Henry (Necib 46'), Ohno, Bussaglia - Thomis (Le Sommer 46'), Tonazzi, Otaki.

Patrice Lair:
"We won our seventh title with a 7-0 win, what more could you ask for? It's a great day. There were a lot of people at the stadium, they were happy to see us and celebrate with us and we put on a show for them. Winning the title is always an incredible moment. This is why I came to Lyon. The players and the coaching staff deserve all the credit. Now we have to win the Champions League."

Sonia Bompastor:
"We are very happy! It wasn't as close as last season where it all came down to the final game of the season against our rival. We knew halfway through the season that we were odds on given our excellent record and the slip-ups of our opponents. We stayed focused and the objective is to win all 22 games like we did two seasons ago. Now we will turn attentions to the Champions League."

Elodie Thomis:
"I'm over the moon and with this seventh consecutive title, we equal the men's record. It's great for the club. It was the perfect way to prepare for Saturday's match against Juvisy. We controlled things and avoided any injuries. You mustn't think it's easy to win trophies. The girls have worked so hard, along with the coaching staff, to always be 100 per cent and we won the big matches against Paris, Montpellier and Juvisy. We can't celebrate this triumph just yet, but we'll get to that later."