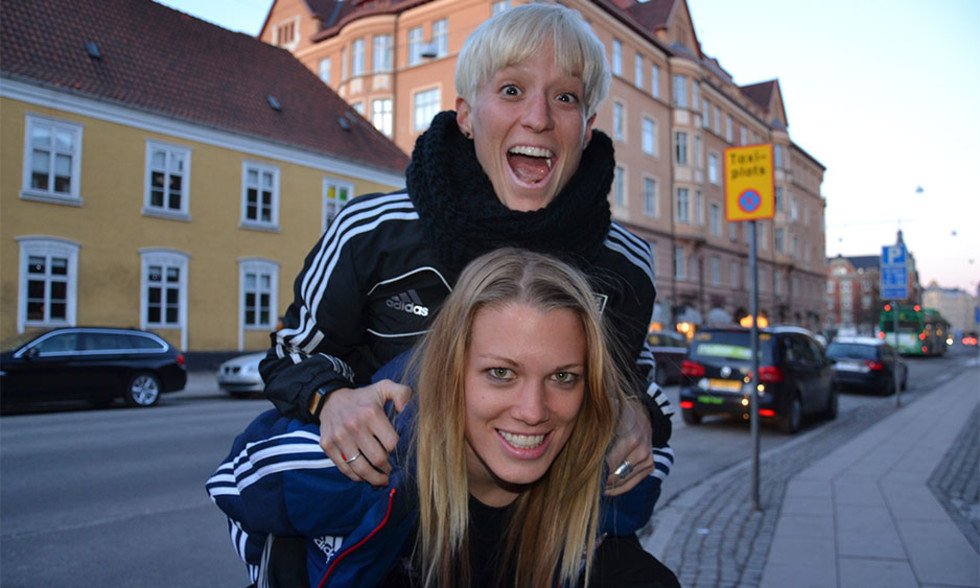 The OL Women arrived in Malmö on Tuesday night, two days out from the return leg of their Champions League quarter-final tie.
Just under a week after their 5-0 win over Malmö, the OL Women met up at Tola Vologe at 10:30 am on Tuesday. A quick coffee and then on the road for the day's travelling. Elise Bussaglia, on her way back to full fitness after injury, joined the squad, as did Ami Otaki, who had just returned from Japan, where there had a been a death in the family. President Piemontese remained in France for family reasons.
The first flight took Patrice Lair and his players from Lyon to Paris, where they hopped a connection to Copenhagen. During the voyage, everyone was tlaking about Corine Franco's new Lara Dickenmann-style haircut, and the OL Women kept smiles on their faces, thrilled to be on the road for this return to European action. It's the first European trip for winter recruits Shinobu Ohno and Megan Rapinoe, who loves Sweden. Touching down in Copenhagen would have brought back some fond memories, as the OL Women won 4-0 over Brondby in the Danish capital last season, at the same stage of the competition. Moreover, it's one of the very few airports where you can munch on an authentic hotdog while you wait for your bags...
A bridge is all that separates Copenhagen from Malmö, and the half-hour bus ride from the airport afforded the OL Women a nice chance to appreciate the Scandinavian architecture soaked in the last rays of the setting sun.