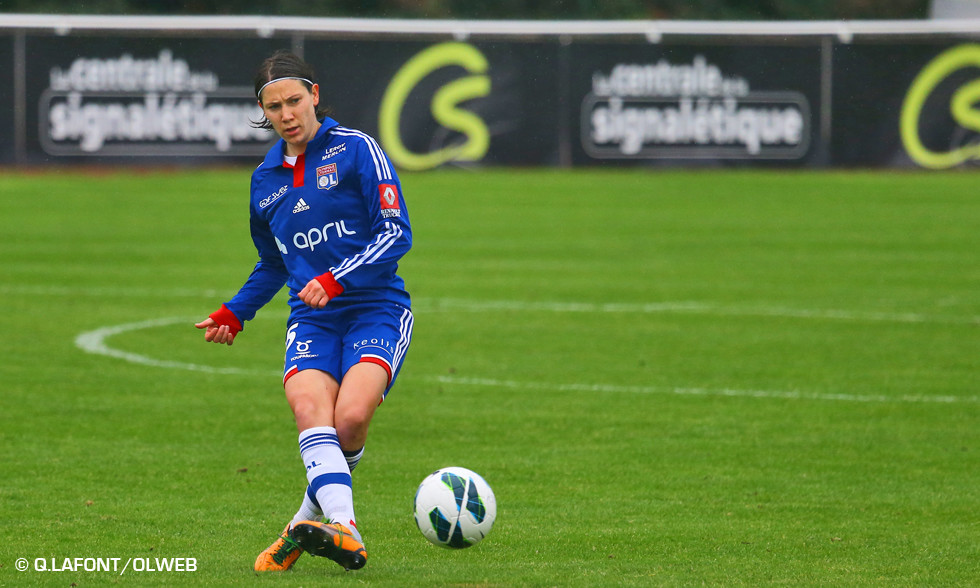 Out of action for three months, the midfielder gives her impressions on returning to competitive action.
Élise, how do you feel physically after getting back to action with the reserves last weekend?
I still need to find my rhythm and to work on my conditioning. But things are getting better day by day. My nexy goal is to rejoin the senior team to get back to a higher level than the reserves.
Can you talk us through the stages of your recovery?
In December, we decided to take n extra six weeks for the treatment of my knee, to give the tendon a good change to heal. So I started with individual work with Antonin Da Fonseca and Toru Ota, and it went really well. The important thing was that I feel no pain. I had a reassuring MRI and I feel pretty good. It's a huge relief because an operation would have had me out of ation for several months. I've had a chance to get my feel for playing - and my enjoyment - back.
How did you get through this tough period?
I was complicated, because I didn't know how long it would be until I was fit again; there wasa lot of uncertainty. But I was lucky enough to be surrounded by good people. The club and the coach made a point of letting me know that they are still behind me, and all my teammates were there for me. And then Patrice authorised me to go home to Sedan so I could be with my family and friends. That's essential in moments like these.
As a team, our objective is to win everything, just like the OL Women have done for the last couple of seasons

There's also good news in the fact tat you'll be with OL for the next two seasons...
Yes, we decided in January to activate the option in my contract for an extra two years, which gives me the comfort of a longer-term perspective. This is really a club where I want to succeed and win trophies. I really didn't want to leave after a half-baked season. I'm lucky enough to be able to play the second half of the season, which wasn't always on the cards.
What are your immediate objectives?
As a team, our objective is to win everything, just like the OL Women have done for the last couple of seasons. And I think we have he quality to do so. On an individual level, I've been through so much that my main goal is just to start enjoying myself again. I want to clock up as much time with te first team as I can."
What do you make of your old club, PSG, before the clash with OL at Gerland on Saturday?
The team has changed a lot of late, so it's a bit hard to say. They had a togh start to the season, but they've beenon the right track since their squad has been fully fit. If the club cotiue to invest in the team, PSG could become a very promising side. But at Lyon, we have players who have been together for several years, and that's really what makes the difference. I think we're still the better side and that we'll show that on Saturday with a good win.