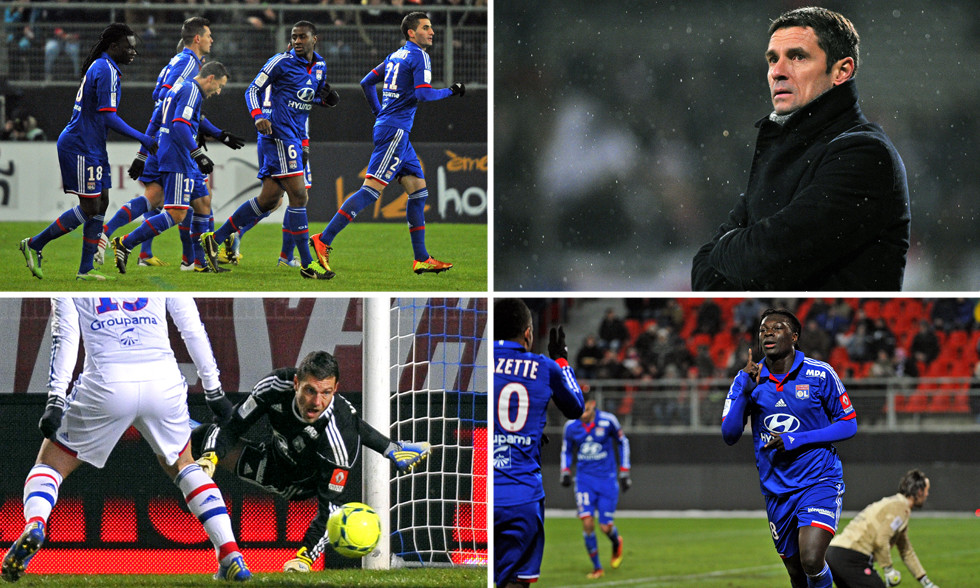 OL's power grew in January, with the point of pride a win over Valenciennes that kept them in them in equal-top spot...
A match
Without contest, the match in Valenciennes set the bencmark for this first month of 2013.  Jeered in Troyes and stymied against Evian, OL managed to get their groove back by staying solid in defence and finding a cutting edge up front. Bafétimbi Gomis got back on the goal trail with his 12th of the season. Rémy Vercoutre was once again decisive in goals. Like he did against Nice, when he won his one-on-one with Cvitanich with the scores locked at 0-0, the OL 'keeper found a way to deny Aboubakar before the scoring was opened.
Rémi Garde had decided to field a 'defensive' three-man midfield of Fofana, Gonalons and Malbranque, and his gamble paid off as Fofana struck the game's first goal with a sweet shot from outside the area. Heading into a crucial month of February with six matches in 21 days, OL rediscovered their confidence.
A goal
Steed Malbranque had said during the week: "We need to get the fluidity back in our game." And the second goal against Valecniennes showed that his wish had come true. Rémi Garde wanted his men to pounce on any loose balls, and Fofana duly obliged, winning possession 20 metres out. The midfielder spread it wide to Lacazette on the right, and the youngster played Réveillère in down the line. The OL right-back gave it straight back to the number ten in a deft one-two that eliminated two defenders. Lacazette then cut into the area and cut the ball back for Gomis, 'Bafé' slotting his shot past a helpless Penneteau. Rémi Garde had wanted to see his lads playing as a team and that's what they did, showing tha their team spirit is alive and well.
Also of note in January were the maiden Ligue 1 strikes for Fofana (in Valenciennes) and Umtiti (in Troyes).
An image
Rémi Garde's gamble. Ol were going through a tough period, with the agitation of the transfer market and some sub-par performances. The Lyon coach decided to leave Gernier and Gourcuff on the bench against Valenciennes. An ultra-defensive line-up? A draw on the cards? Not at all: OL played some beautiful attacking football. As Garde had hoped for, the OL midfield took control and dominated their VA counterparts. Ol were rarely in danger over the whole 90 minutes, and scored two goals into the bargain.
A save
In the 24th minute against Troyes, OL were up 1-0, and that was the crucial juncture at which Vercoutre decided to pull out a show-stopping save as Darbionau unleashed a powerful shot from around the penalty spot. Despite being wrong-footed, Vercoutre turned the ball away with a majestic flying punch, keeping the home side at bay.
A phrase
I don't hold grudges. I just want to keep moving forward...
"I don't hold grudges. I just want to keep moving forward," said Rémi Garde after Gomis came off in the match against Evian. He said it, and he meant it. Garde handled this potentially troublesome episode in the best possible way. Gomis was handed a start in the very next game - against Valenciennes - and scored the second goal. A keen man-manager, Rémi Garde simply wants to to have a calm working environment... and it's working.