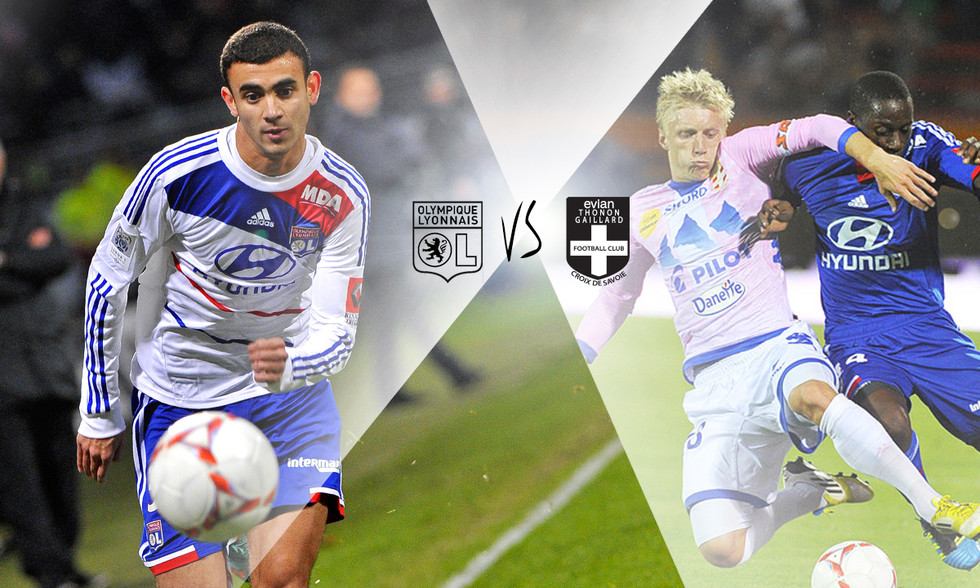 OL brought back three precious points from Troyes... and took outright top spot... the visit of Evian, in the bottom three and with a raft of injury absences, coupled with PSG's tough trip to Bordeaux, could see OL to strike a real blow in the title race...
No-one was trying to sugar-coat things after the match against Troyes. The OL squad all agreed that they had been below par against a feisty Troyes outfit, who deserved more than the defeat they were handed. But the three points were super-important for OL after their shock Coupe de France elimination, especially with PSG drawing with Ajaccio and OM losing to Sochaux! There were joyful scenes at OL even though all were aware that they would ned to show a much better side to their game if they were to stay in top spot and hold off PSG - whom OL still consider to be favourites for the title - for as long as possible.
OL had bounced back against Troyes, which wasn't the case for Evian, who registered a third consecutive league loss at home to Brest. The result dropped the club from Haute-Savoie into the relegation zone once again, but things aren't necessairly as bad as all that. Partly because their being in the bottom three is due largely to an inferior goal difference vis-à-vis Reims and Sochaux; and partly because they trail 13th place by just six points. But they will need to becareful... knowing that they will be without several of their African internationals for a couple of weeks due to AFCON duties. Mongongu, Khlifa (six goals, equal-top scorer along with Barbosa), Mensah, Rabiu and Koné will all be out of action, with 'keeper Laquait serving a suspension on Friday night.
L'OL sait qu'il peut façonner ses ambitions en étant  intraitable chez lui où il recevra quasiment, d'ici la fin du mois de mai, tous les gros de ce championnat
With the third-weakest defence and an attack ranked 14th in the league, Evian haven't really shone this season, even though they have managed some good performances in Rennes, Montpellier and Reims... as well as clinching a draw with OL in the first half of the season. Coach Pascal Dupraz isn't the type to give up easily, and nor are his key players Barbosa, Sorlin or Govou…
So OL find themselves league leaders heading into Week 21, with a January fixture list that seems favourable. Against Evian, they will be expected to win, but in a very different way from how they got the points in Troyes. "We know that what we did in Troyes won't be good enough in the future..." Rémi Garde was under no illusions after the fortunate win. Will the OL coach stick with the 4-4-2 formation he started with against ESTAC? It remains to be seen... he did change his system to a safer three-man midfield on the hour-mark in Troyes. With Fofana unavailable through suspension, Garde appreciated what Mvuemba brought to the side when he came on. And then there's Gourcuff, who hasn't played since the match in Saint-Etienne, and also the return of Grenier, who has been missing since his injury in the opening minutes of that same derby. All of which gives Garde a range of possibilities in terms of formation - 4-4-2, 4-3-3 or 4-2-3-1 - as well as personnel, unless the winter transfer window further impacts the OL squad, which has already seen Monzon leave the club.
OL have been in fine form at home, with just five points dropped in their ten matches at Gerland so far this season, and they know that they can harbour high hopes based on their strong home form as they play host to most of the league's big names between now and the end of the season. Given this potentially huge advantage, it would be a shame to drop points on Friday... but if OL can continue in the same vein as their excellent first half of the season, there should be no problems...